As you may have seen in my previous
post
, I purchased the Lorac Femme Fatale Eyeshadow Palette during a Hautelook sale. It finally came a few days ago and I have been testing it out. This palette includes 4 matte shades and 6 shimmery shades. The colors in this "palette was inspired by beautiful, powerful women seen walking on and off the red carpet." These eyeshadows can definitely carry your look in a casual office setting or take it to the next level for after work drinks and what not. See below for swatches and my review!
Lorac Femme Fatale Eyeshadow palette, 0.9g, $14
The 10 shades are very neutral, smokey, and nude. It comes in this black snakeskin compact.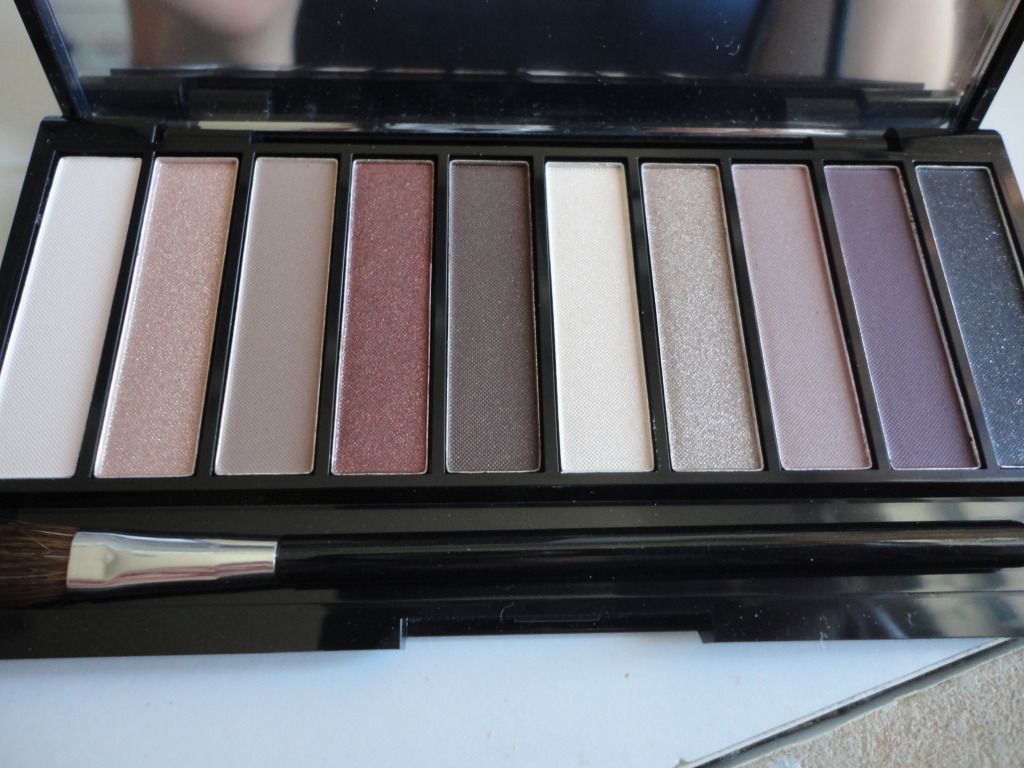 Lorac Femme Fatale palette
There are no names for each of the individual shades, rather they are numbered from 1-10 starting from the left.
1. A
milky pink
shade. This is a very matte eyeshadow
2. A shimmery
rose gold
3. A matte
purple brown
4. A smoldering
red brown
with a few sparkles
5. A fairly matte
dark brown
with a hint of gray
6. A
pearl
sheen
7. A shimmery
bronze
8. A matte
lavender mauve
9. A matte
burgundy purple
. This shade looks similar to #3
10.
black
with sparkles
Swatches!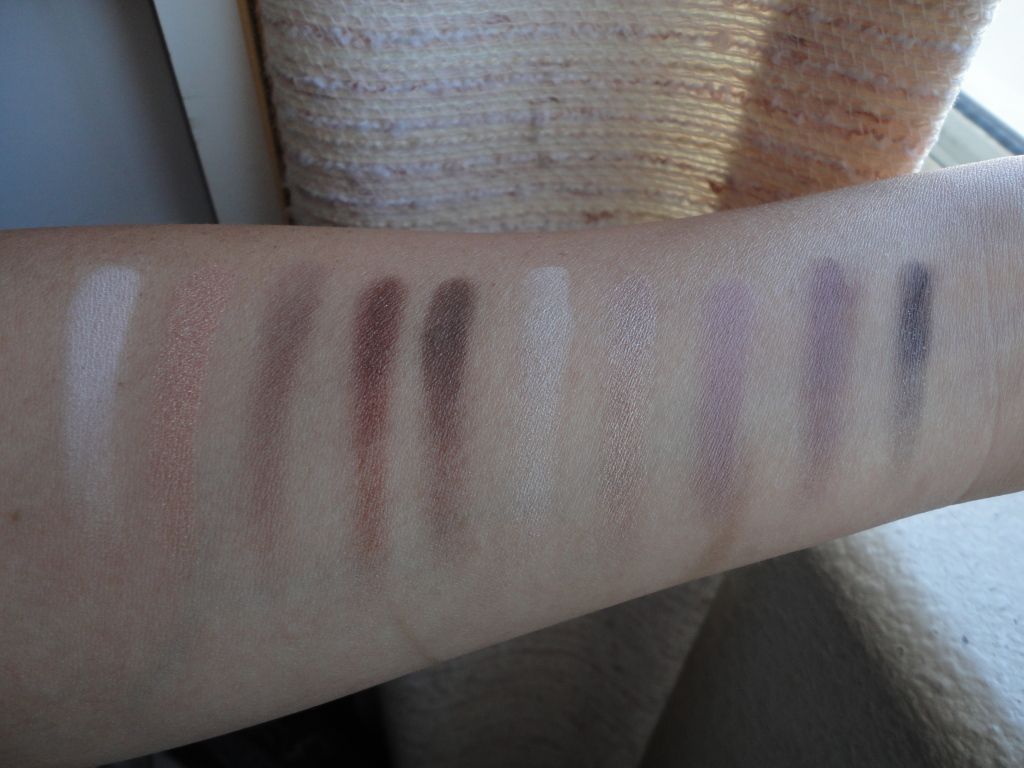 #1-10 from the left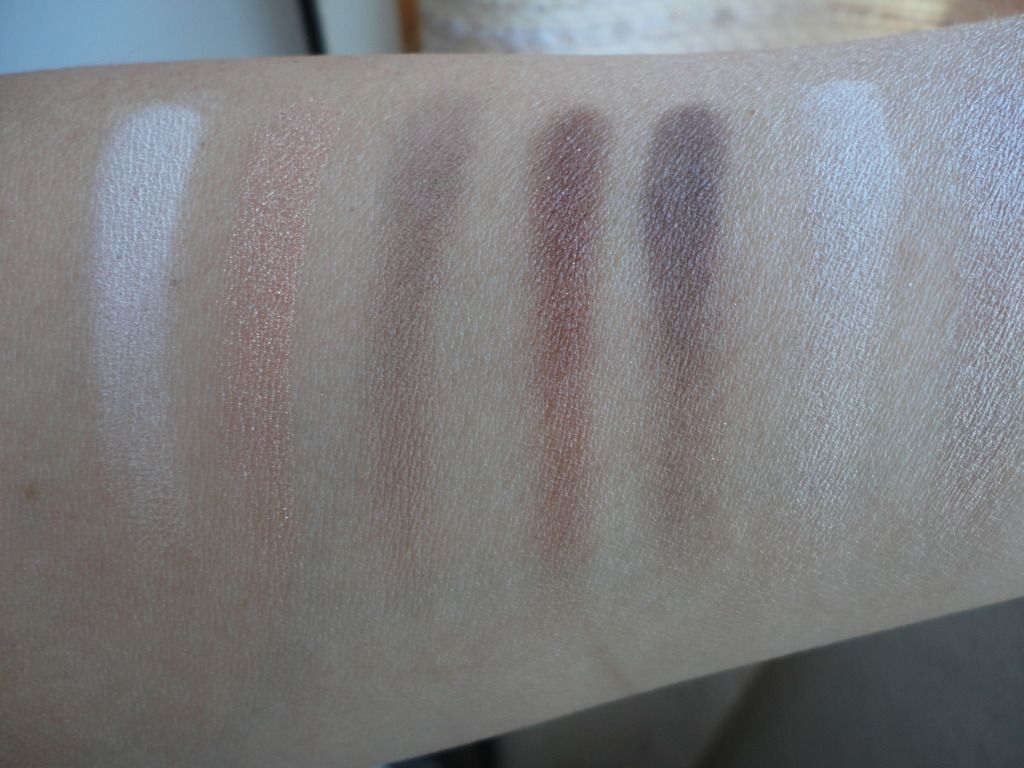 A closer look at #1-6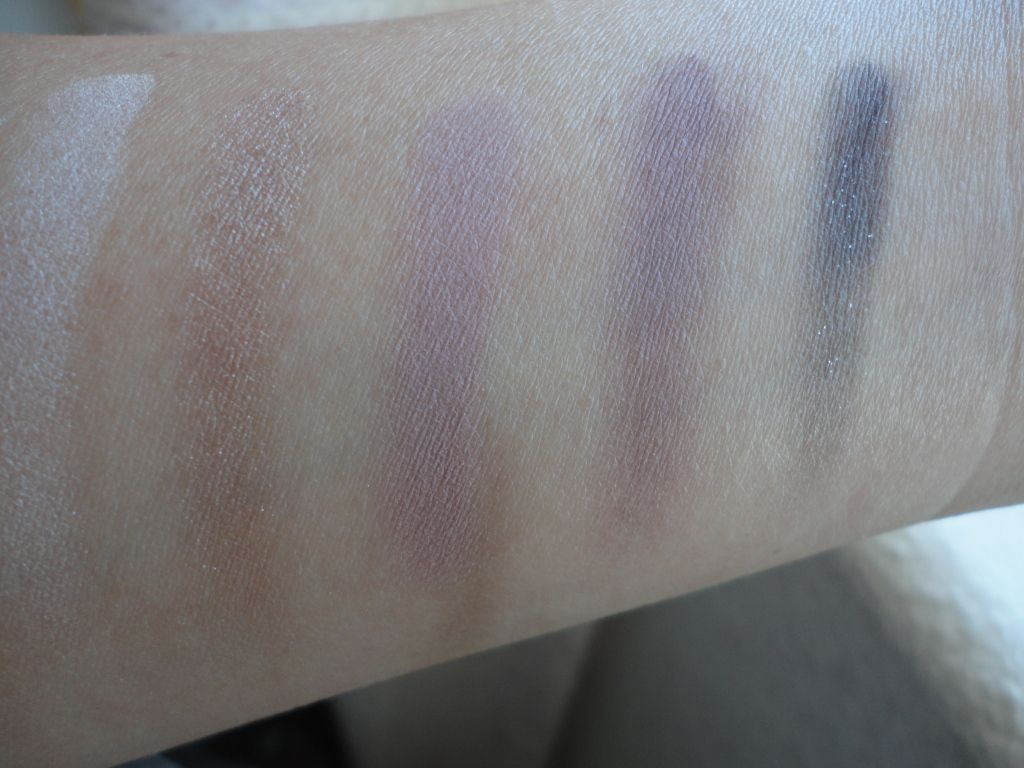 A closer look at #6-10
Please click on photos for an even closer look!
Application: All of these swatches were made with one or two swipes with my finger over bare skin. The colors are all very pigmented and vibrant.
Texture: All of the eyeshadows are finely milled. None of them were chalky or had fallouts.
Staying power: I have extremely oily eyelids and these stayed on for about 4-5 hours before creasing, without primer. With primer, they can last 2-3 more hours. I also use a few of these shades to line my upper lash line and they stay all day long.
Overall: I really, really like the colors in this palette. I love neutral and nude eyeshadows because I can wear them easily to work while staying conservative. I like how they have a mix of shimmery and matte shades. Most of all, I love how the palette is so easy for travel and storage. All the eyeshadows are compact and fit so well in the container. The brush that comes with the palette isn't anything to cry home about, but has not shed so far. I will most likely use other brushes to apply the eyeshadows, but would be willing to use the brush that came with the palette if I were on the go. The eyeshadows are of good quality and I can see myself using all of the shades. For $14, I would say this is a steal!
Where to purchase:
To my knowledge, this is a Hautelook exclusive so I don't think you can find it anywhere else but there. However, I have seen Lorac sales come up multiple times on Hautelook so it might come back soon enough. Make sure you have a Hautelook account to purchase.
Hautelook link
. Membership is free and there is no obligation to purchase under any circumstances.
What are your thoughts on this palette? Would you be purchasing this if and when it comes out on Hautelook again? Thanks for reading!
Em
Like what you see?
Support my blogs by subscribing
here!
All products shown here were purchased with my own money and were given my fair and honest opinion.