After seeing the special release of
NARS 413 BLKR eyeshadow duo
during Fashions Night Out 2012 in my email, I ordered it soon afterwards from their website. I couldn't find this shade in any of the stores that did carry NARS products so I finally opted to take a leap of faith and ordered this online without swatching! At the time that I ordered this, I did not see any swatches available online. However, knowing NARS' good reputation of pigmented eyeshadows I knew it had to be of good quality. I will be swatching and reviewing the duo eyeshadow from 413 BLKR below to help you determine whether you want to purchase it yourself.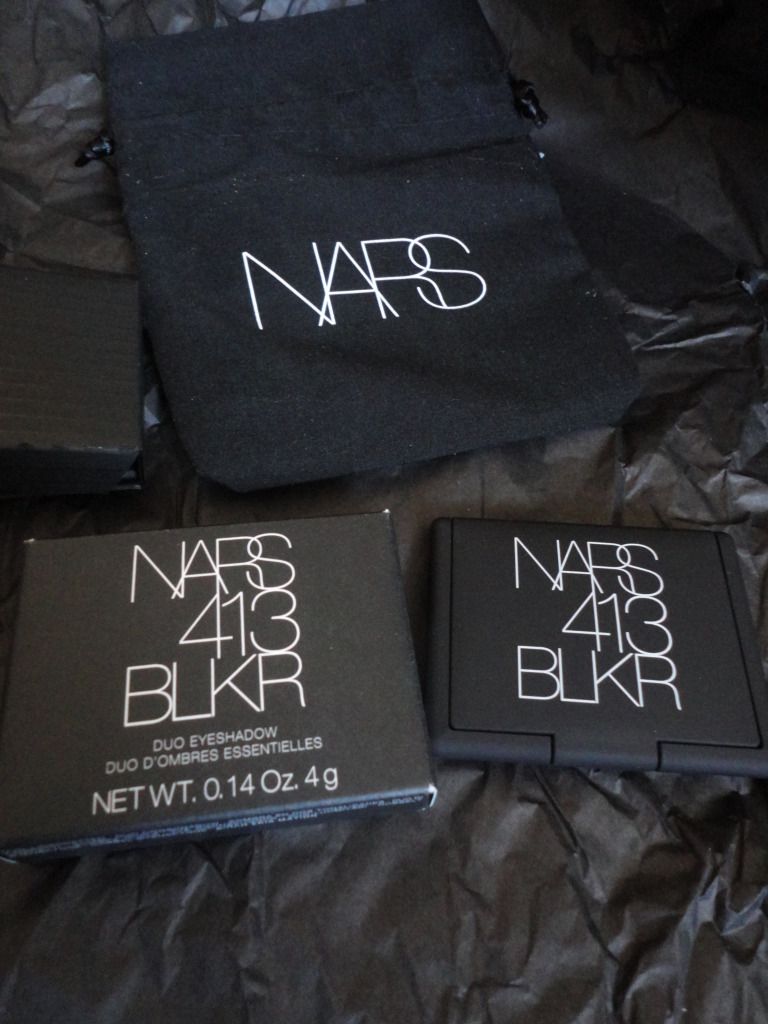 413 BLKR is the address of the main NARS store in New York. This and other products in this line was dedicated to that. I don't believe this duo is available in stores besides the one at 413 Bleecker Street. Good thing it is available on
NARS
.
The duo came in a small black compact that had a smooth, almost-rubber feel to it. Inside, there is a mirror and the two eyeshadow shades.
Left to right: shimmering amythyst and black with red pearl
The shade on the left is a lavender mauve with a sheen finish. The shade on the right is black and at certain angles you can see hints of red shimmers. In the pan, the right shade looks almost navy purple, but on the skin it looks like a velvety black color.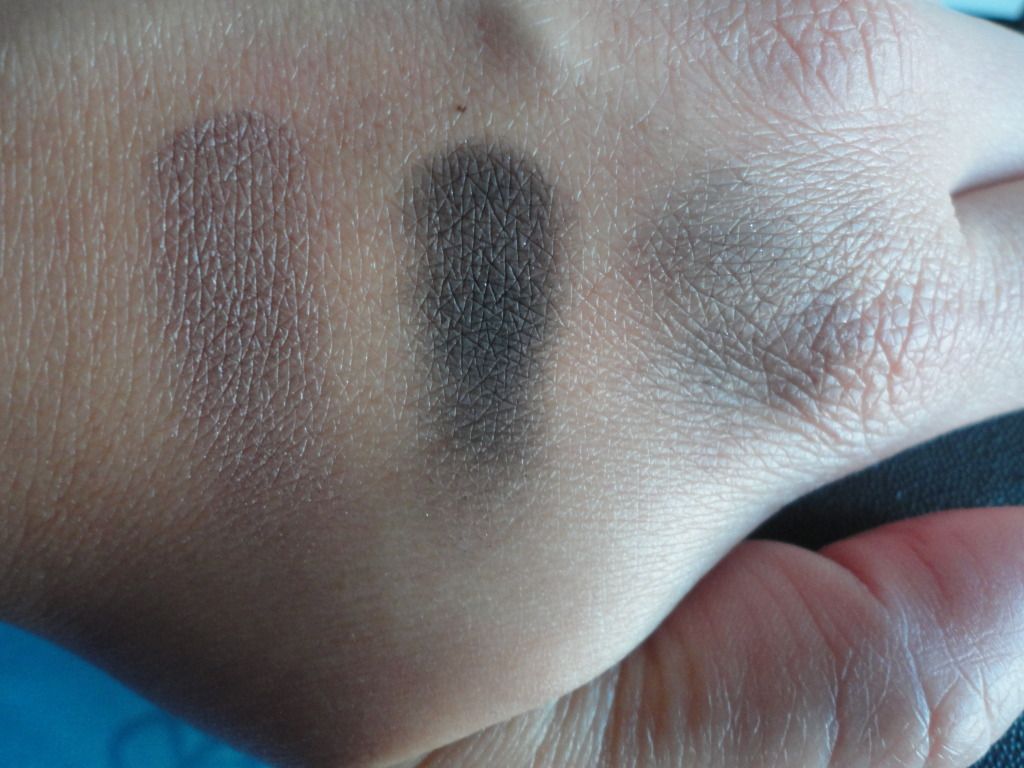 shimmering amythyst (left), black with red pearl (right), blended black with red pearl (far right)
0.14 oz/4g, $34.00
A natural, fast way to wear the duo. I had the shimmering amythyst on my lids with the black shade in the crease and also used as a liner. I took the shimmering amythyst also on the lower lash line.
You can definitely dramatize this look by packing on more color, not blending as much, and using a primer. I found using the shadows wet also gives a dramatic look.
Application/texture: The two shadows are very finely milled and easy to blend. It is not powdery at all and I did not have fallout during application. The red shimmers from the black eyeshadow didn't transfer much onto my eyes.
Staying power: This lasted 6 hours without budging and then started to fade a little after that. After 8 hours, my eyes still looked lined, but the shadow creased a bit. This was on my oily lids without a primer.
Overall: I really liked the two shades in this duo. Both are very versatile and pigmented. The colors are easy to blend and the size makes it great to put in a purse or to travel with. The only downside is the price. At $34 a pop, it is a lot of money to shell out, but in the long run it is worth it! The black eyeshadow doubles as a shadow and liner whereas the shimmering lavender shade is a great eyeshadow shade and liner for my bottom lashes. These can be used dry or wet for intensity!
What are your thoughts? Do you have any NARS favorite eyeshadows?
Em
Thanks for reading :) Please list below any products you want me to review or compare!
Like what you see?
Support my blogs by subscribing
here!
All products shown here were purchased with my own money and were given my fair and honest opinion.