Saint Germain is my new found love cosmetic company. They have amazing quality products at very good prices. They have a French feel to them so I really like it. According to Saint Germain, they are "
a high quality makeup and cosmetics collection with contemporary design and Parisian sophistication
".
I personally love the fact that their products are all gluten free and they do not test on animals. I have purchased a few items from them, mainly blushes and nail polishes. I have reviewed the blushes here. See below for the nail polishes!
Saint Germain offers 22 long lasting shades in their nail polish line as of September 2012. I purchased 4 of them: Sea Green, Rose of Venice, Rose of May, and Pink Pearl. See below for swatches and review!
Pink Pearl, Rose of May, and Rose of Venice, 0.34oz, $4.95
Pink Pearl is a deep rose with a lot of shimmers
Rose of May is a very sheer light powder pink
Rose of Venice is a very sheer midtone pink.
Sea Green, 0.34 oz, $4.95
Sea Green is a creamy turquoise color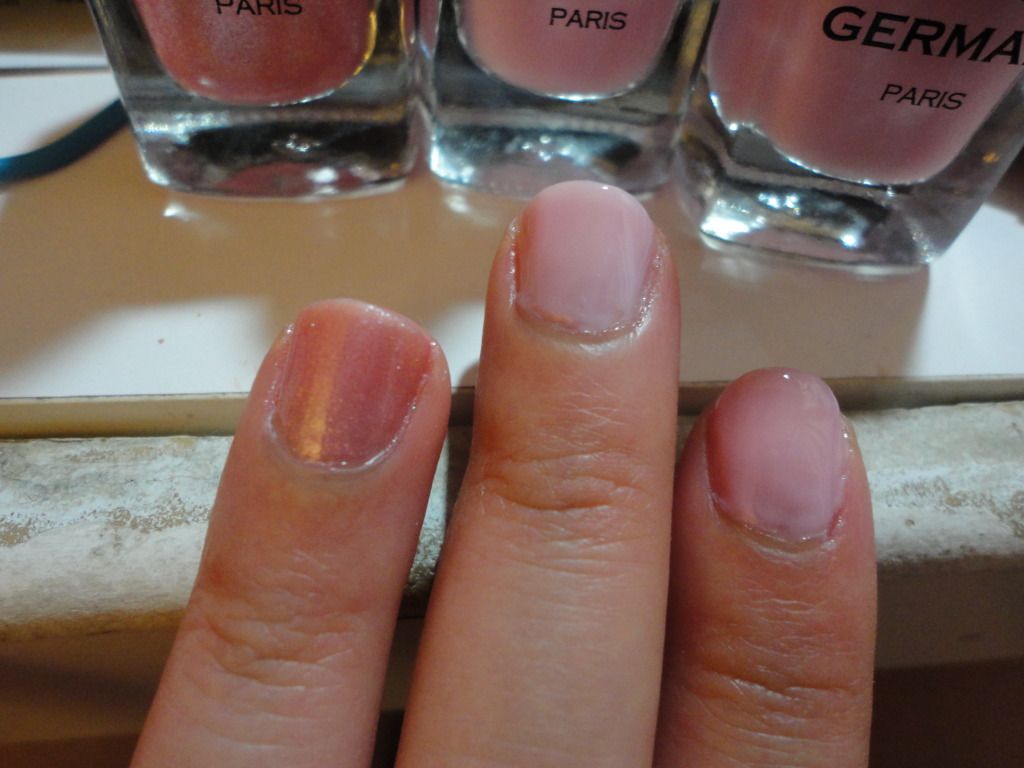 left to right: Pink Pearl, Rose of May, Rose of Venice
Pink Pearl has two coats
Rose of May and Rose of Venice required 3 coats and the nail can be seen in certain lights.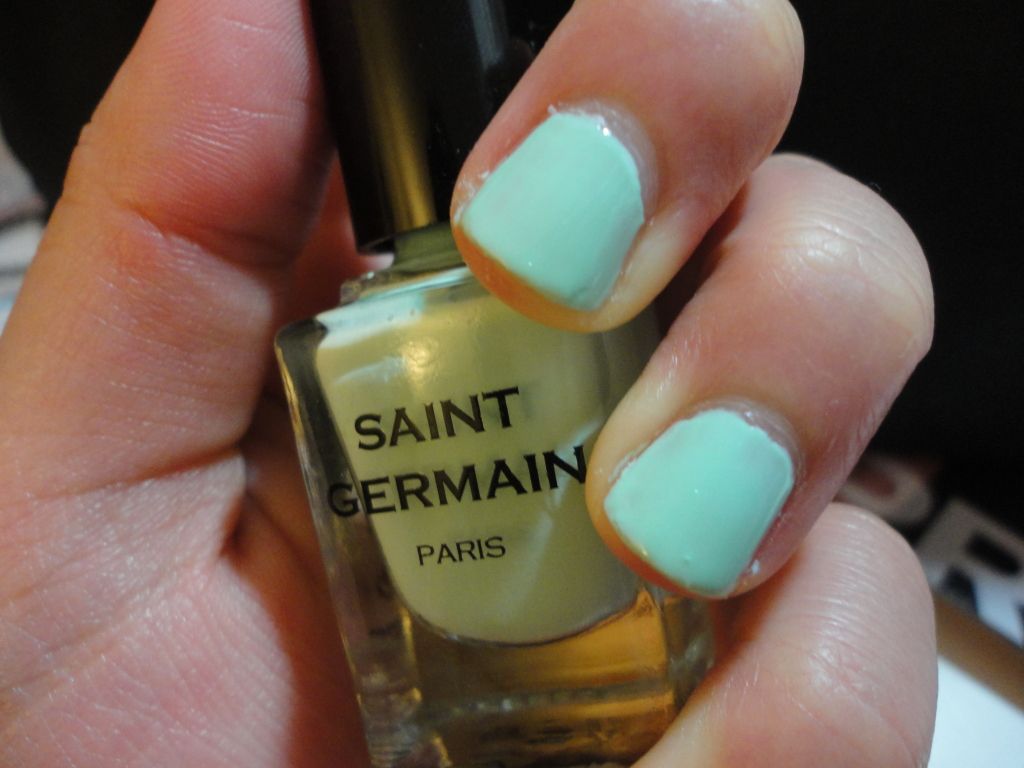 My favorite out of the 4 has to be Sea Green. It is such a bright color, yet it is a cream. It makes a statement but in a subtle way. I love how evenly it applies even though it is a cream. I must say I was hoping that the pinks were going to show up better. It took 3 coats and even then I feel like I needed a 4th coat to really cover up my nails. I don't really like to spend too much time painting my nails over and over with the same color. Pink Pearl is a rich shimmer color and looks very nice in the sunlight.
Application: All of these applied easily and was smooth for the most part. Rose of May and Rose of Venice required a lot of layers to cover the nail.
Dry time: It was fairly quick. I would say I can apply the next coat within a minute.
Staying power: These stayed on my nail for 3-4 days minimum without chipping. After the 4th day, I see wearing of the tips and sides
Overall: I really like the Sea Green color. Pink Pearl is a nice color too. However, I would probably not repurchase the Rose of May and Rose of Venice just because they are too sheer for my taste. For $4.95, the quality and quantity isn't bad. I would say put Sea Green in your basket if you already are purchasing from this site.
What do you think of these polishes? Would you be interested in purchasing any nail polishes from Saint Germain?
Like what you see?
Support my blogs by subscribing
here!
All products shown here were purchased with my own money and were given my fair and honest opinion.