I finally got Tarte's Carried Away- Tarte Collector's Set and Adventurer Bag in the mail a couple days ago and I am so so soooo excited to share with you all! It is in such a pretty packaging, the gold and violet and magenta just blends so well together and creates this really expensive look. I personally would have loved to get this for the holidays as a gift. There is even a place on the box that says "To and From" so you can gift it to whomever! There is so much in this set so let's get going with the pictures!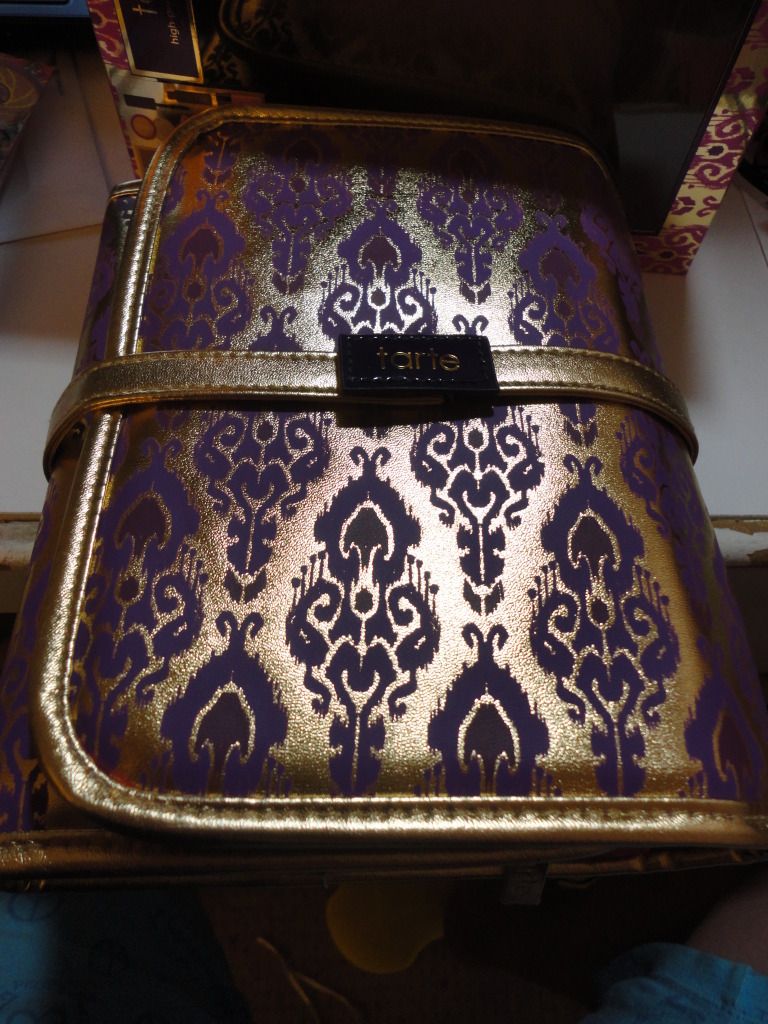 Carried Away with Tarte Collector's Set and Adventurer Bag, $54, Sephora
The first thing I noticed was the humongous rolled up fabric wrap with a cute snap button closure in the front. This rolled up "scroll" like packing is so cute. When you unbutton the tie, you can see the tri-fold inside. On the
left side is the 8 mini Maracuja lipglosses
in a plastic container so to be held in place. However, once you remove it from the plastic mold, you can freely toss the lipglosses around and maybe even put some of your other favorite lipglosses in here when you travel. In the
middle section is the mirror
. How convenient is that?? I love how they included it because I would most likely use this set during travel and there isn't always a mirror when and where you need it. Behind the mirror, you can slide out the treasure- the eyeshadows! There are
24 FULL sized Amazonian clay eyeshadows
and they are all extremely pigmented! And on the
right side is another zip pocket
with a plastic mold that includes a
lights, camera, lashes! 4-in-1 mascara; an Amazonian clay finishing powder; and an Amazonian clay 12-hour lush in Adventurous
. And I almost forgot, there is a
blushing beauty domed blush brush
wedged in between the middle and right tri-fold. The brush is very soft and feels great on your cheeks!
On to the swatches.
Warning:
there are a ton of swatches!
First we have the eyeshadows. The eyeshadows are separated into quads and each quad seems to work well with each other. The shades can obviously be mixed and used with other quads, but it seems like the suggested colors work well with each other. I mainly notice shimmers, but I also see a few mattes. There are even a couple of glittery ones in there. I don't know if I would use those glittery ones, but I will most certainly use the rest of them. They all feel velvety smooth and all swatches below are done with just one swipe.
I will be swatching them from top left to bottom right.
left to right: snowfall in Paris, Golden Gate Bridge, Volcanic Ash, Pyramid Gold
left to right:
Pearl River (hard to see on my skin tone), Seychelles sand, touchdown in Londontown, Martha's Vineyard
Pebble Beach, Boston brick, Spanish sangria, Napa grapes
left to right:
Hampton waves, concrete jungle, Mystic Seaport, Iceland Air
Coral Reef, Acai Jungle, Tuscan sun, Georgia peach
left to right:
sunshine state, Hawaiian palm, olive grove, sin city
Eyeshadow review:
Texture/application:
All of the swatches were done with one swipe and no primer. They applied heavenly and created the smoothest swatch of color. They were buttery soft and smooth and were all different textures. Whether it is matte or shimmery, they looked great.
Staying power:
on my eyes without primer, it can last about 4 hours before creasing. Since I have extremely oily lids, I need primer and with that I get about 8 hours. I use a lot of the dark shades for lining my lashes and those last all day without primer.
Next up are the lipglosses.
These lipglosses remind me of the Tarte Lipsurgence lip tints in scent and how it feels on the lips. They all have a peppermint smell to them and my lips feel tingly after application. They are so smooth and give your lips the perfect shine and color.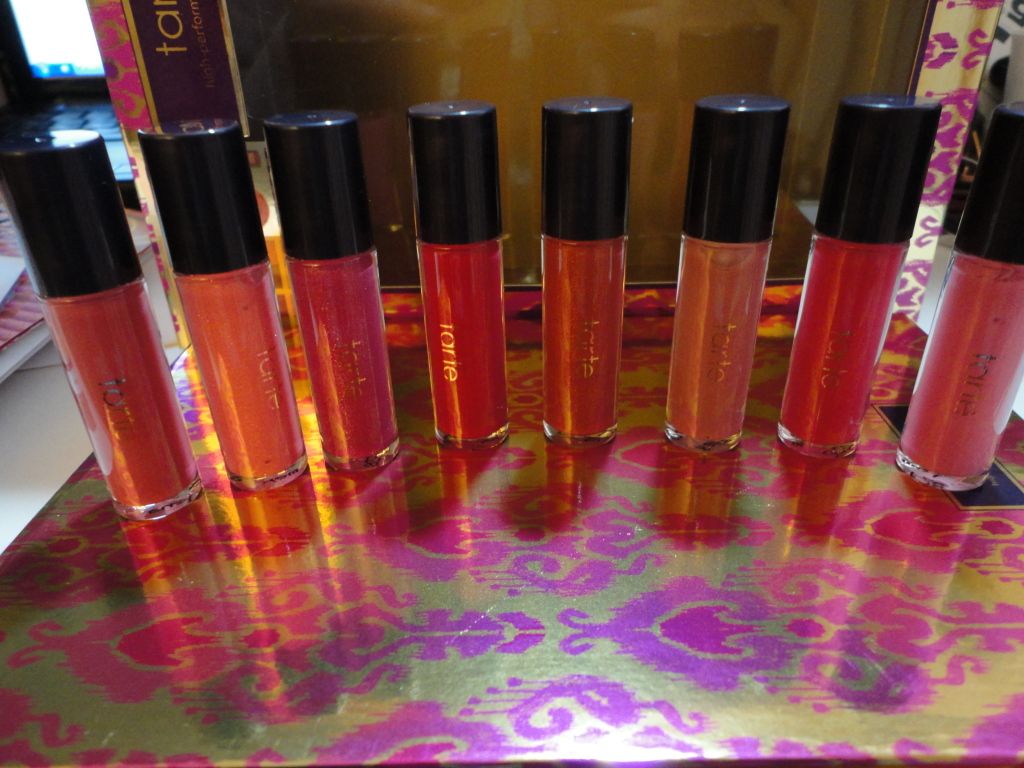 They are 0.059 fl. oz each
Left to right, top to bottom:
Jena- a strawberry plum pink creme
Mer- a peachy pink with gold shimmers
Ali- a plum pink with pink shimmers
Nuria- raspberry red creme
Heath- a brownish red with golden shimmers
Casey- a light pink nude creme
Anna- a light darkened pink creme
Mel- A bright baby pink creme
Review for lipglosses:
Texture/application:
The texture of all lipglosses shown here were smooth and velvety no matter if it were a shimmer or a creme. It took one layer of gloss to make my lips look tinted and glowy.
Staying power:
These make my lips so soft! The minty feeling makes my mouth feel fresh. The color leaves a little bit of a stain, especially the darker colors, but the gloss disappears after about 4 hours.
Scent:
a cool pepperminty smell.
Lastly, we have the Amazonian clay blush in Adventurous.
It is a mini size at 1.5g
The color is described as a shimmering rose. I think it looks like a peachy pink shade with micro shimmers. It is extremely pretty! Left is a heavy swatch, right is a blended out swatch.
Review for blush:
Texture/application: The texture of this is like the other Amazonian clay blushes. They are smooth and easy to blend. This shade only took a little color for it to show up on my cheeks. This does have a bit of shimmer in it, but it does not show up significantly on the cheeks.
Staying power: Like other Amazonian blushes, this one also lasts all day (~8-10 hours)
There are three other remaining products that I couldn't swatch, but still wanted you to see it.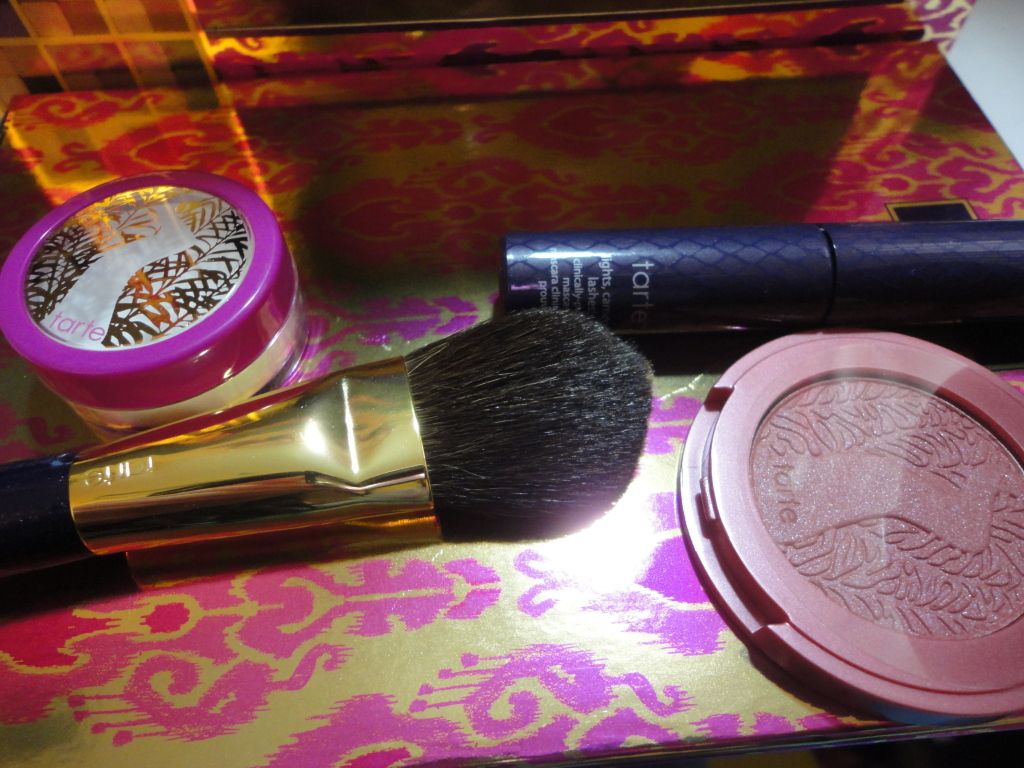 There is a Amazonian clay finishing powder (2.2g), domed blush brush,
Lights, Camera, Lashes! mascara (5mL)
I haven't given the finishing powder enough try to give you a good review of it. It is supposed to help set the make up on your face. The brush feels very soft and did not have any fall outs. The mascara is one of my favorites. I already own the full size, but I never mind a good small sized one for my purse either!
Overall: So overall, overall I really enjoyed this set. It is by far the best set I think you can get for your money. For $54, you get 24 full sized eyeshadows that come in all colors and finishes. You get 8 yummy mini lipglosses, a mini mascara, a mini blush, a blush brush, and a finishing powder. To add to the deal you even get a mega cute bag to hold it all for travel. I think this is a very good gift to give as it is elegant and has a variety of products and colors. The receiver is sure lucky and will definitely find something he or she will like. I have only one downside. The packaging is not individually wrapped, meaning anyone could have opened and used the product inside. My package was extremely flawless and doesn't seem to have been touched so I am fully enjoying it right now!
Have you seen these at Sephora? What are your thoughts on it?
Em
Like what you see?
Support my blogs by subscribing
here!
All products shown here were purchased with my own money and were given my fair and honest opinion.