Essie has release their Holiday 2012 nail polish collection: Leading Lady. I found the set at my local Target, though some of them still have not received shipment yet. If you haven't seen it, don't give up! There are 5 shades in this collection: Leading Lady, Butler Please, Where's my Chauffeur, She's Pampered, Snap Happy, Beyond Cozy. I will review Leading Lady, Butler Please, and Where's My Chauffeur below.
Essie Leading Lady, Butler Please, Where's My Chauffeur, .46 fl oz, $8
Target, Macy's, Ulta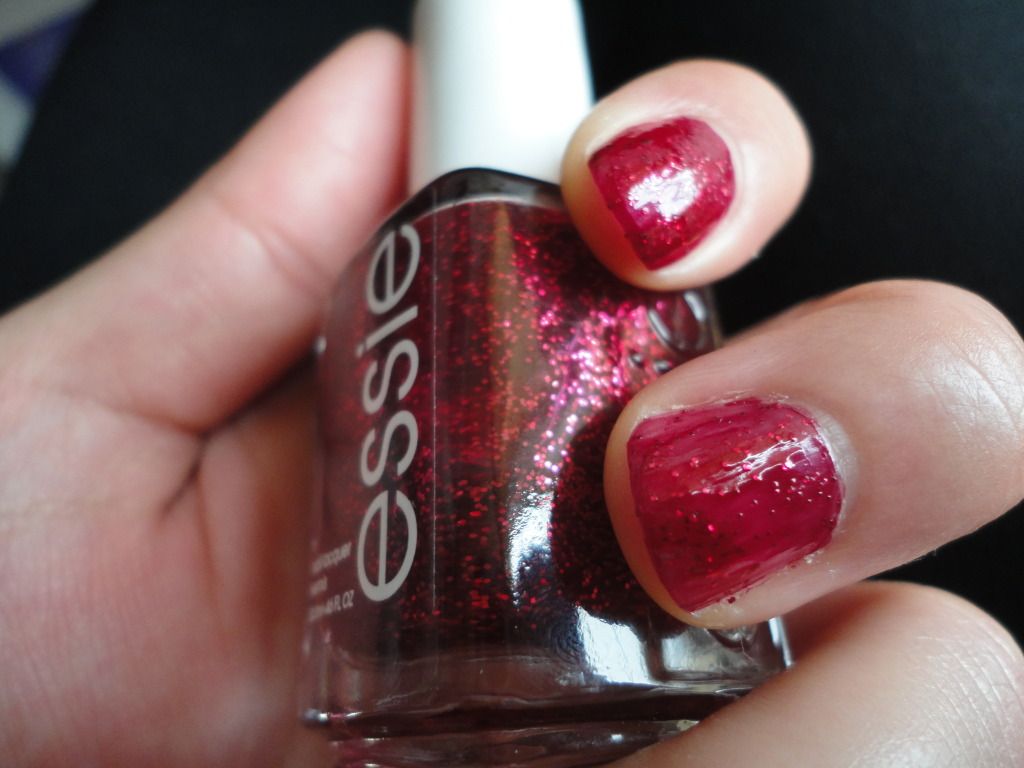 Leading Lady, one coat
Leading Lady
is a ruby red jelly with red shimmers. It is very opaque despite it being a jelly texture and dries extremely fast (less than 30 seconds). The shimmery glitters do feel slightly gritty, but nothing a light top coat can't fix. One coat is all this takes, but two coats will definitely put the icing on the cake.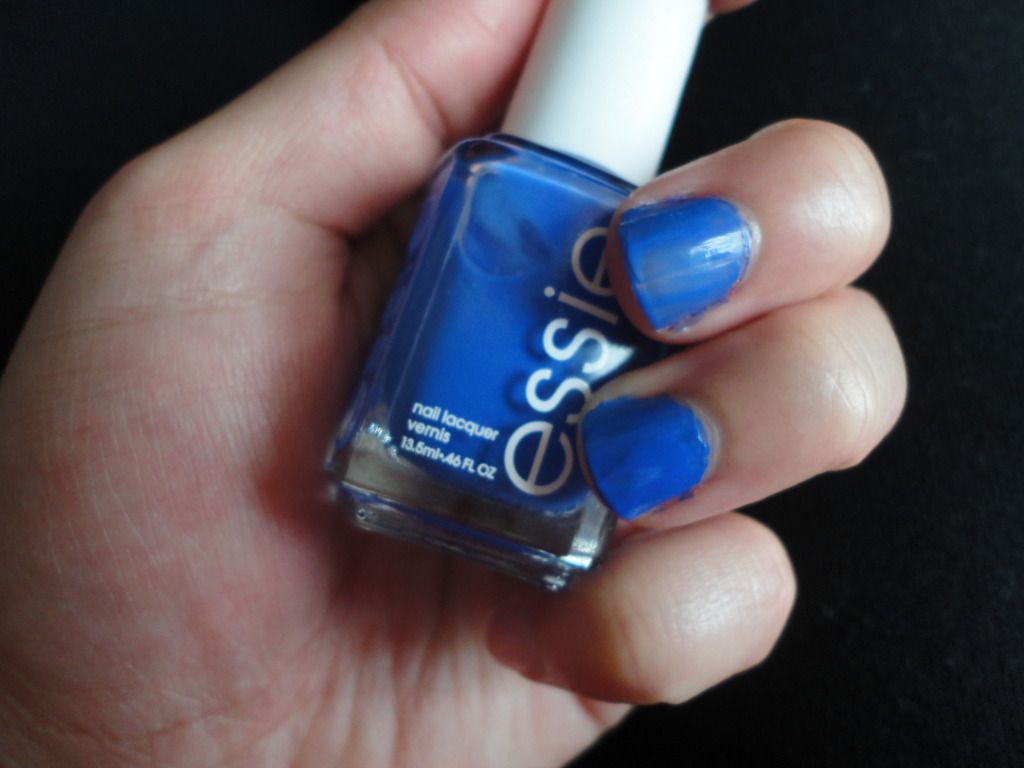 Butler please- one coat on middle finger, two coats on ring finger
Butler Please is a bright jet blue. It has a matte-ish looking finish once dried. This definitely needed two coats as one coat gave it a streaky coverage. I think this is a unique color, but I don't like matte finishes. This formula is also hard to work with. It applies very wet, but seem to coagulate and make uneven streaks on your nail. the second coat is a lot better, but still hard to work with. This dries extremely fast like Leading Lady, less than 30 seconds.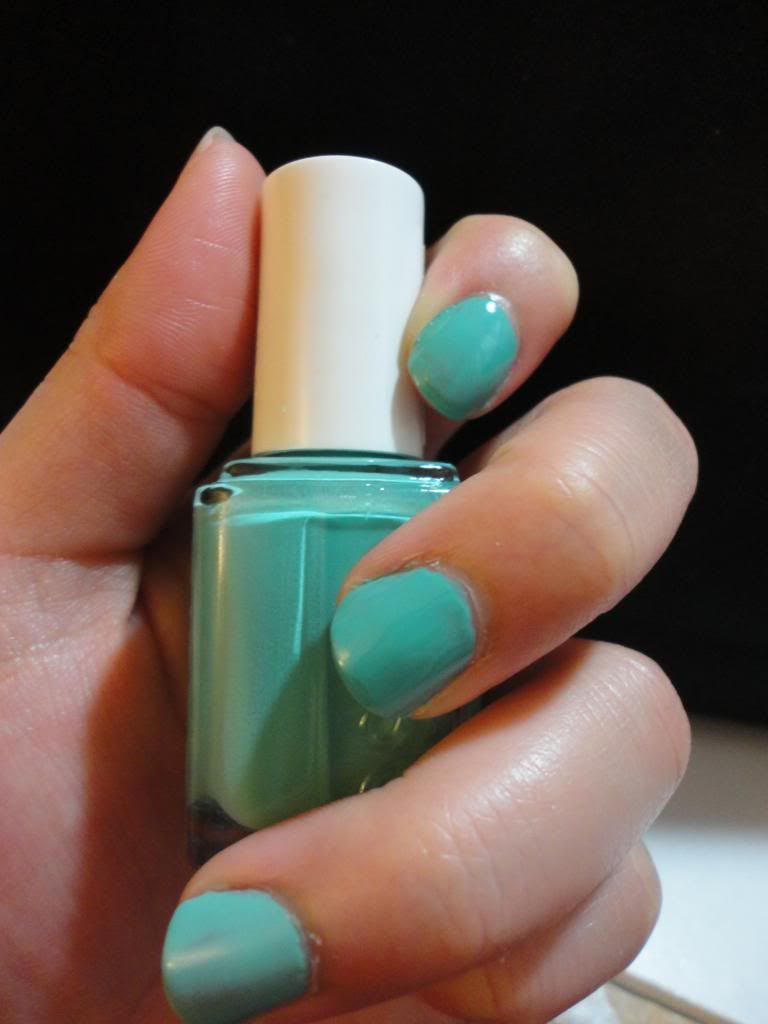 Where's My Chauffeur- two coats
Where's My Chauffeur
is a bright robin blue color and reminds me very much of the Tiffany blue. Though the color itself isn't very unique, I still purchased it because I am a turquoise polish fiend! I also happen to be able to compare this limited edition color with one that is permanent. This polish dried very fast and isn't streaky with two coats. I must say this formula is more wet and thin compared to the other two, which makes it slightly more difficult to apply. When painting, put two thin coats on instead of one thick coat. Also, this color is the one out of the bunch that I felt was the least holiday-feeling. I will probably wear this in the summer rather than in the winter.
The left two fingers are painted with two coats of Where's My Chauffeur. The right finger is painted with two coats of Wet n Wild's I need a Refresh-Mint. It is very similar in color with WMC except WMC is slightly brighter blue. WMC also has a very glossy finish. When I compared the colors to my Tiffany's bag, I noticed that I need a Refresh-mint is still a closer color than WMC.
Lasting power
: All of these lasted 4 days with top coat. After 4 days I noticed major chips.
Overall
, I think I would pick Leading Lady over Butler Please. I don't usually like red polishes, but this one looks so soft due to the jelly finish. I also like the extra glitters in the polish because it gives it the oomph to wear it during a fancy party this holiday. Where's My Chauffeur isn't an extremely unique color so I would say if you have Wet n Wild's I need a Refresh-Mint and you aren't a turquoise/teal polish collector you can skip this one.
Have you gotten anything from this collection?
Em
Like what you see?
Support my blogs by subscribing
here!
All products shown here were purchased with my own money and were given my fair and honest opinion.