To my surprise, my MAC counter has already put out the new Glamour Daze Holiday 2012 collection. These were only the individual products, the sets have yet to be put out. Nevertheless, the colors in this collection is amazing! I had a few swatches on my hand and wanted to show you asap. If you are really into this collection, go and preorder yours at a MAC counter today! These release October 25th and could be sold out before then. I heard the brush sets are very, very popular.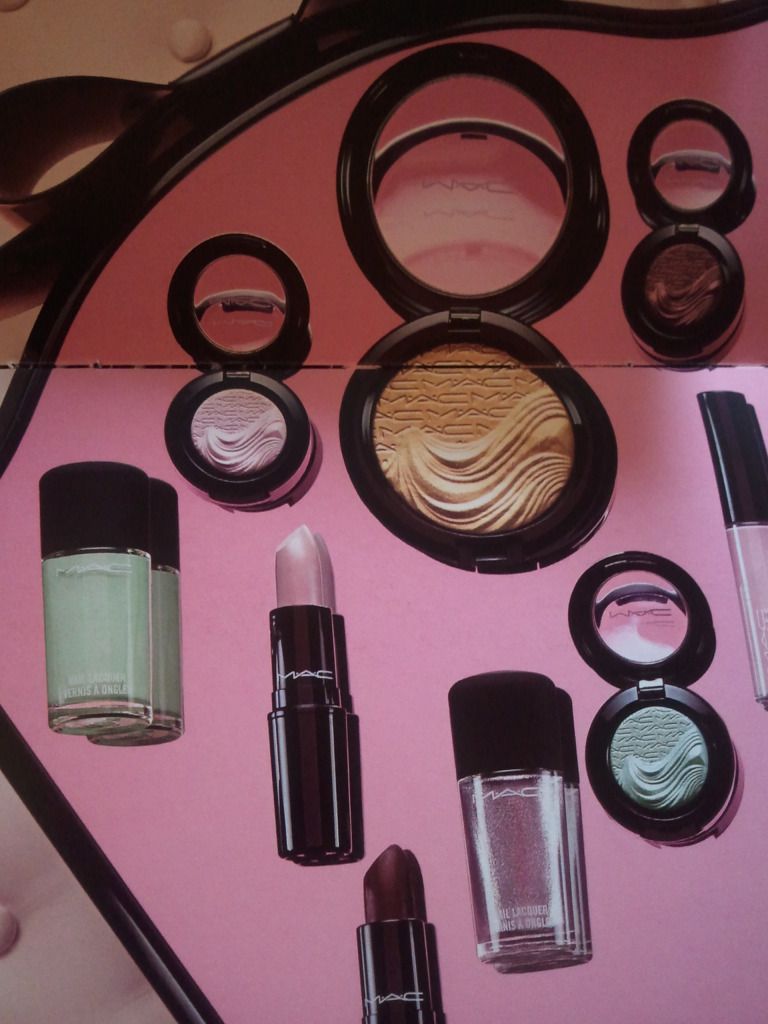 Since this was all in the store, the swatches aren't the best, but I hope this will give you a general idea of what to expect!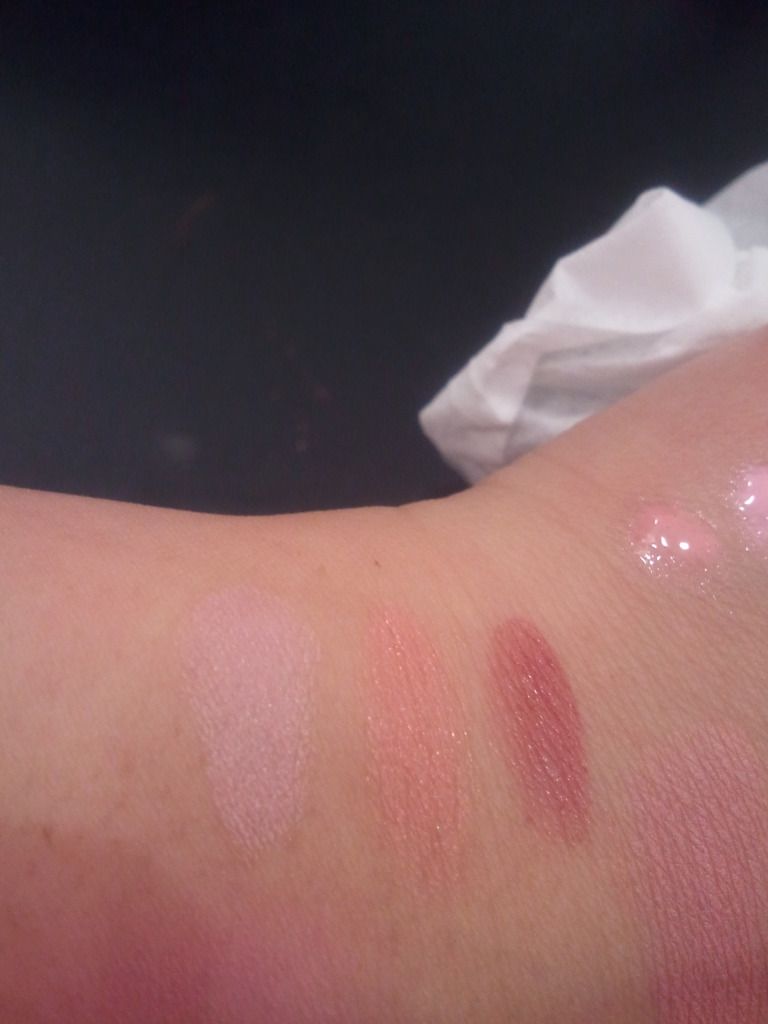 3 of the 5 Lipsticks
left to right: Beauty (pale cool pink shimmer), Innocence (soft coral), Glamourdaze (midtone creamy plum)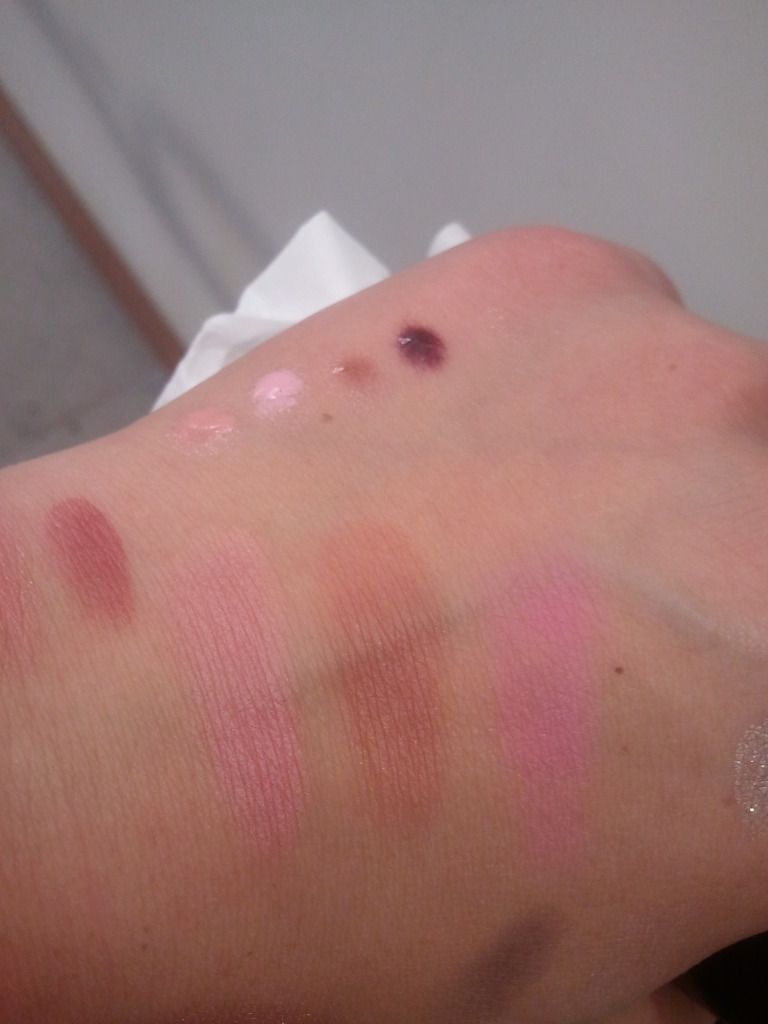 powder blushes $22, left to right: Easy Manner (light dirty peach), Small Vanity (dusty rose tan), I'm the one (midtone blue pink)
lipglasses, left to right:
Talk softly to me (light creamy coral pink),
Pink fade (light creamy pink),
Deliciously demure (soft cool brown with pearl),
Impossibly sweet (sheer soft pink with mulit dimensional pearl)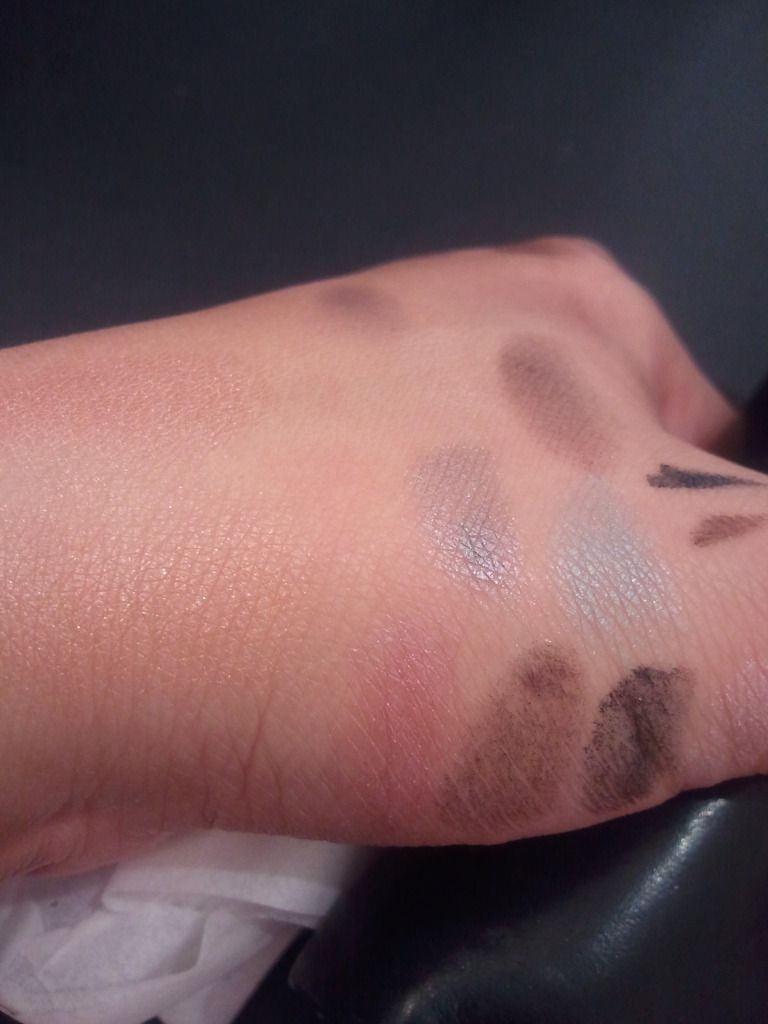 Final swatch of the Extra dimension eyeshadow, $19.50:
all shades swatched around the hand.
Stolen Moment – dark taupe (at top right)
A Natural Flirt – soft peachy nude (middle row, left)
Ready to Party – pale lilac (middle row, middle)
Divine Blue – midtone aqua (middle row, right)
Stylish Merry – midtone dusty violet (bottom row, left)
Round Midnight – dark burgundy (bottom row, middle)
Tall Dark and Handsome – black with pearl (bottom row, right)
Evening Grey – steel silver (not shown)
I personally fell in love with Stolen Moment Extra Dimension Eyeshadow. It is such a pretty dark taupe color. I could see myself using it for crease, eyeshadow, and even lining my lash line. It is very soft and finely milled. I also purchased two blushes: Easy Manner and Small Vanity. I was intrigued by the tan-ish color of Small Vanity and I am a sucker for pinky peach blushes like Easy Manner. These are both satin blushes. I also purchased an eyeshadow set that comes with the cute button bow packaging ($39.50). And since I have heard so much about MAC brushes but never actually owned any myself, I gave in to the travel essential brush set (pink) since it was only $49.50.
There were 4 fluidlines: Catch my eye (cool taupe grey), Little black bow (charcoal with pearl), Feminine edge (pink mauve with dazzle pearl), and didn't catch the last one!
I have preordered a bunch of these items so be sure to check back next week for review and detailed swatches!
Em
Like what you see?
Support my blogs by subscribing
here!
All products shown here were purchased with my own money and were given my fair and honest opinion.