I finally got my blushes from the MAC Marilyn Monroe collection. It has been sold out on MAC's website and so I knew the only way to get my hands on them was to order through Nordstrom/Macy's website. I just got it in the mail today and I figured I would show you the swatches. I also compared the two blushes with other ones in my collection that I thought looked the most similar. Hopefully this will help you to look for one that is similar if you were not able to buy one before they sold out! Macy's and Nordstrom's websites were sold out of the blushes and many other items the day it was available, unfortunately.
I purchased both of the blushes that were in the Marilyn Monroe collection: Legendary and The Perfect Cheek. The Perfect Cheek was a repromote and Legendary was new. Both were limited editions and overwhelmingly popular.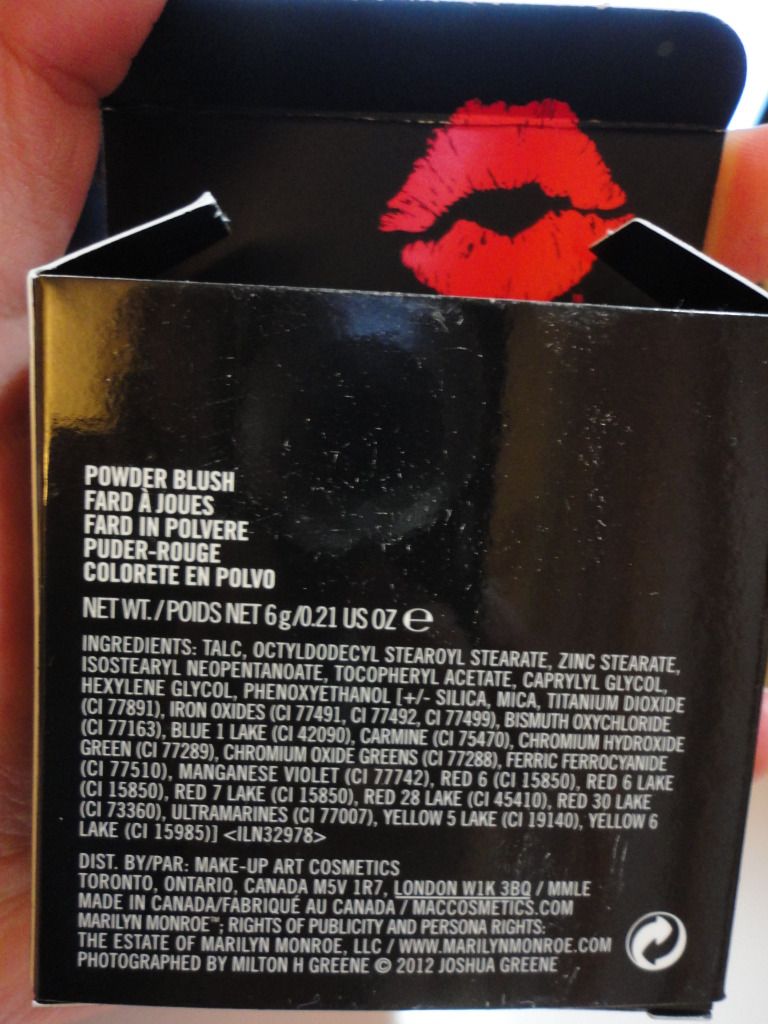 A look at the packaging. The Marilyn Monroe collection came in these sleek black boxes that contain a red lip kiss on the inside flap. It is so cute! The front has the Marilyn pose picture in black and white. The actual blush container has the same picture of Marilyn on it in black and white and is also slightly see through.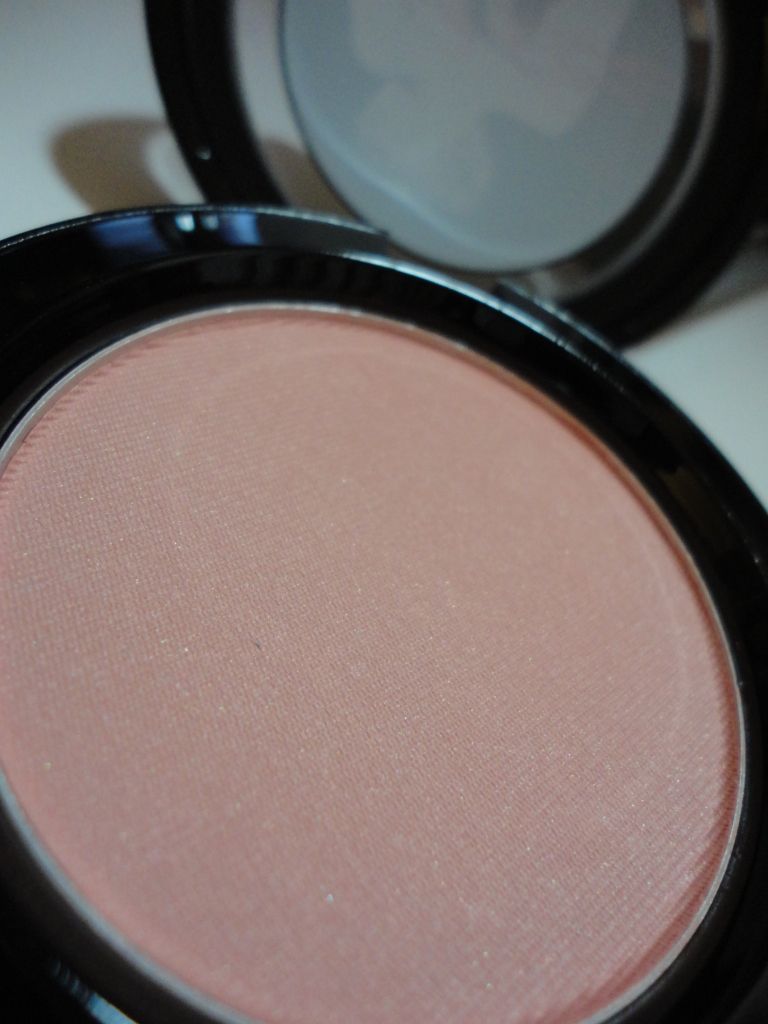 A close shot of Legendary. I decided to skip the photo of The Perfect Cheek to save time. I figured since it has been out before, most people either already have seen it or have it.
Legendary is a pop of bright coral pink with a satin finish.
The Perfect Cheek is a pink beige matte that could even work as an eyeshadow.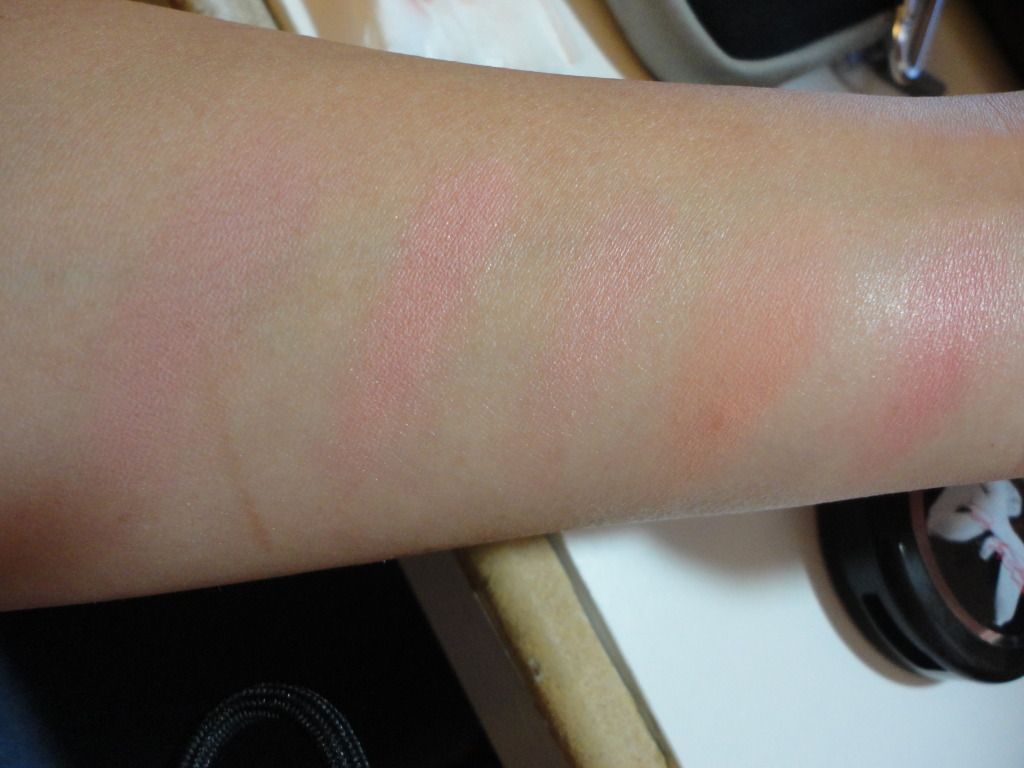 A few swatches (left to right):
The Perfect Cheek, Legendary heavy, Legendary light, MAC Peaches, MAC Fleet Fast
Click on photo above to enlarge for closer view.
The closest blush that I found to Legendary was a 10-blush palette that I purchased from ebay. I reviewed
this palette
a couple months back and the blushes in it are quite impressive. The last blush in this palette looks extremely similar in finish and color as Legendary.
Texture/Application: The texture of these blushes were very soft and finely milled. I didn't see any powdery finish nor had the blush crumble. The Perfect Cheek had stronger pigmentation whereas Legendary required a few swipes to land the same pigmentation. The shimmer in Legendary brought just enough glow to the cheeks without emphasis on the pores.
Staying Power: They lasted me about 7 hours. At 8 hours, they started to fade.
Overall: I really liked Legendary. It's coral pink color is a favorite of mine and it really brought out a glow in my cheeks without emphasizing my pores. I love the Marilyn photo on the cover of this packaging as well. The Perfect Cheek was also a good everyday blush, but I felt like it didn't give me too much color since my cheeks are a little rosy already. It is a good blush to tone down another blush, however.
What are your thoughts? Were you able to grab anything from this collection? If you see any of these in stores or online, don't hesitate to buy them because they might disappear as soon as you turn around.
Em
Like what you see?
Support my blogs by subscribing
here!
All products shown here were purchased with my own money and were given my fair and honest opinion.