Wet n Wild released some Holiday 2012 8-pan eyeshadow palettes. I found them at my local CVS a week ago and saw that it was on their own special display stand. There were a total of three palettes: Shimmer the Night Away, Sparkle 'Til Morning, and Drinking a Glass of Shine. Since these are limited edition, I wanted to swatch them for you ASAP! Below is the Shimmer the Night Away. I also swatched Sparkle 'Til Morning
here
.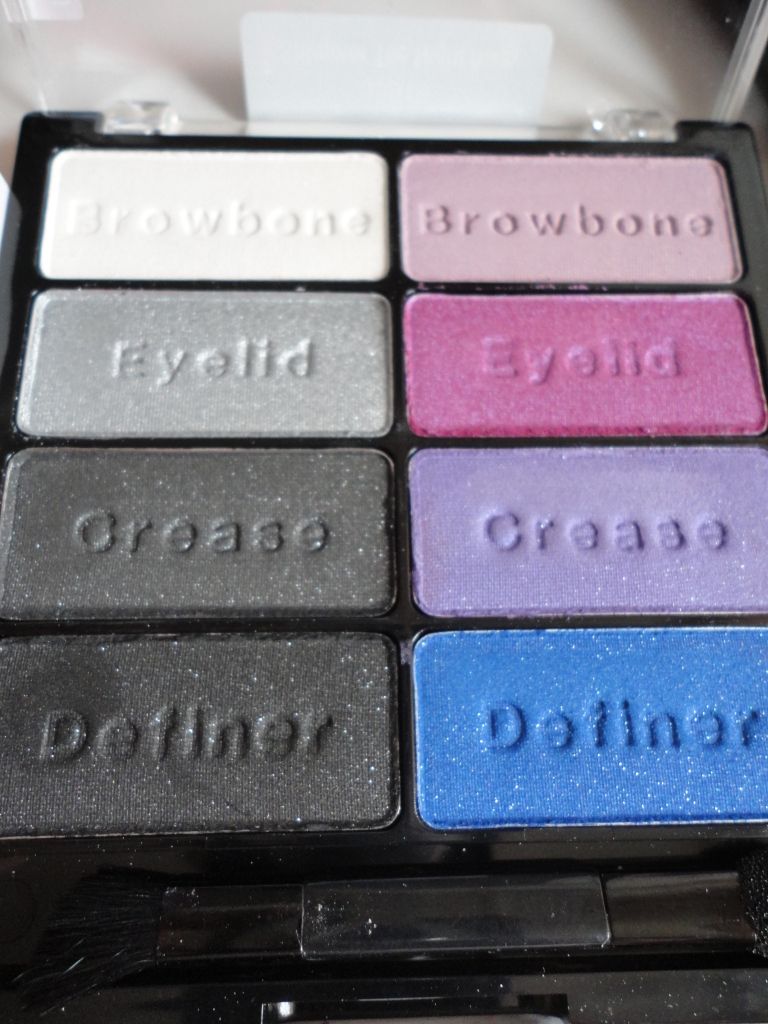 Shimmer the Night Away, $4.99, 8.5g
This palette contains a lot of cool tone colors. Half is muted grey-ish colors while the other half is purple and blues.
swatched once over bare skin, no primer
left column, top to bottom:
1. silver shimmer
2. platinum sheen
3. black with silver glitter
4. black matte
right column, top to bottom:
1. lavender beige sheen
2. magenta with purple iridescent
3. royal purple with shimmer
4. royal blue with shimmer
Overall, all of these eyeshadows were really pigmented. The swatches you see are without primer and applied with one swipe. They also last very well on my eyes without smearing or fading. I really enjoy the combination of sheen, matte and shimmers. I personally don't like large glitters and this palette does not contain it. For $4.99 a palette, this is a big steal! Though none of the colors are outstandingly unique, I feel this palette will be greatly used for many occasions. You get a fair amount 8.5g of product. It also includes a dual ended brush (sponge and bristle applicators), but it is one of the worse tools I have seen. Despite the fact I will toss it out, I still think $4.99 for 8 eyeshadows is a very good deal.
Have you spotted these at your local drugstore? Are you going to get any for this holiday?
Em
Like what you see?
Support my blogs by subscribing
here!
All products shown here were purchased with my own money and were given my fair and honest opinion.