I love mystery boxes, monthly subscription boxes, or anything that comes remotely close to a surprise. I don't know what it is that sucks me in to these purchases, but there is just something exciting about getting a gift in the mail. Sure, you paid for it, but the anticipation of finding out what it could be! I have been getting monthly subscriptions to beauty boxes, but I wanted something more than just beauty that wasn't a reoccuring purchase.
After using Sneakpeeq for a few weeks, I decided to give their "mystery box" a try. Sneakpeeq is a site that is similar to Hautelook or Beyondtherack. It sells items at lower prices and for a brief period of time. Their items range from home, beauty, fashion, and even food. You get to "peek" at prices and get rewarded for the number of times you peek. But enough about the website, I wanted to share with you the mystery box that I ordered from them. There were three to choose from, but I decided to get the Girl Who's got it All box.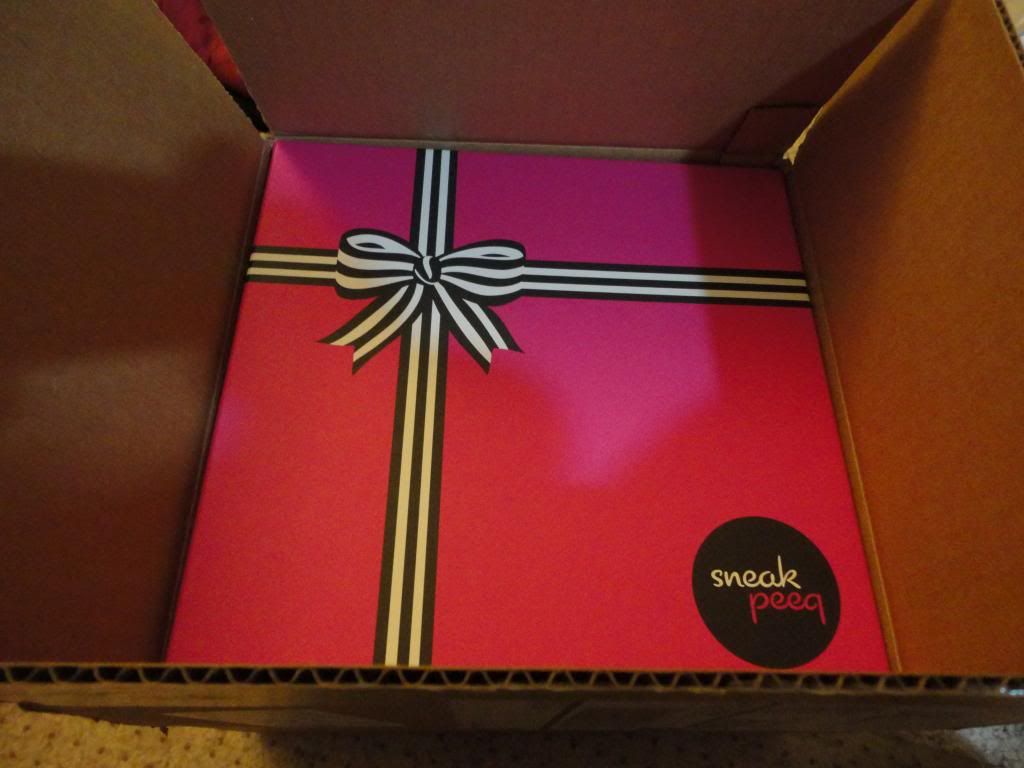 Mystery box comes in a very snug shipping cardboard box.
The actual box is very fancy and high quality. I love the hot pink and the cute bow design!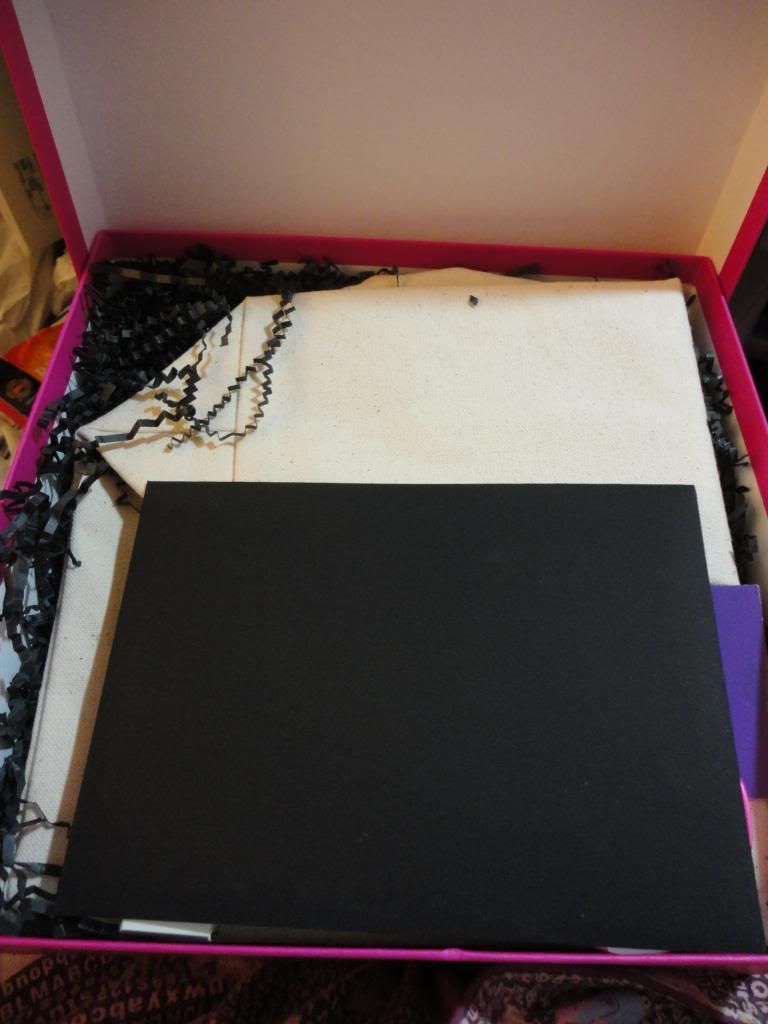 Inside the box is an envelop, tissue stuffing, and the goodies!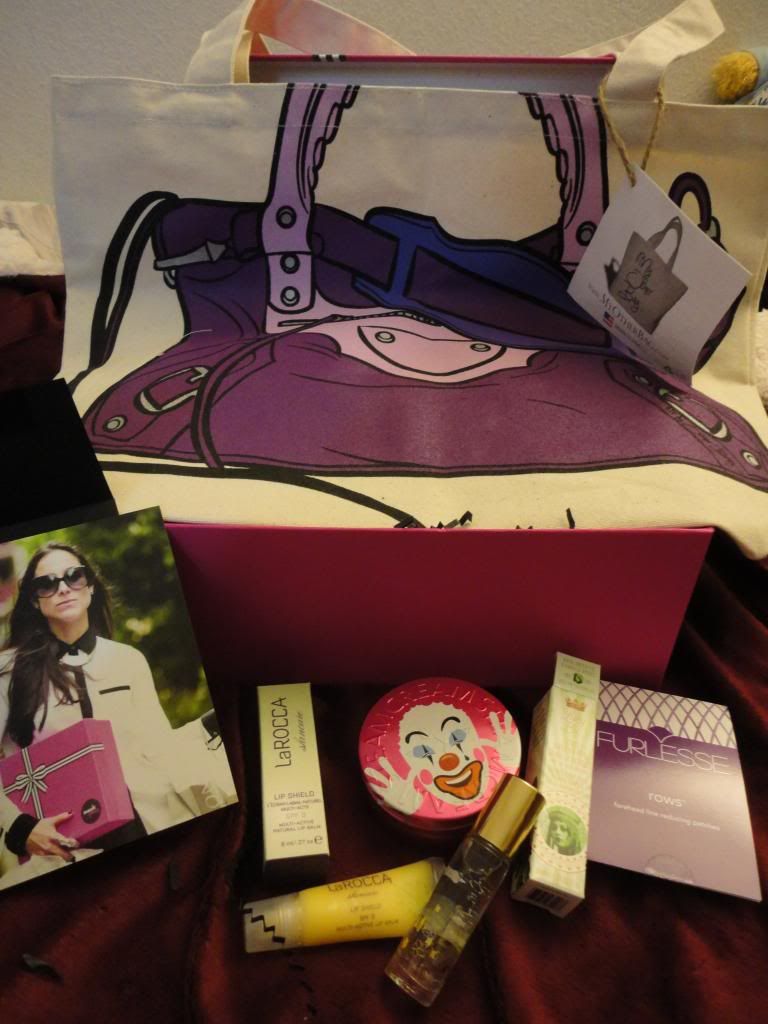 A shot of all the items in the mystery box
top: a canvas shopping tote, recyclable (myotherbag.com)
bottom left to right: note card to say thanks,
La Rocca Lip shield,
SteamCream moisturizer,
Lucy B's Royal Green Fig & Vanilla Woods perfume oil,
Furlesse forehead line reducing patches
What an interesting array of items! I was really surprised with all of these items. For $29.99 I think I got my money's worth. First of all, the canvas shopping tote from Myotherbag.com retails for $29.99 so that alone would have paid for it. However, I wouldn't purchase that for $29.99 on my own so that doesn't really count towards the cost of the bag, in my opinion. The lip shield is definitely something I would use because my lips get pretty dried in the winter time. The fig perfume oil is a nice touch and very nicely packaged, but I am not a big fan of the fig scents. It does make a great gift for a friend of my. The steamcream is interesting. It works all over the body, face, hands. I can't wait to give it a try. I don't like clowns, so the packaging is a bit of a turn off for me. Lastly, there is a forehead line reducing paper. Though I don't feel like I need it any time soon, I am intrigued about how it works!
Overall, I really enjoy the surprise. The products inside definitely doesn't look cheap or feel cheap. However, I can't say I would have purchased all of these items on my own. I probably won't use all of these items, but can definitely gift them to someone else due to their awesome size and packaging. Would I purchase their other mystery boxes? Perhaps when I have more free spending money. In my book, this isn't a rush over right now and purchase type of items, but is very nice to have on occasion to keep yourself happy.
To try your luck at one of these mystery boxes, click
here
to sign up! There is no membership fee or minimum purchase/cancellation per month! P.S. I am not affiliated with the company in anyway. I just happened to stumble across this company and like it.
What are your thoughts? Do you like mystery purchases?
EM
Like what you see?
Support my blogs by subscribing
here!
All products shown here were purchased with my own money and were given my fair and honest opinion.