While waiting in line at Sephora I came across the aisle of temptation. That's right, I'm talking about those little clear boxes that hold wonderful goodies all around you when you wait your turn to pay. These goodies basically make up the line so there is no missing them. I usually get tempted, but end up telling myself that I don't need it or that it is too expensive for the amount you get. This time, however, I knew there was no way around it. It is the Tarte Dollface blush and Park Ave Princess bronzer set. This set goes for only $15! What a steal? Granted the sizes of these are smaller, but honestly I have not finished one blush or bronzer yet. I don't mind a smaller size at all!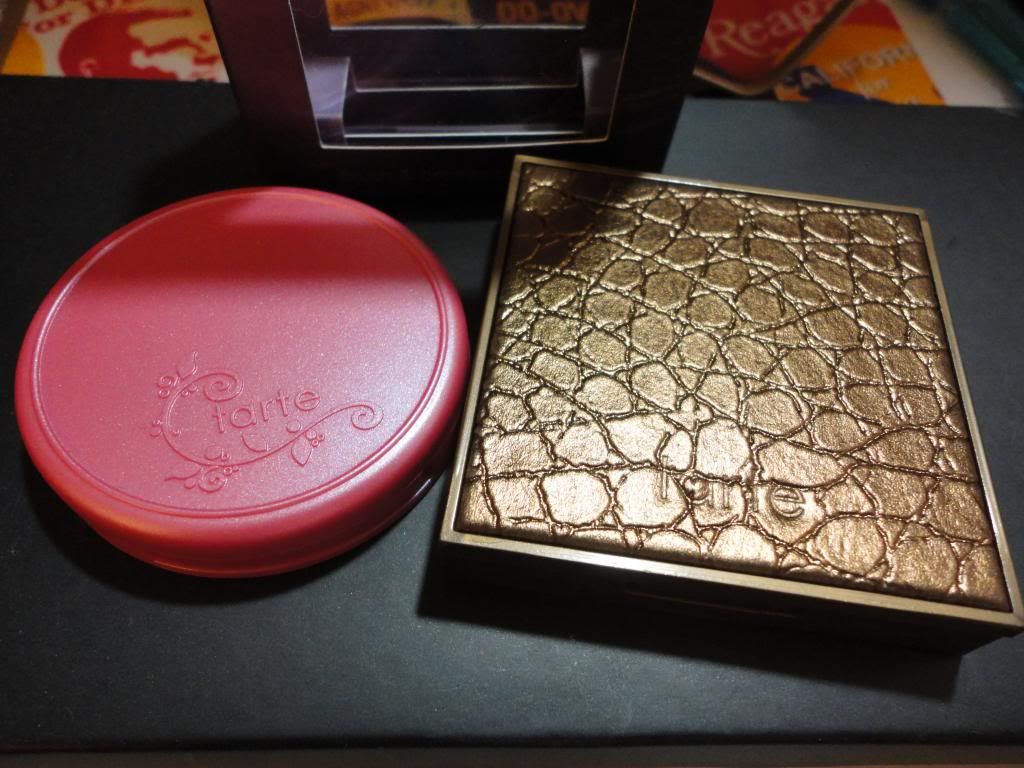 Tarte Dollface blush and Park Ave Princess bronzer, $15, Sephora
Tarte Dollface blush and Park Ave Princess bronzer
Swatches of Tarte Dollface blush and Park Ave Princess bronzer
Dollface is a mauvy baby pink. It is matte.
Park Ave Princess is a golden sheen blush. It isn't shimmery, but I wouldn't say it is matte either.
Dollface on my cheeks and Park Ave Princess under my cheekbones
Application: Both applied very well and did not look powdery.
Scent: I detected no scent.
Staying power: The blush stayed for 8 hours and the bronzer seems to fade after 6 hours or so.
Overall: I really like Tarte blushes and this shade is no exception. It looks very spring like and happy. The bronzer does have a bit of sheen to it so using this as a contour powder may not work as well as if you wanted to just bring color to your face. Both of these are great travel sizes and I would definitely recommend trying these if you haven't!
Do you already own these? Would you get the mini sizes to try for $15?
EM
Like what you see?
Support my blogs by subscribing
here!
All products shown here were purchased with my own money and were given my fair and honest opinion.