So I was able to finally get my hands on this collection in stores. It was not for sale yet, but they allowed us to test it out and place orders. I know MAC online already started selling items at 2:30pm -ish PST today (jan 30th 2013), but I wasn't able to get to the store till after work. So, I swatched some of the items that I was interested in and decided to post it up in case you wanted more swatches before making your purchase. I personally really like Archie comics and this collection really speaks to me. Swatches are below, but note they are not complete.
The collection is separated into different stands: Betty's, Veronica's (not shown in this picture), and Archie's Girls. Online, they also have an Accessories category.
top left to right:
Girl Next Door- vivid blue pink lipstick
Betty Bright- light vibrant peach lipstick
Oh, oh, oh- sheer brown plum lipstick
Summer sweatheart- light peach lipglass
Stay sweet- light lavender pink lipglass
Kiss and Don't tell- bright coral lipglass
Petrol blue pearlglide
black swan pearlglide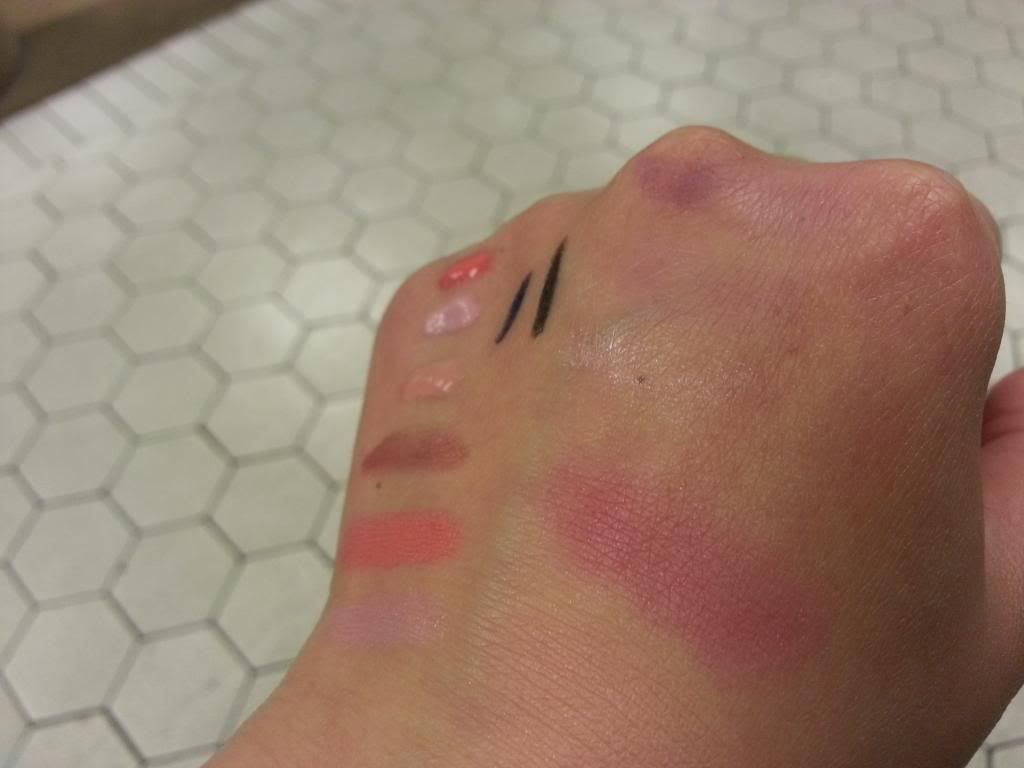 Bottom:
Cream soda blush is at bottom near wrist, but color blends in a lot with my skin so it's hard to see in this light
Above Cream soda is Prom Princess blush
I hope this helps a little with your decisions. I know it is hard to tell on the screen due to lighting and resolution, but I figured since I already swatched it I might as well share with you guys.
Have you got your eyes set on anything? Did you already order everything you wanted today on MAC's website?
Good luck!
EM