UPDATE March 16th 2013: I purchased the Lacey Lilac nail polish as well as Laze in the Maze and Legally Regal Color Riche balm. See below for details!
I finally spotted L'Oreal's spring 2013 nail polish collection at Walgreens earlier this week and I grabbed 5 out of the 6 shades they had. The display at my local Walgreens wasn't big, in fact there were only two or three of each shade available on the stand. I love pastels and I love the names of these polishes. I hardly ever purchase so many shades from one collection, but this one just stole my heart. Unfortunately, this display does not contain their lip balm products. I will have to keep looking for those!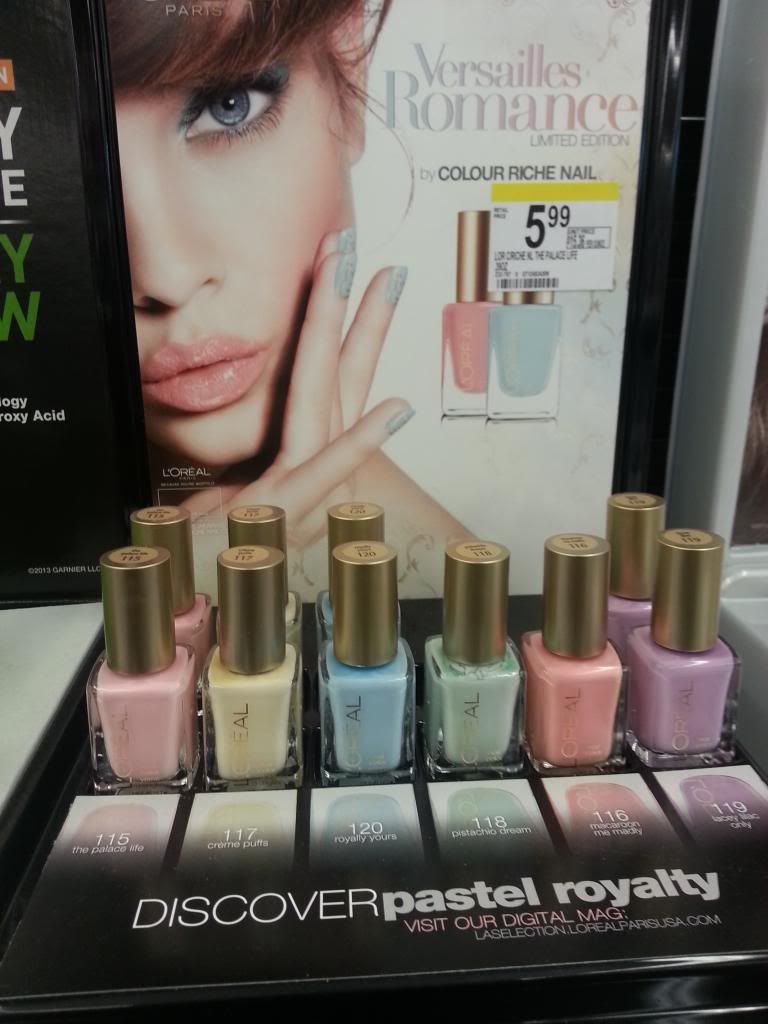 L'Oreal Versailles Romance, $5.99
left to right: The Palace Life, Creme Puffs, Royally Yours, Pistachio Dream, Macaroon Me Madly, Lacey Lilac
I purchased all the shades except the purple Lacey Lilac. At first look, I felt like I had something very similar to that already. However, seeing how much I loved the other shades that I did purchase I might reconsider Lacey Lilac.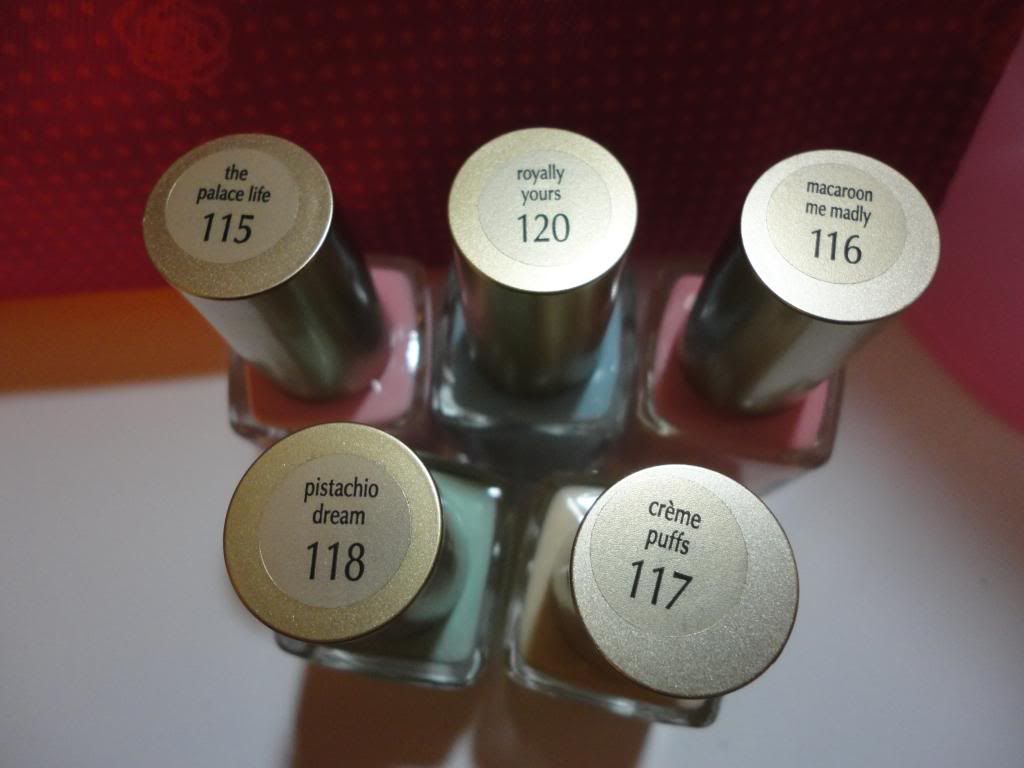 0.39 fl oz, $5.99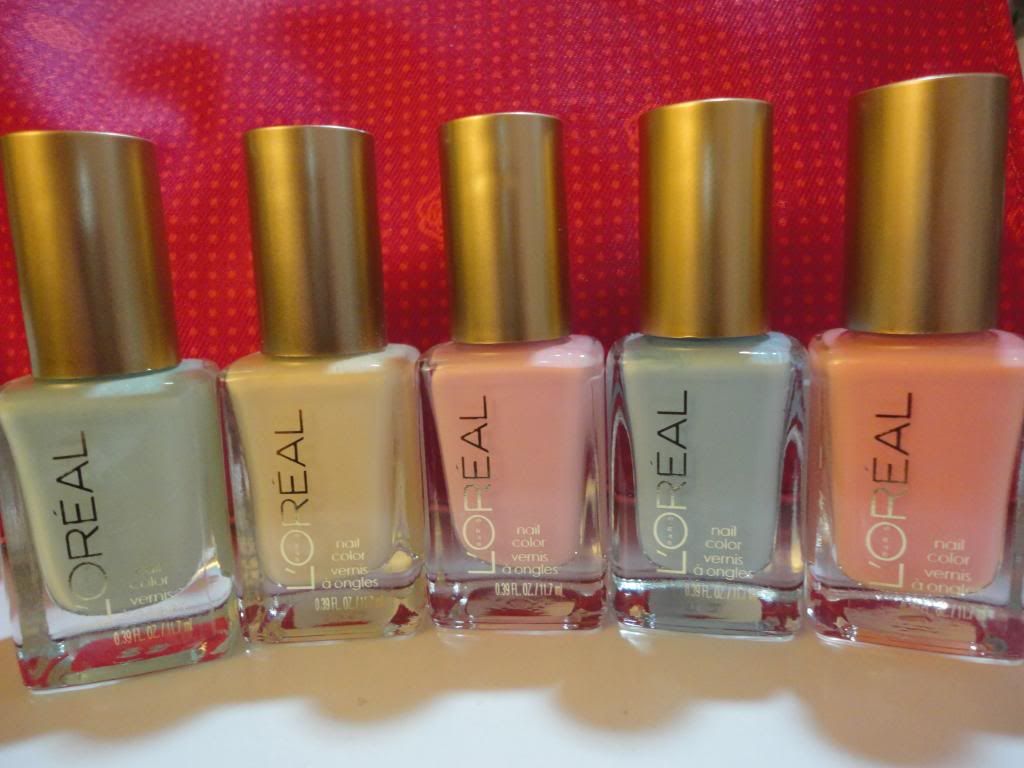 Ahh the pastel rainbow of polishes!
First up: Creme Puffs and Pistachio Dream
pinky and middle: creme puffs
index and ring: pistachio dream
These are two coats each and they are pretty pastel. Pastels are usually pretty hard to apply because they tend to streak. These did minimally with the first coat and was fine with the second. Make sure you let the first coat dry completely before applying the second or else you might streak.
Creme Puffs is a milky light yellow shade with light gold shimmers. Shimmers are hardly visible unless in the light.
Pistachio Dream is a bright milky green with blue green shimmers. Again the shimmer is really only detected under light. It is showing up more blue in the picture above, for some reason, but it is green in person.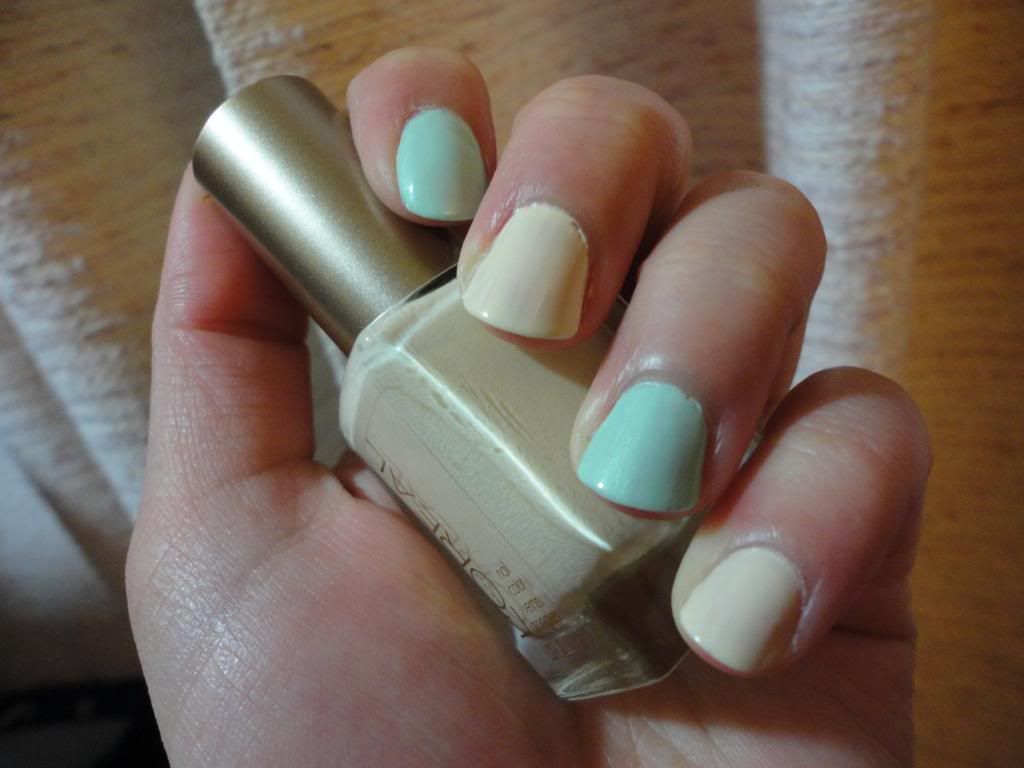 Another shot of Creme Puffs and Pistachio Dream
NEXT up: The Palace Life, Royally Yours, and Macaroon Me Madly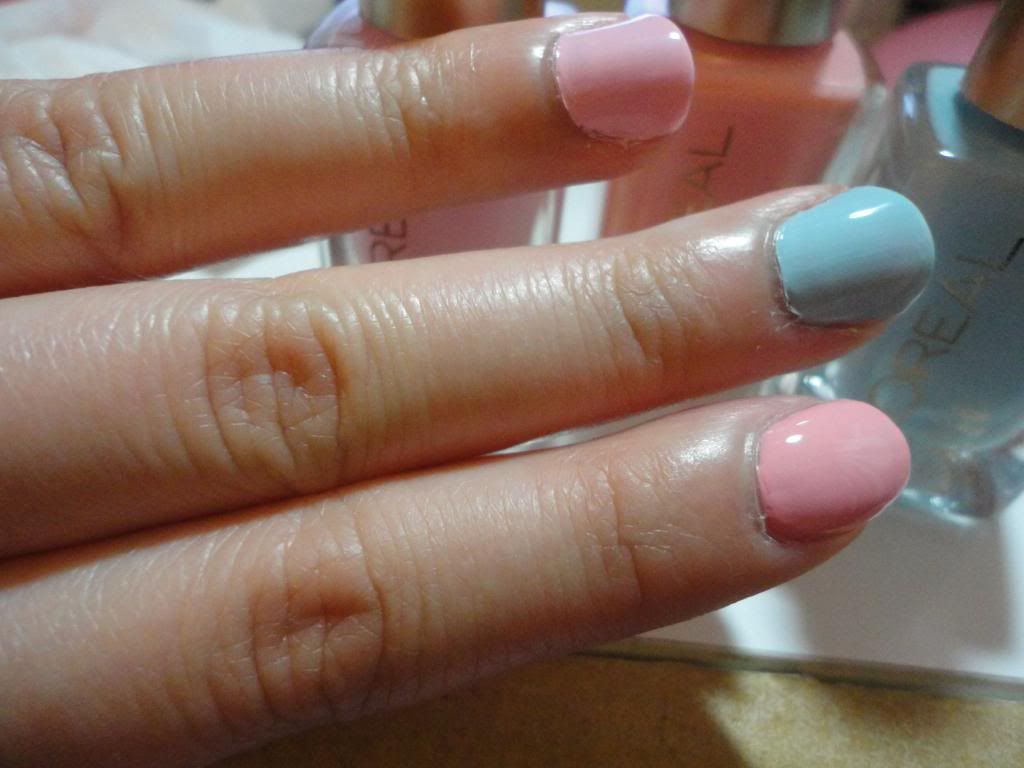 top to bottom: The Palace Life, Royally Yours, and Macaroon Me Madly
These are all with two coats and I did not have a problem with streaking. The shades are pastels from afar, but closeup and under light you can see very subtle and fine shimmer that blend in with the polish.
The Palace Life is a barbie pink with slight pink shimmers
Royally Yours is a pastel blue
Macaroon Me Madly is a salmon peach pastel with subtle shimmer
Another shot of The Palace Life, Royally Yours, and Macaroon Me Madly

---
update 3/16/13

So I caved and purchased the last shade in this collection: Lacey Lilac. Surprisingly, I don't have anything in my collection identical to it. I have things that come close, but still I just love pastels! Lacey Lilac is a brighter pastel shade than the rest of the collection. It has a lilac color that leans more pink. I really like it! Two coats and it is opaque!




I also found the Color Riche Balms in this collection at my local Target today. I purchased two of the shades available: Laze in the Maze and Legally Regal.


Laze in the Maze (left), Legally Regal (right)


$5.99, Target
Laze in the Maze was the more pigmented of the two. In a couple swipes I get a pretty sheer creamy pinky coral shade.
Legally Regal was very very sheer. I had to swipe 10+ times on my hand to achieve that color you see above.
On my pigemented lips, both colors lightened my red lips a little turning them into creamy pink and coral shades. However, it is more of a balm feeling than anything. I probably would only have purchased Laze in the Maze only if I knew this. The colors do not make that much difference when on my lips to own two of them. They were both moisturizing and good to have in my purse, but only one is required for that purpose.
---
I have been wearing Macaroon Me Madly for three days now and the staying power and shine has been amazing. I did use a top coat, but before the top coat I can see these polishes carry fantastic shine to them. It must be the subtle shimmers in the polish.
Application: Very easy. The first coat was a bit uneven for most, but the second coat fixes it. There was one polish, The Palace Life, which I thought one careful coat was good enough.
Texture: It is very shiny, but still pastel looking. The shimmers are hardly noticeable unless closeup or under direct light.
Staying power: It lasted 3 days without chipping for me with a top coat. I had to take it off to swatch the other shade for the blog!
Dry time: Fairly fast. It dried completely within a few minutes.
Overall: I LOVE pastels and cute colors like this. These remind me of French macaroons, of which I am obsessed with. I love that the yellow pastel of Creme Puff is so light and subtle that it can go with my skin tone without looking weird. I also love that all of them was not streaky and did not cause any big problems. For $5.99, it was an awesome deal! I also believe I bought them when Walgreens had a BOGO 50% off sale so it was even cheaper!
Did you see this Versailles Romance collection at your drugstore yet? If so, which one are you thinking of picking up?
EM
All products shown here have been paid with my own money and have been given my honest review. Please do not steal material. If you would like to share these images or review, please link and list this blog for reference!