So I saw a limited edition display at my local Walgreens the other day and I immediately recognized it as one of Maybellines' special collections. Maybelline, and other brands, have seasonal collections inspired by fashion shows, holidays, and other special events. I saw that there wasn't much on these displays so I grabbed a bit of everything. In total, I left with two nail polishes (which I will review below), a blush, and a lipgloss (which is reviewed
here
). Seeing how quickly these sold out previous years, if you see something you like go to your local drugstore immediately and pick them up! Without further delay, here are the two polishes I purchased: Ruby Rhinestones and Cocktail Dress.
Ruby Rhinetones (left), Cocktail Dress (right)
0.23 fl oz, $4.99
Ruby Rhinetones is a dark red with a blue tone. It also has red hexagon glitter and small red and black glitter.
Cocktail Dress is a black polish consisting of small black glitter and larger red glitters.
Both have very sequin-y textures to them.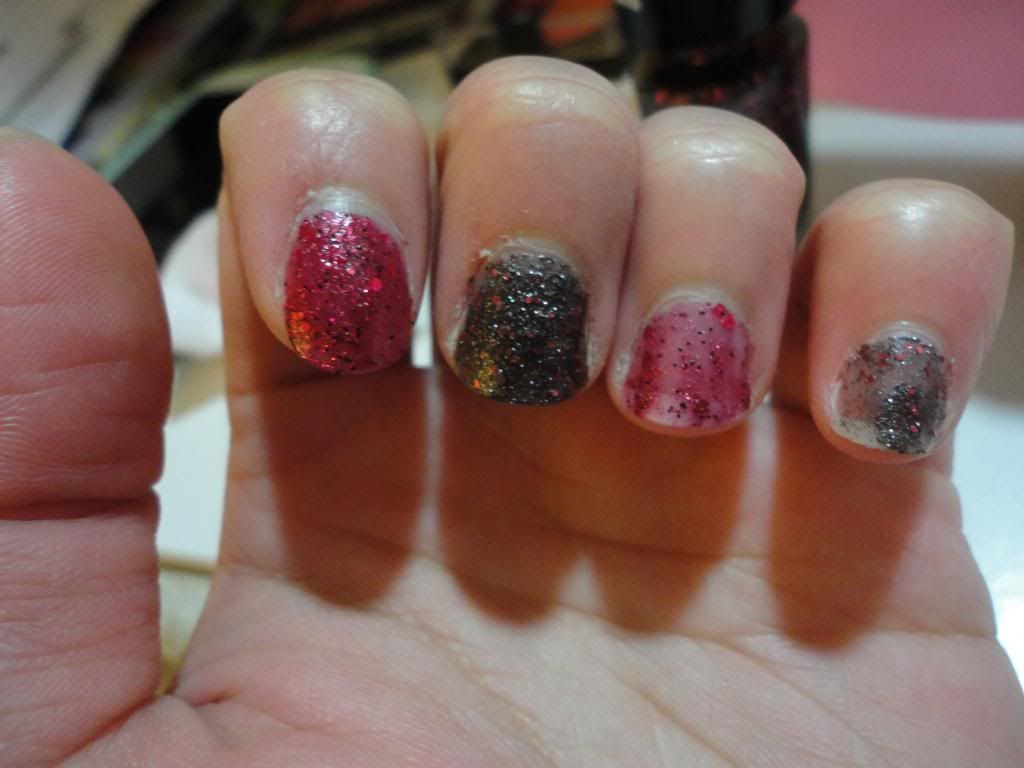 These polishes are very sheer with the first coat (finger on the right = one coat).
However, as you build up the color, they become quite opaque (fingers on the left = 2 coats).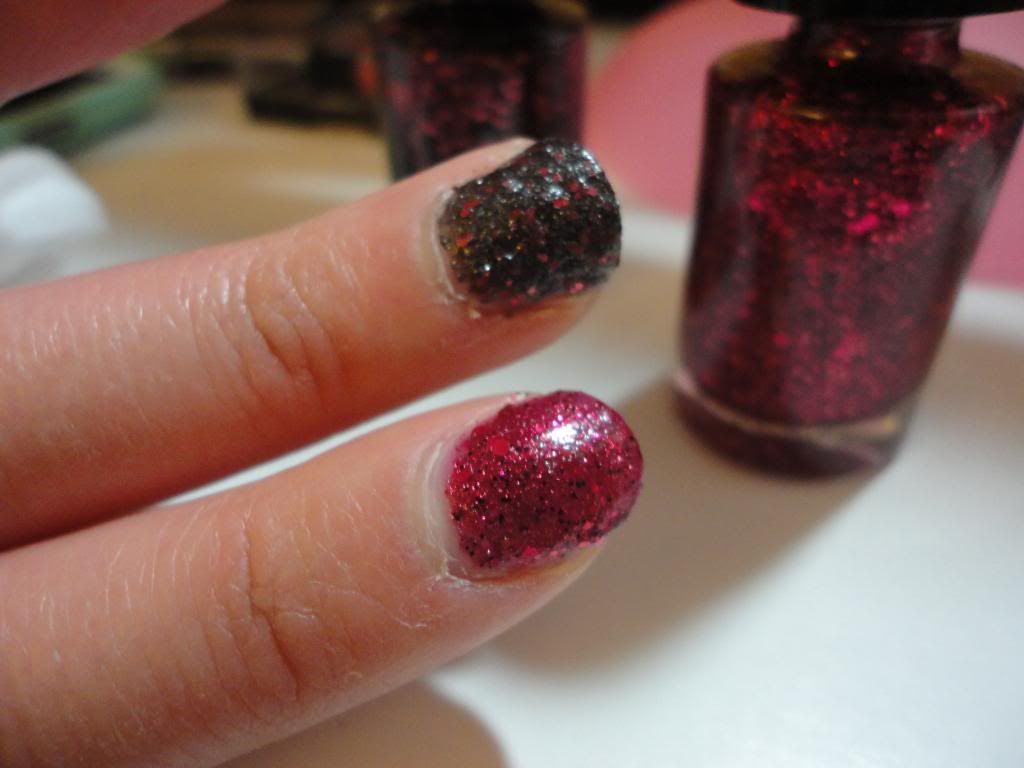 A closeup of Cocktail Dress (top) and Ruby Rhinestones (bottom)
three coats each.
I wore my fingers like these for the day! I loved how it looked. Each polish carried color from the other polish so it matched quite well.
Application: The application required at least 2 coats to look nice and 3 coats to be pristine. The polish did have a very gritty texture to them so apply generously on the 2nd and 3rd coats to prevent drying out and tugging. Because there are so many "ridges" in the glitter/sequins, it is easy to run out if you apply thinly.
Dry time: It dried very fast so it helped with the 3 coat application.
Texture: It is very gritty. I actually became quite concern this will catch on something fragile and either ruin a shirt or pull glitters off of my nail polish. Either way, it is too gritty for my taste so I had to apply a top coat to smooth it out.
Staying power: I would say these last me at least 3 days without chipping (with top coat).
Overall: I like the colors that Maybelline came out this Spring. I really enjoy the new color combinations and glad I don't have anything like these in my collection already.
What are your thoughts? Have you spotted this collection yet?
EM
All products shown here have been paid with my own money and have been given my honest review. Please do not steal material. If you would like to share these images or review, please link and list this blog for reference!