I was browsing through Rite Aid recently and found a new stand for Prestige Cosmetics. This was one of those promotional stands where they only have a few of each of the promoted items. I cannot say whether these were limited edition, but they definitely weren't in the regular Prestige shelves. These were in the Total Intensity line and all the packaging were sleek. It was mainly black packaging and the items were intriguing. I picked up two items: an emerald eyeliner and a purple duo chrome eyeshadow. There were also mascaras and eyeliners that I did not pick up.
Prestige Emerald eyeliner and Addiction eyeshadow
Both were $5.99 at Rite Aid
The eyeshadow had a sturdy packaging with black plastic on the top and bottom. Clear plastic surrounded it on the very top and the sides. The plastic circle cutout allows you to see the color inside the package. It is a snap closure so it was easy to open and close, but not easy enough for it to pop open on its own.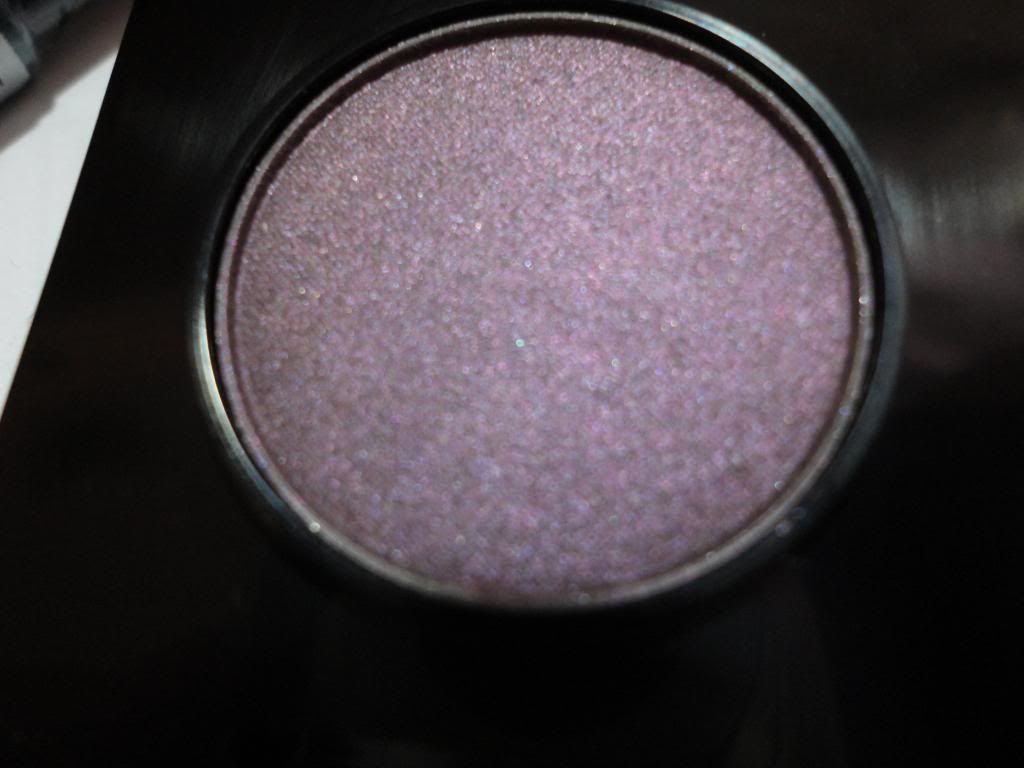 Prestige Long Term Relationship eyeshadow in Addiction
Addiction is a duo chrome like eyeshadow that has hints of purple grey in it. The color is fairly pigmented and the staying power is very strong. I swatched this on my hand and tried to wipe it off with a tissue. I rubbed pretty hard, but there were remaining grey shades. It wasn't until I used makeup remover did it come off completely. There was no detectable scent. This lasted on my eyes for about 9 hours without smudging and no primers.
The other item is the eyeliner in Emerald. This pencil is extremely soft and pigmented. When I lightly touched it on the back of my hand, it just melted on.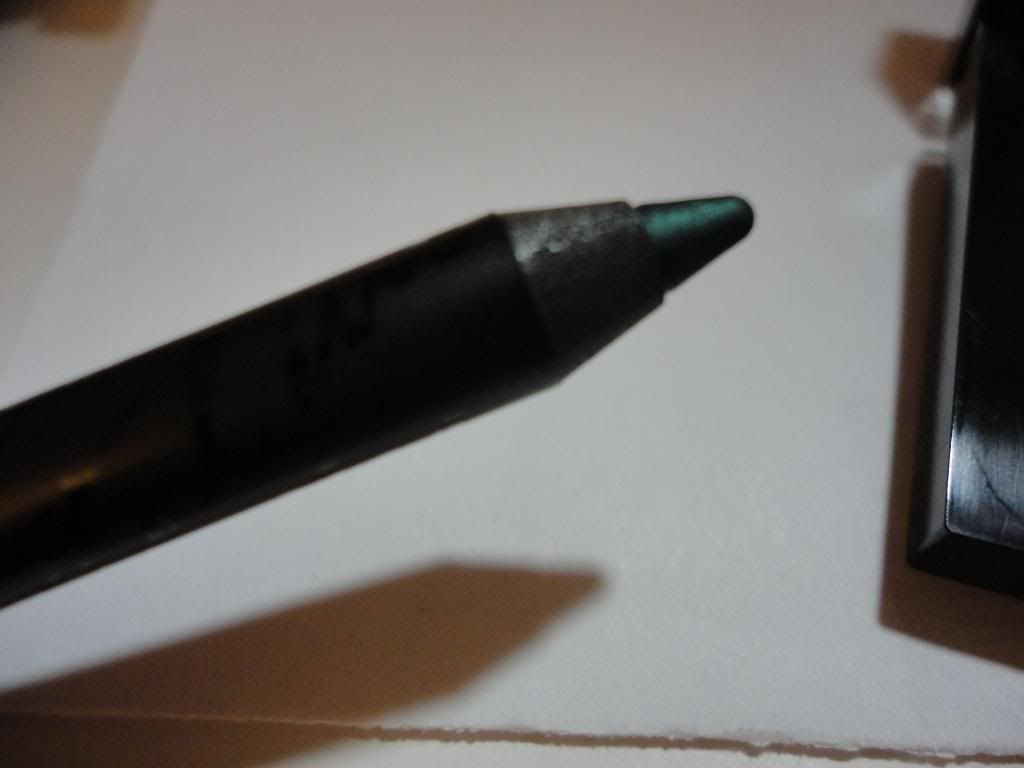 Prestige eyeliner in Emerald
Emerald is a very bold green with sparse glitter. You may see one speck or two when lining your eyes. This product was so creamy and soft that after lining one of my eye it was not sharp anymore. I used quite a bit of product on just one eye by just lightly touching it. I notice it was so soft that some of it was drawn on my eyelashes. My lashes looked tinted green. The good news is that there is no tugging and it is very pigmented. The bad news is you will go through this pencil in no time and you might get slight transferring. The color definitely won't fade but excess product will transfer to the top of my eyes during the day.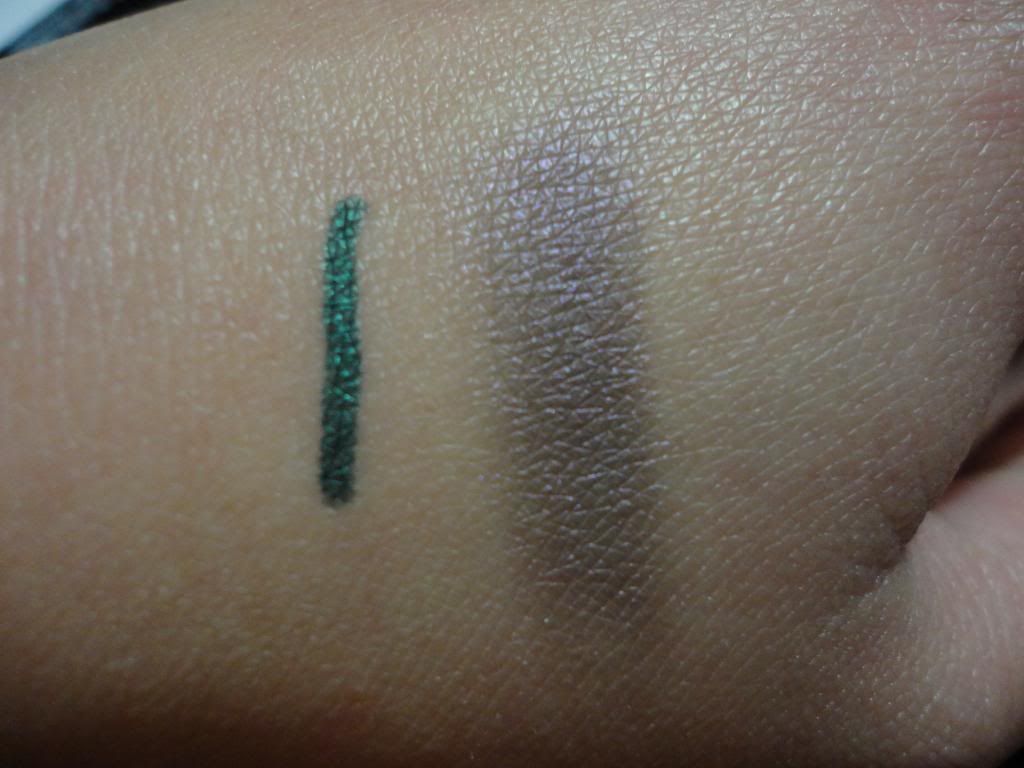 left: Emerald eyeliner, right: Addiction eyeshadow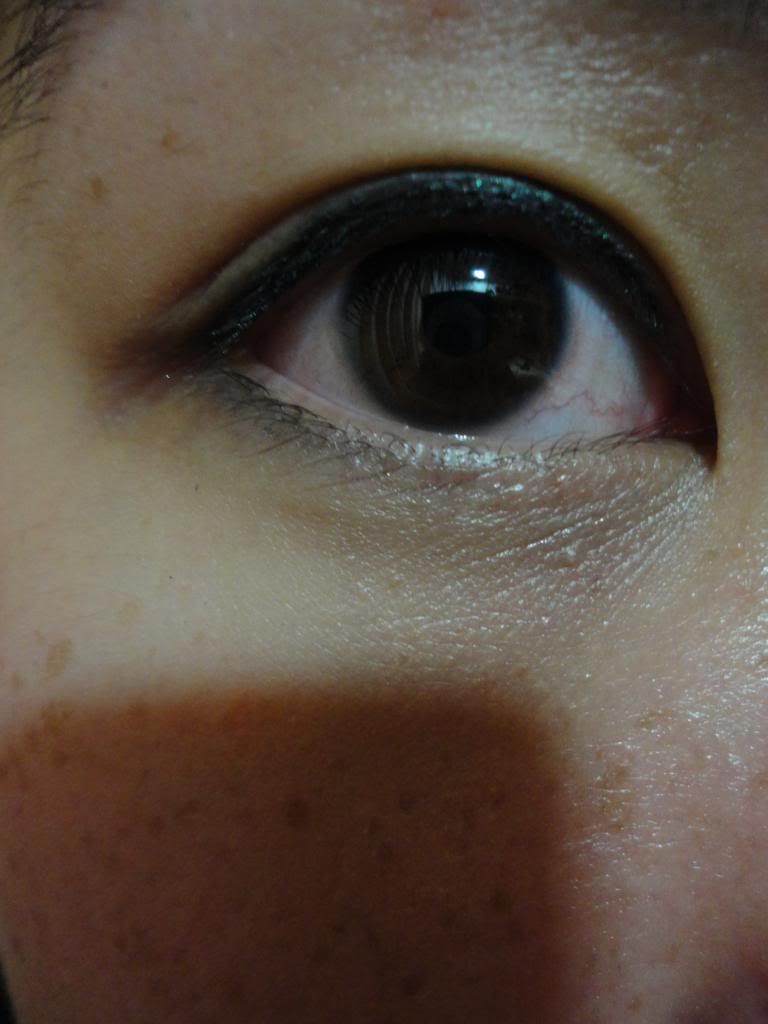 Prestige eyeliner in Emerald on my top lash line
Overall, I like the eyeshadow's duo chrome like properties and the staying power of it. I also like the ease of applying the eyeliner. However, I find the eyeliner a bit too soft and transferring than I would like. I also find the eyeshadow not as pigmented as I would like. I would keep these, but I don't know if I would go back and repurchase right away. For only $5.99, I saw these were great to have and try! If you don't have oily eyes like I do, you can get away with the eyeliner being a bit creamier. Also, if you use a primer you can build up the pigmentation of the eyeshadow.
Have you seen these at your local Rite Aid? If so, have you purchased any?
EM
All products shown here have been paid with my own money and have been given my honest review. Please do not steal material. If you would like to share these images or review, please link and list this blog for reference!