As part of my recent nail polish spree at Rite Aid, I purchased some of Blue Cross' Mardi Gras line of polishes. These were available at Rite Aid. I have not seen it sold elsewhere so I'm not sure if it is restricted only to Rite Aid. Anyway, this particular display had a glitter theme. All colors had glitters of some sort in there. Some were more cream like while others definitely had gel like consistency and look. What really caught my eye were two polishes, though I ended up getting three. There were a lot more, but I had to control myself somehow. See below for swatches and comparisons!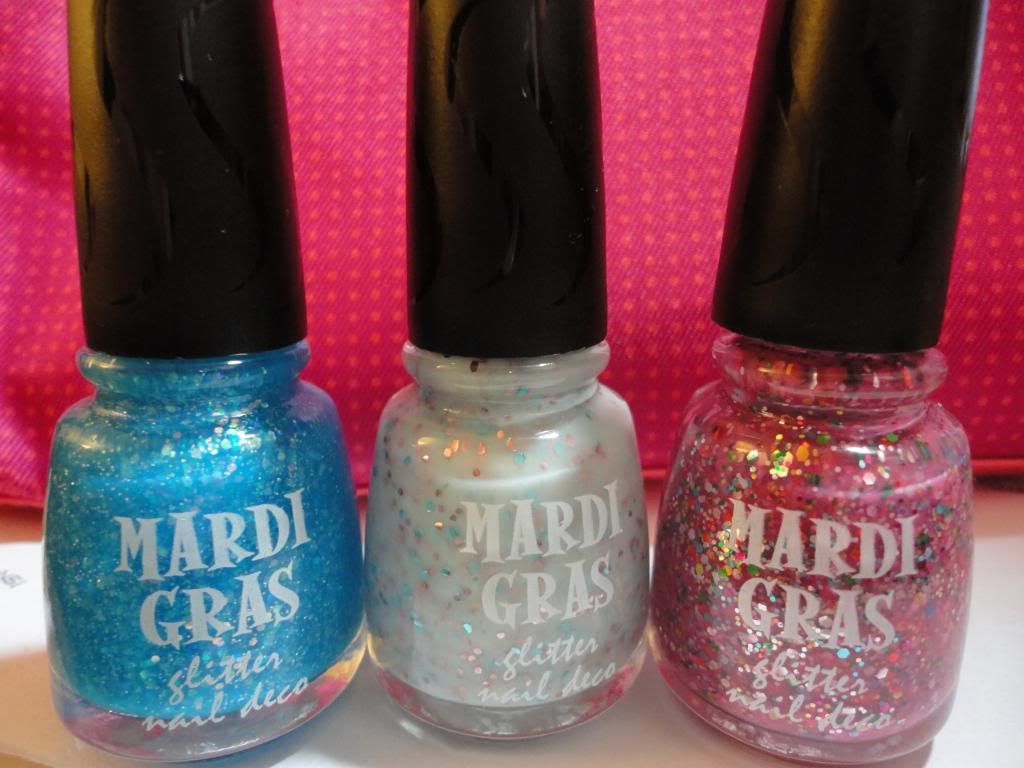 Blue Cross Mardi Gras polishes, $3.99, Rite Aid
Annoyingly, none of these have names or numbers to them. It isn't the first time I saw polishes without identification, but it just makes it more difficult to compare and refer to. I will give them my own names here on the blog just for simplicity sake.
Sparkling Frosting:
a sheer light blue with pink and blue glitters (closely resembles
Revlon Whimsical
and Deborah Lippmann's Glitter In the Air)
Cotton Candy: magenta pink jelly with colorful glitters and shimmers (resembles Deborah Lippmann's Candy Shop)
These three polishes are pretty sheer and goes well over other more opaque nail polishes. I will swatch a few of these to show you the results below. The brush is very standard and is on the thinner side compared to WnW or L'oreal polishes. The dry time is fairly fast so even having to do several coats wouldn't hurt. In fact, because these are so sheer and are good for the jelly look, multiple layers would help create that feel. The more polish you have on top of glitters, you can really see the layers.
So, first off: one coat. I must say, this isn't a good look. However, I want to show you the sheerness and opaqueness this polish can achieve.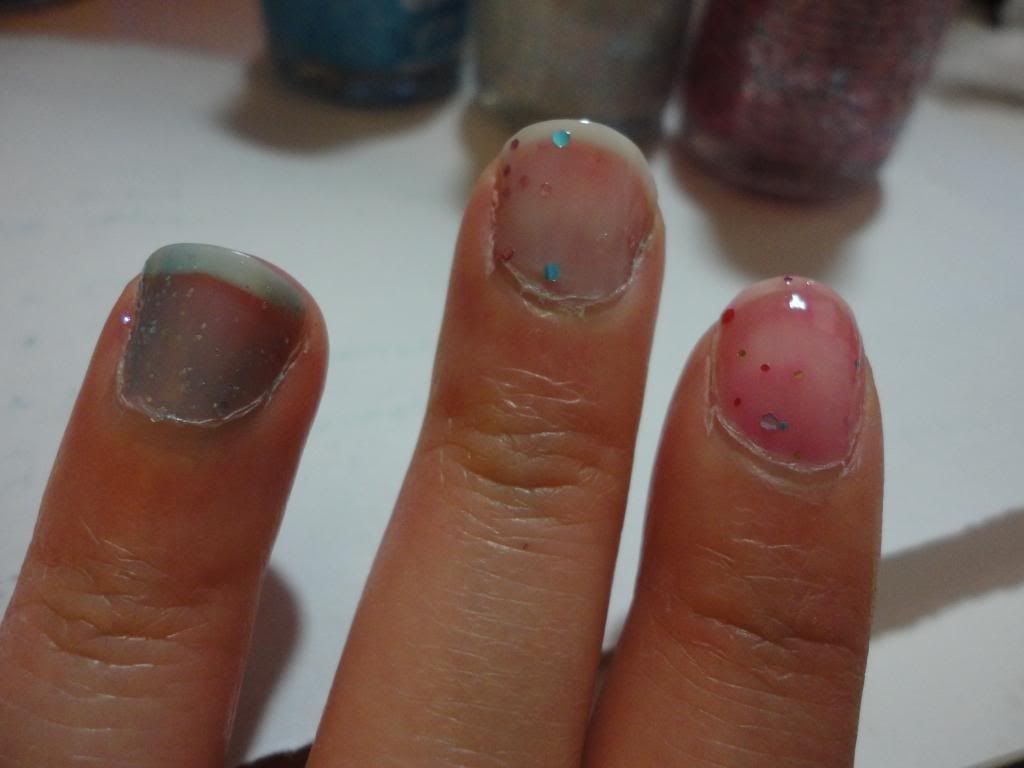 Blue Cross Mardi Gras: Blue Waters, Sparkling Frosting, Cotton Candy (named by me)
One coat!
As you can see, Sparkling Frosting doesn't really show any colors at all.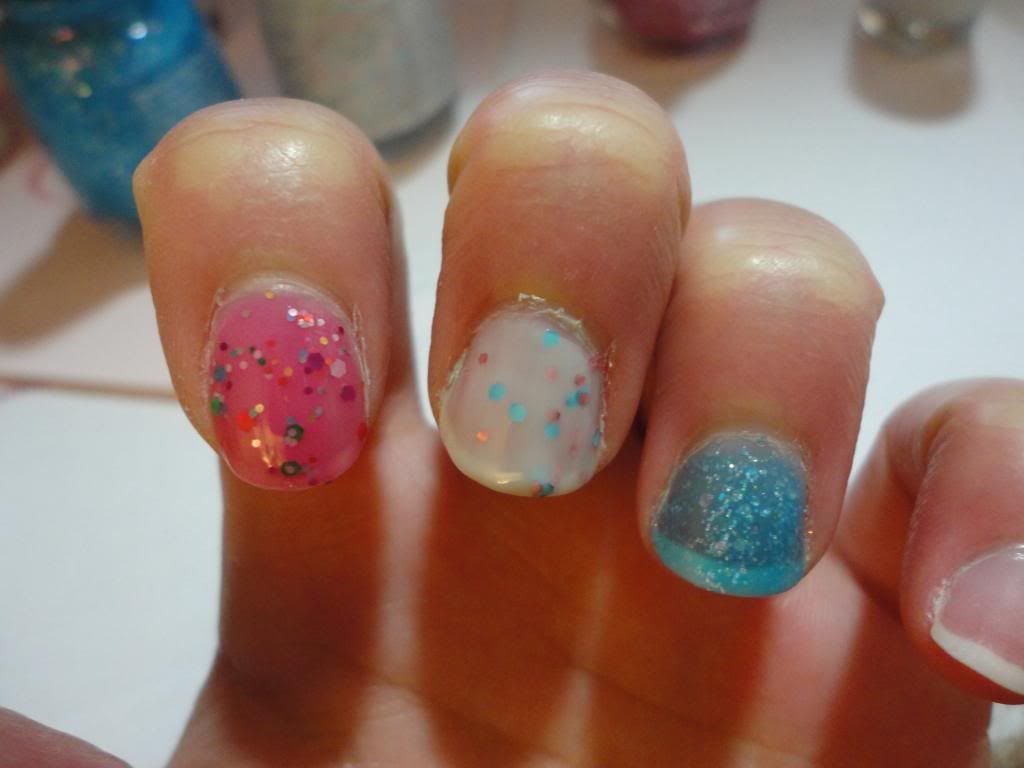 Blue Cross Mardi Gras: Cotton Candy, Sparkling Frosting, Blue Waters (named by me)
Three coat! I skipped the second coat because you can't really see too much of a difference. With three coats you can start to see the colors become opaque.
Personally, I am most intrigued with Sparkling Frosting. I love that creamy blue color with a jelly touch. I already own Revlon's Whimsical so I am excited to see what this can do. In comparison, the bottle shot of Revlon's Whimsical is more yellow based whereas Blue Cross Sparkling Frosting is more white based. Both have the same color glitters and remind me of Deborah Lippmann's Glitter in the Air.
A quick comparison with the two polishes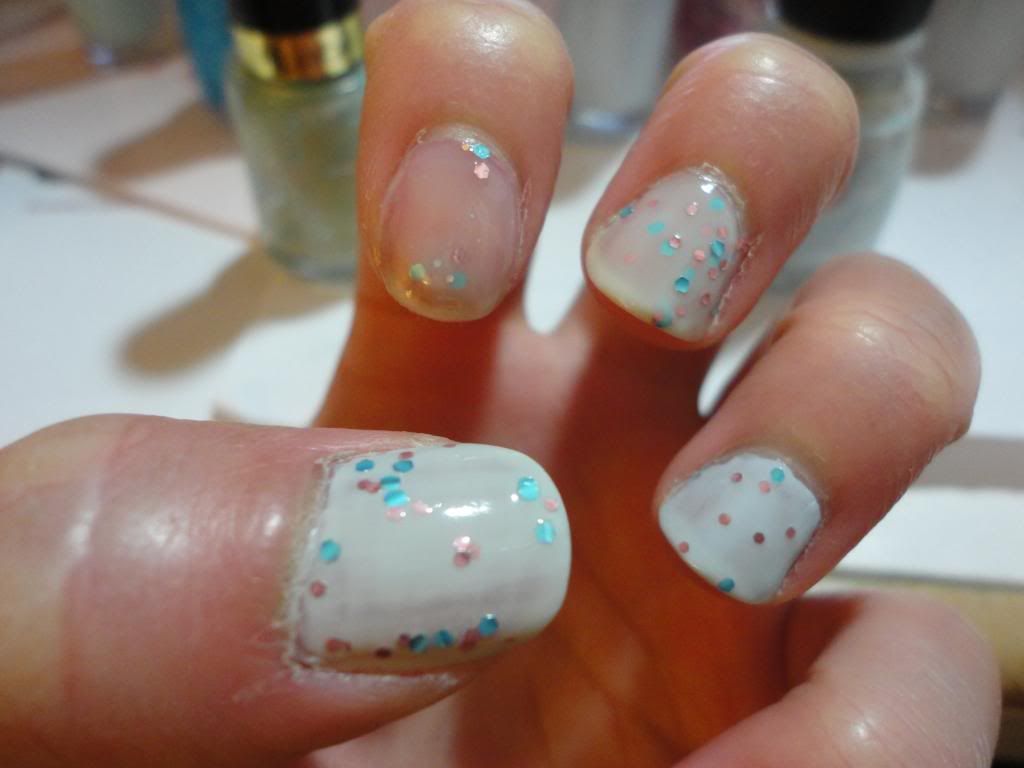 Thumb: MG Sparkling Frosting over Maybelline's Bare Escape (one coat each)
Index: two coats of Revlon's Whimsical
Middle: three coats of MG Sparkling Frosting
Ring: MG Sparkling Frosting over Maybelline's Poolside (one coat each)
Either way, I really like all three polishes. Since I don't own Deborah Lippmann's Glitter in the Air, I cannot attest to the exact color. You got to admit for $3.99, these are worth a try!
These lasted 4 days on me without chipping and was not difficult to remove despite the glitter.
What are your thoughts? Do you own Deborah Lippmann's Glitter in the Air? Are you going to pick up anything from this collection?
EM
All products shown here have been paid with my own money and have been given my honest review. Please do not steal material. If you would like to share these images or review, please link and list this blog for reference!