The other day at Rite Aid, I notice a new Maybelline display. It contained the limited edition nail polishes that I have been seeing on random blogs online. I quickly grabbed 4 of my favorites because Rite Aid had the BOGO 50% off this week. The colors I picked up are naturally pastel or muted colors. Note that the other colors in this display are more bold and bright, but they just weren't my cup of tea. See below for the four that I purchased. These are limited editions so if some of these catches your eye, don't hesitate or they will be sold out!
Maybelline Color Show nail polishes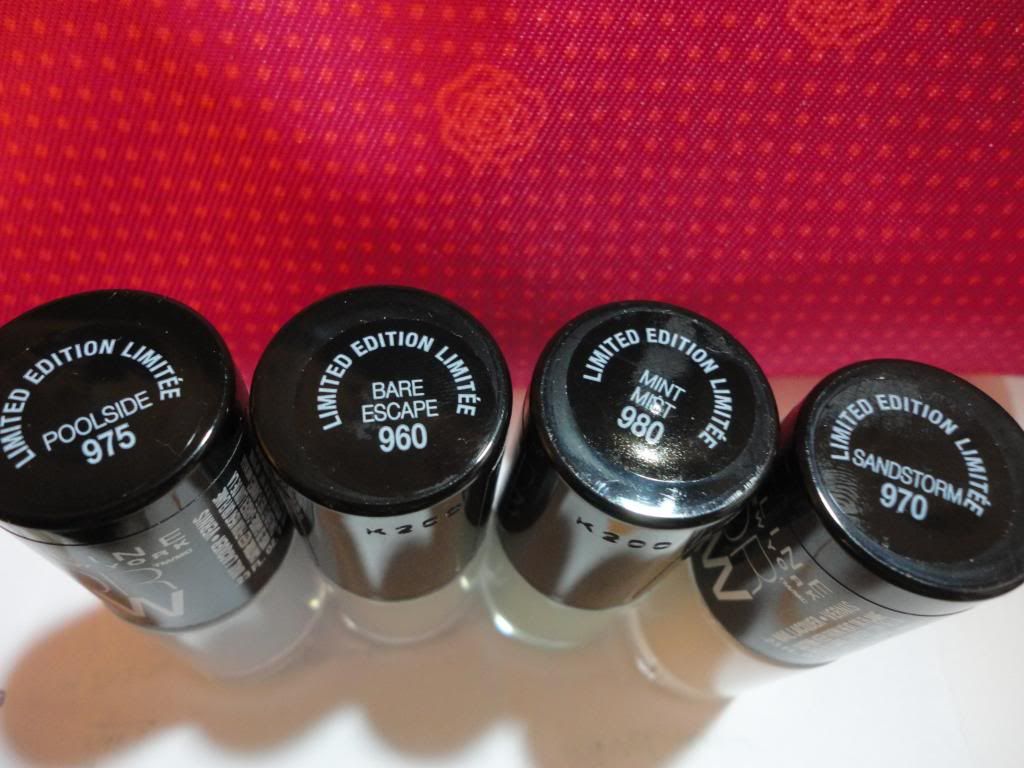 Maybelline polishes, $3.99
all polishes are cream finishes!
Poolside is a powdery perwinkle sky blue
Bare Escape is a very muted grey bone
Mint Mist is a pastel turquoise
Sandstorm is a yellow based beige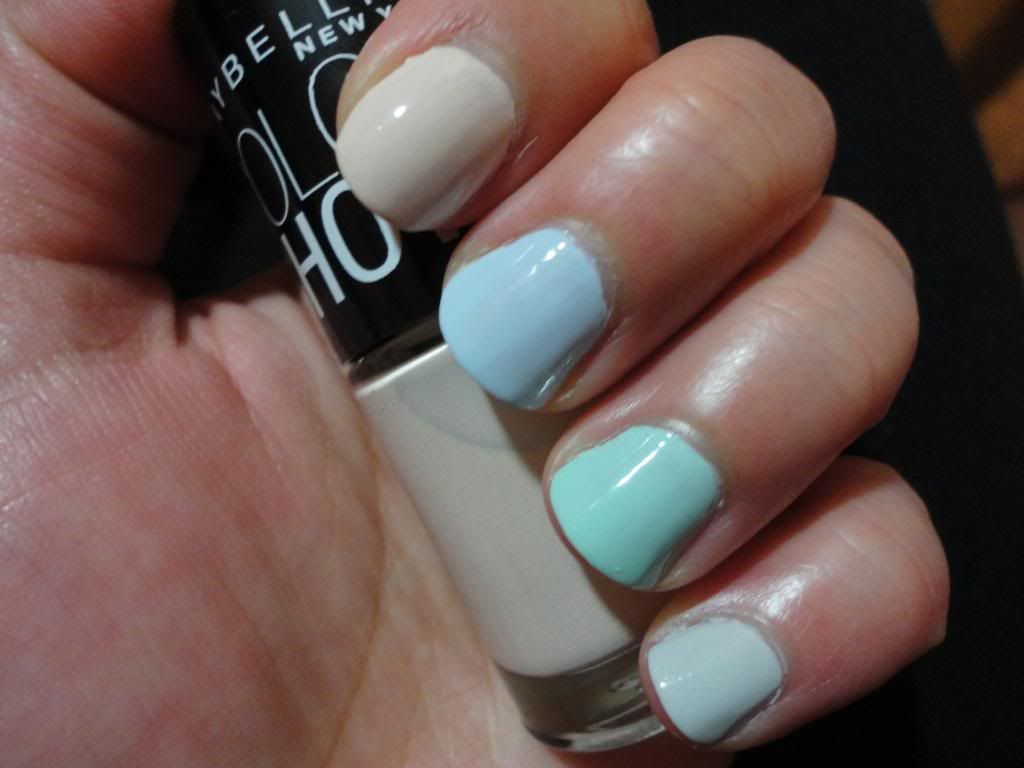 two coats each
left to right: Sandstorm, Poolside, Mint Mist, Bare Escape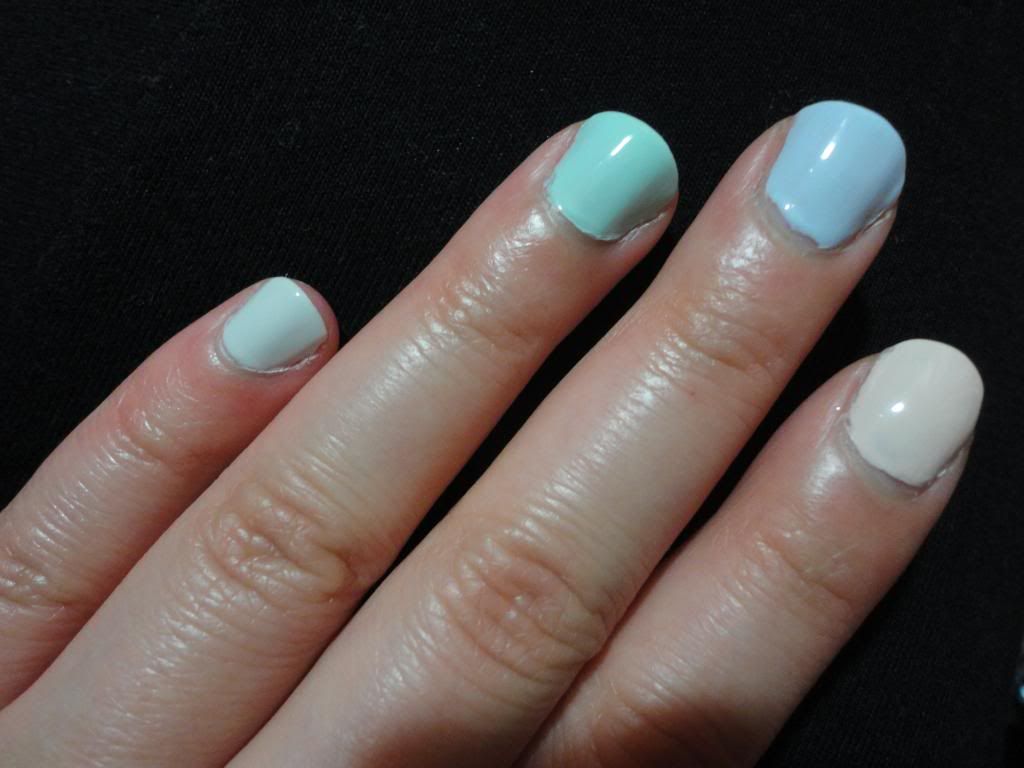 Another view of the polishes, two caots
left to right: Bare Escape, Mint Mist, Poolside, Sandstorm
Overall, I really like these colors. They are right up my alley. I love creams and these did not cause too bad of streaks. The first coat was though, but Sandstorm still looks amazing. With the second coat, they were all smooth as can be.
Dry time is very reasonable. Within a few seconds they aren't tacky and within a minute it is dried.
Staying power is good so far. I have been wearing it for about 2 days now.
The brush is similar to other Maybelline polish brushes. It is thin, but applies without harsh lines.
Though I love these colors, I feel like they are easily dupeable. Not that I am saying you need to since the price point is only $3.99! I simply mean you probably already have something like it in your collection. If you don't, I would highly suggest picking one up. I decided to dig in my collection for the mint shade to see whether I have similar products. Here is what I found: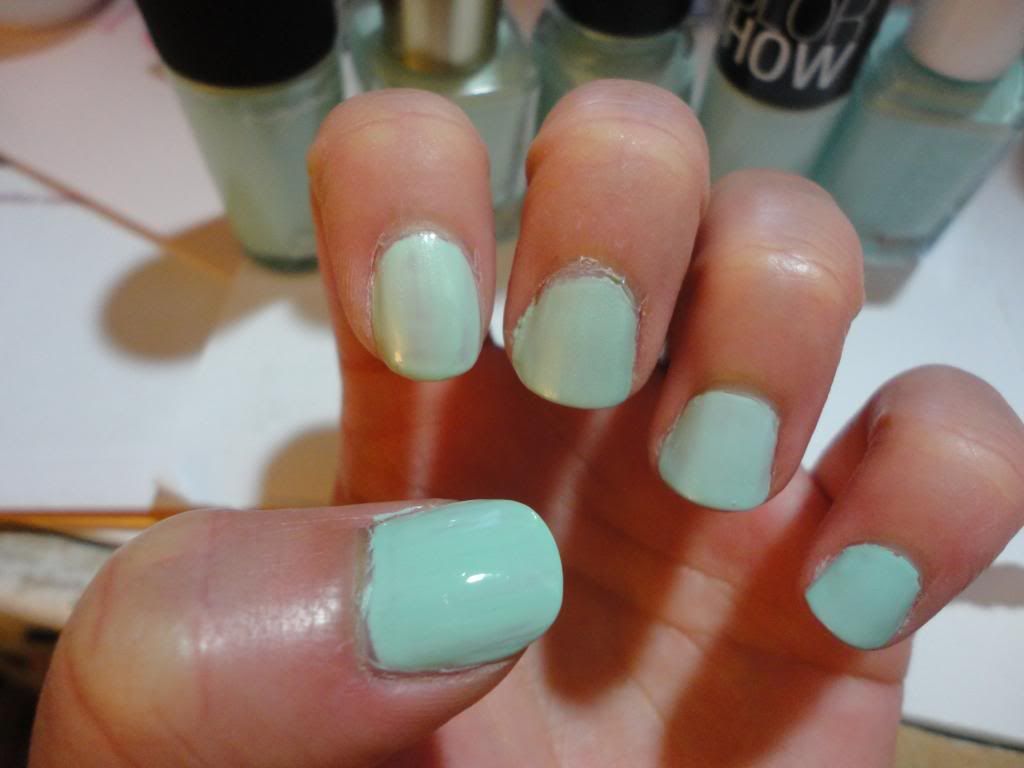 Thumb to clockwise, two coats each:
mac in the limelight, loreal pistachio dream, china glaze keep calm paint on, maybelline mint mist, essie mint candy apple
(sorry for the messy application, I did it very quickly to give you an idea of the color comparisons!)
As you can see, Mint Mist (ring finger) is closest to Mac's ITL. However, it is probably fairly close to all of the shades here. Both Pistachio dream and Keep calm paint on lean more green.
What are your thoughts? Do you see yourself picking up any of these shades? If so, are you going for subtlety or bold?
EM
All products shown here were purchased with my own money and were given my fair and honest opinion.