I
LOVE
Korres lip butter in the jar. It is so moisturizing for me but not heavy. It also gives a perfect hint of color without making dry parts of your lips look flaky. The only downside is it is in a pot...which means I can't really take it with me during the day and apply with my fingers. I don't know where my fingers have been so I don't feel comfortable applying products with them (not to mention contaminating the pot). I have tried the lipgloss in a tube, but those just did not bring the same moisture that the lip butters in a pot did. So when Korres released the lip coolers in a tube with a rolling tip applicator, I was interested to try. These new lip coolers are meant to be moisturizing rather than colorful. The pigment itself isn't out of the park, but it definitely gives a nice glow-y look to your lips. I purchased the Peach shade so scroll down to check it out.
Korres Greek Yoghurt Lip Cooler in Peach, $19
The tip of the doe foot like applicator has a hidden metal ball. Applying it to your lips and massaging it around melts the product in your lips as well as give them a tingling sensation!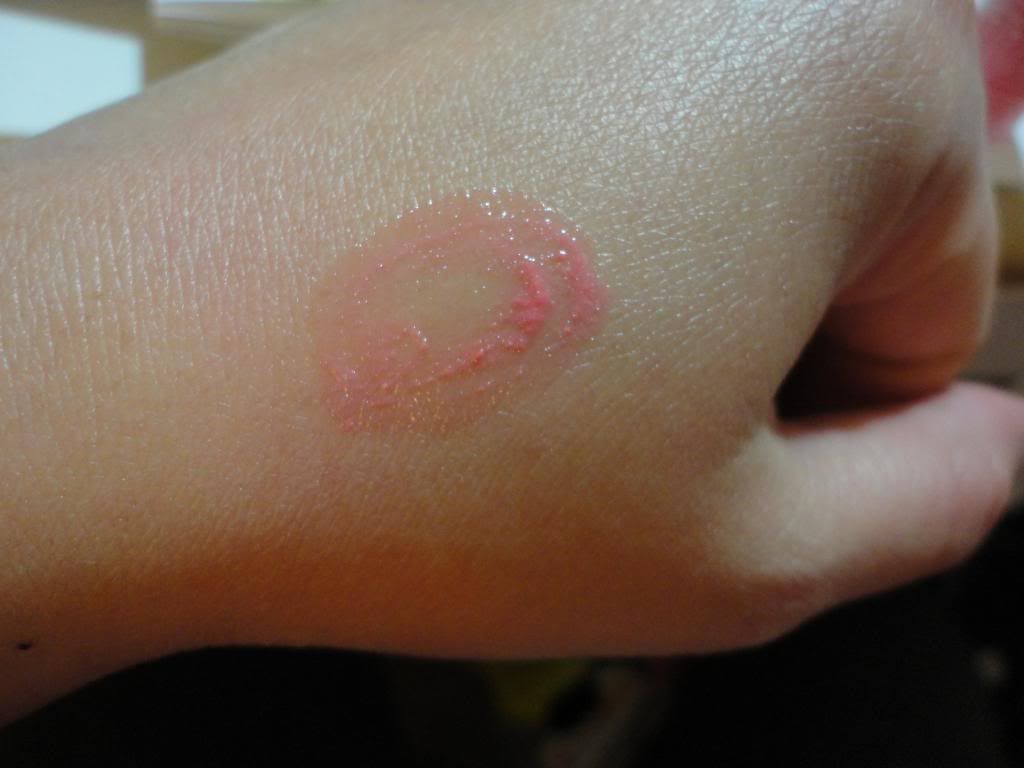 As you can see, the Peach color isn't very pigmented, but it is very airy and moisturizing. There are "chunks" shown in this picture because it has not been massaged into my skin yet.
Korres Lip Cooler in Peach
Blended into skin. You can still see the tint and sheen.
Application/texture: The texture is a little bumpy at first and smooths out quite well after you massage the product into your lips with the applicator. The applicator feels so nice. It is cool and smooth and gives your lips a pick-me-up. The product itself has a bit of minty feeling so it leaves the lips with a slight tingly sensation.
Scent: I smell a bit of honeysuckle in this product, but it is light and goes away almost immediately.
Staying power: The pigmentation isn't that strong on my lips so I can't say whether that disappeared a lot or not. However, the moisturizing power is good for a couple hours or so before another application. It lasts longer if I don't wipe my mouth at all.
Overall: I enjoy this product for its innovative lip cooling abilities and massaging perk. The product itself does moisturize and gives a tint without requiring you to put your finger in a pot. However, I still find the scent and feeling of the potted lip butters more pleasing to use, especially at night. This product seems to be more of a cosmetic item with its shiny finish, whereas the lip butters are more for "medicinal" purposes with its richer balmy textures.
So would I replace one with the other? no. I do like both for different purposes. I will likely keep my lip butters at home next to my night stand and the lip coolers in my purse for a clean pick-me-up.
What are your thoughts? Have you come across using one of these yet?
EM
All products shown here have been paid with my own money and have been given my honest review. Please do not steal material. If you would like to share these images or review, please link and list this blog for reference!