Hello Ladies and Gents!
I have decided to do a special post today. Most of the posts on this blog have been on beauty, sales, and reviews. I got the urge to do a fashion outfit of the day post this morning so I snapped a photo of what I wore to work to get it started. If this gets enough likes and support, I might even start a blog right alongside my beauty blog (this one). Anyway, on to the outfit, shall we?
My work place is fairly casual so anything that isn't gym wear or sleepwear should do. I like to think I am in the dressier side of the group here just because I like spicing up my outfits.
Today I have on a lightweight chiffon-like top with red, blue, and white geometric prints. It is a button down blouse with a collar and a long shirt tale. I guess you can call this a high-low shirt. It is sleeveless, which is perfect for the summer weather. This is from H&M for about $12.95. I saw it on sale recently for $5!
I paired it with a pair of
skinny trousers in a salmon orange color
and folded up the bottom to make a cuff. These were about $15 from Forever21.
I accessorized with my go-to work bag. It is a
Calvin Klein blue leather tote
. I got it from Macy's a couple years ago.
I also have a cardigan in my hand. The
black and white striped cardigan is from GAP
and was on sale for about $10? I purchased it a few months back and don't have the tags anymore.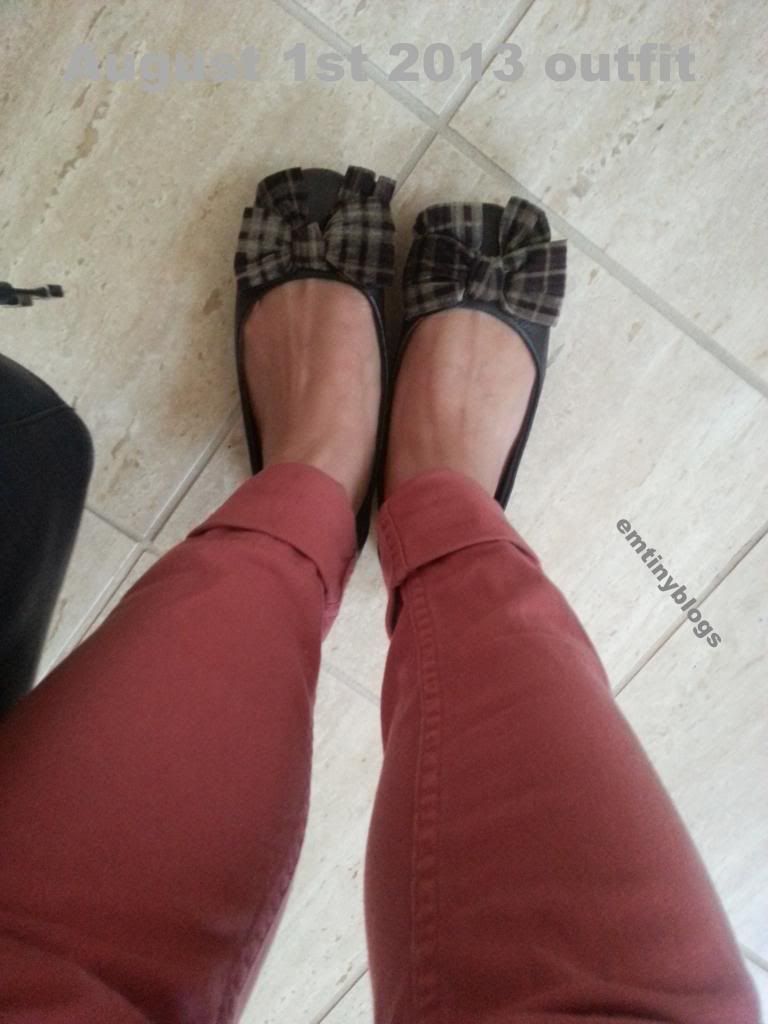 Of course, I can't go to work without shoes! I have on my trusty and comfortable flats. It is brown leather with cute big bows at the toe. It is by B.O.C. and I purchased it from DSW also on sale for about $20.
I couldn't find links to any of these items, but if enough people want to know about them I might post up places you can spot these items.
What are your thoughts on OOTDs?
EM
All items shown here were purchased with my own money and were given my fair and honest opinion.