Many of you may know Michelle Phan. The girl who started as a youtube beauty guru making how-to videos for the everyday girl. She has since grown to working with Lancome, having her own monthly sample box company, and now even her own cosmetic line. Having followed her from near the beginning of her career, I was very intrigued about this new line of cosmetics.
Cute and simple packaging that the trial size palette came in.
The Life Palette was created by Michelle and teamed with L'Oreal to bring us this array of make up in one palette. The idea is to have all the possibilities in your hand to create endless looks. You can choose from Beach life, Career, Night, Party, Day, and Love. All of these comes with a travel case which you can pop out eyeshadows, lip glosses, blushes as you choose to take with you. One thing that has discouraged me from getting the full sized Life Palette is the price. A whopping $75! That is a lot to pay without knowing anything about it or even trying it out.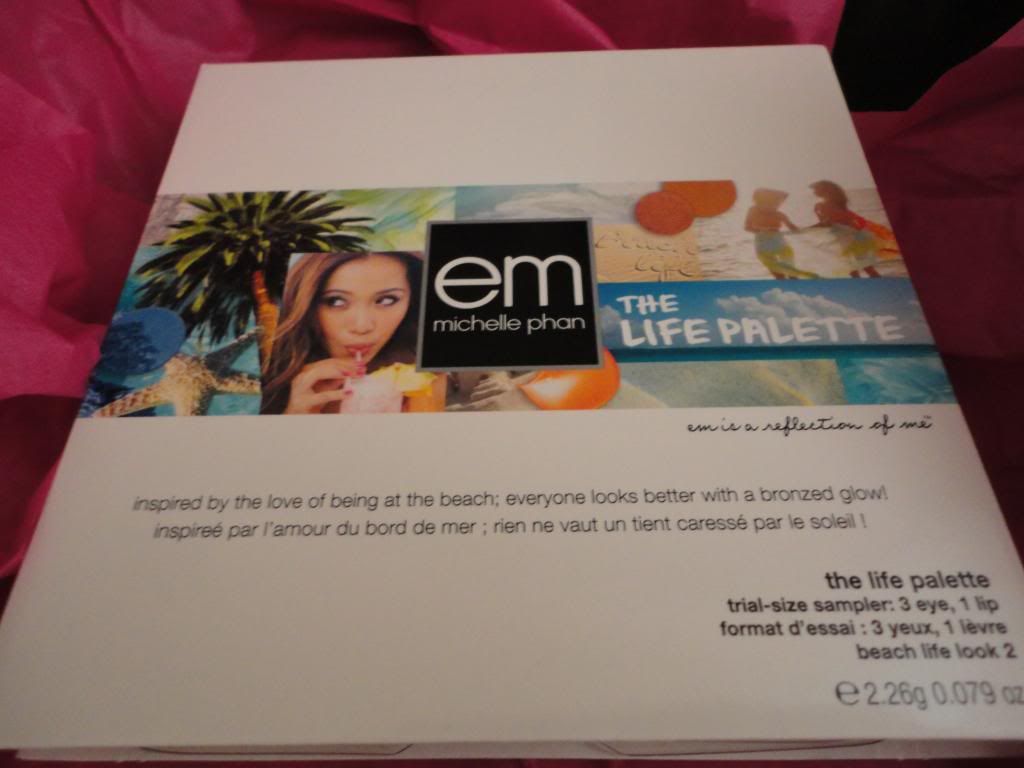 That's when the trial sized life palettes came in handy. For $10 (shipping included, yay!), I found trying em cosmetics much more reasonable. I ordered the Beach Life sample palette because I liked the brown colors more. The trial size only comes with three eyeshadows and a lipgloss, but that would give me a pretty good idea on how I like them.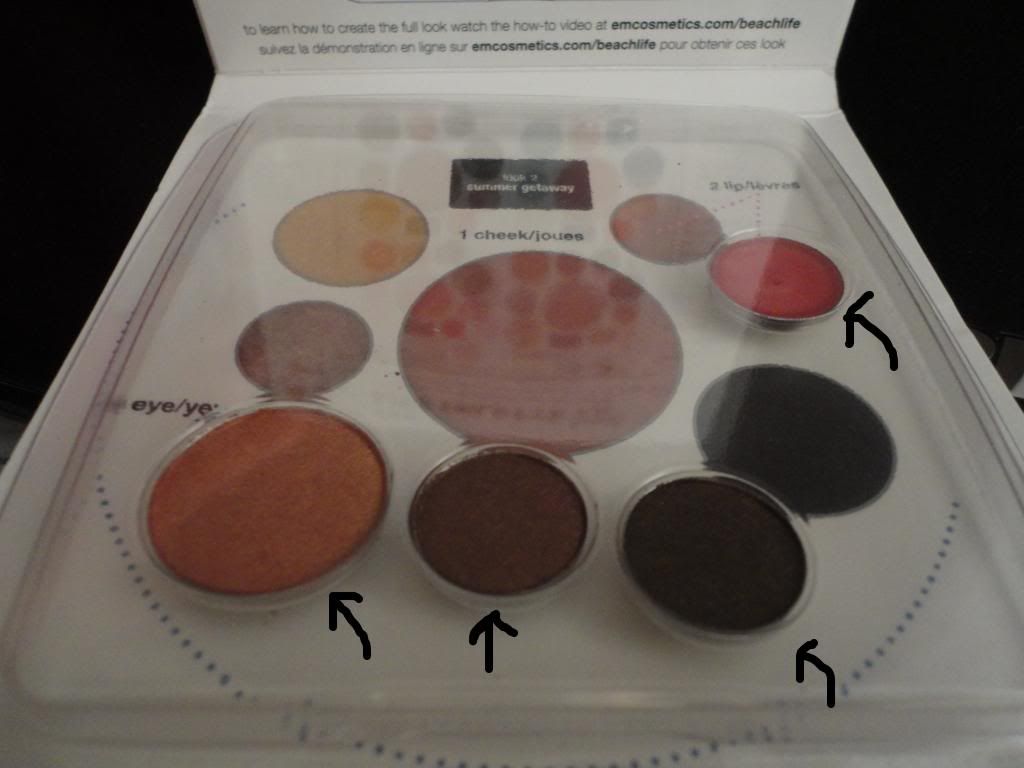 One of the Beach Life palette quads. Only the eyeshadows and lipglosses with
arrows came with the trial size.
Upon swatching, I noticed they were not powdery or contain too much fallout. It is also pigmented, in a way. What I mean is when I tried to swatch it with my finger onto the back of my other hand, I noticed my finger is very pigmented, but it doesn't transfer quite well onto the back of my hand. I had to do several swipes to get enough product on my finger then onto my hand. This seems to translate similarly to a brush. I tried using several brushes such as fluffy, dense, synthetic, and natural hair and noticed that a lot gets stuck on the brush. On the eye, it transfer slightly better than the back of my hand, but the effect isn't the most pigmented. I have much more pigmented eyeshadows (Wet n wild, Nars etc.), some of which cost less than the Life Palette.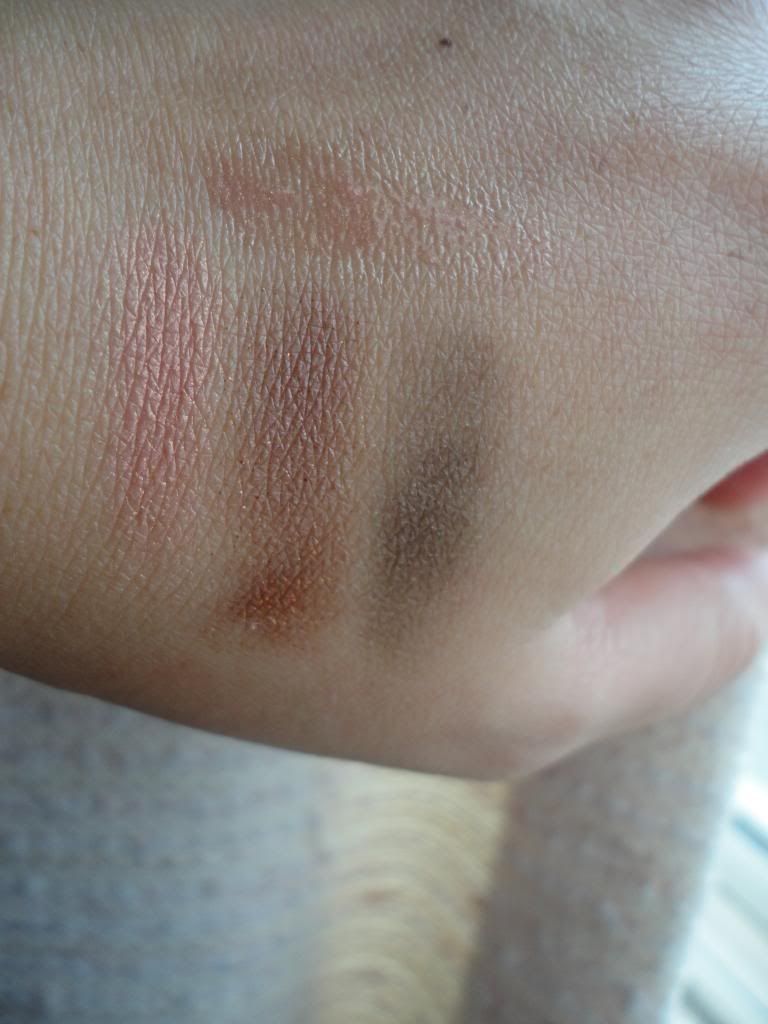 Swatches of the Beach Life trial size palette.
lipgloss on top, three eyeshadow on bottom.
bottom left to right: coppery rose sheen eyeshadow, brown with rose gold glitters, gunmetal silver sheen.
top: lipgloss looks nearly clear with a hint of warmth.
I would say the idea is there and that it is very handy to have all the shades for a certain event/theme to be in the same place. The ease of being able to pop out the colors you want to bring with you whether to work or travel is awesome. However, I feel like the pigmentation of the lipgloss and the eyeshadows were not there. Most of it was stuck in the brush. Perhaps I still need to experiment with more brushes, but I can see I won't be gravitating towards this palette to travel. I like something that is effortless and easy to apply when traveling. Now, I am not saying I won't ever use this. The colors in the trial size that I ordered is very versatile and are exactly the colors I would use. This is very good for just a natural look and you don't have to be worried about over applying. Over primer, these colors can be more intense. For beginners, this might be a good palette to start with as you can build the color up as you go. I was able to create a very simple eyeshadow look and line my eyes with just the trial. If you are starting makeup, I would say give this a look. Though $75, you do get quite a lot of products. However, I would definitely try the trial size before getting the full size version.
Application:
not powdery or dry, but hard to transfer to skin from brush or finger.
Pigmentation:
dark upon first touching the product, but when transferring to eyelids or back of hand, they are less pigmented.
Scent:
none detected.
Staying power:
so far without primer, 8 hours detected..maybe longer on less hot days.
Overall:
I can't say I will purchase the $75 full size palette after trying this trial size. These are definitely colors I will use, but it isn't more unique that the array of makeup I already own. For me, to purchase more cosmetics, they have to be very unique and outstanding in their texture, use, and color. These are great colors for everyday, but also colors I already have. Pigmentation isn't the most outstanding and staying power is average. The only thing that is cool about this is that you get all the colors possible to create endless looks. If you don't have makeup or you are starting out, then I would say this is a great palette to have. For me, I might have to try another trial size before deciding. At the same time, I might try out all the other makeup products in the line!
What are your thoughts? Have you tried any palettes from em cosmetics?
EM
All products shown here were purchased with my own money and were given my fair and honest opinion.