As soon as Nordstrom sent an email out about their exclusive NARS line called Final Cut, I was all over that. Over the past few posts, I have mentioned how I like spring/summer shades and this collection had a ton of that. I picked up two blushes and one satin lip pencil. I think if my wallet was a bit fatter, I would definitely have gotten a couple more items. Anyway, read below to see how they swatch and wear.
Blushes first:
Nars Final Cut blush (left), Love blush (right), $30 each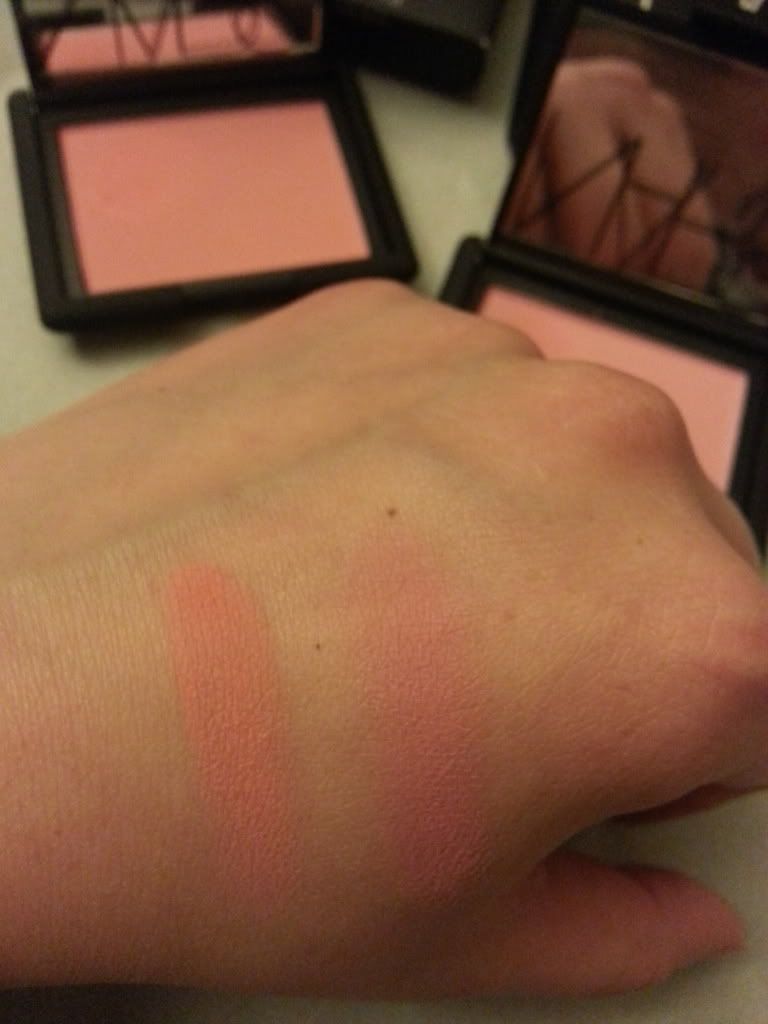 Nars Final Cut blush (left), Love blush (right)
These blushes have a few swipes on my hand. They aren't as pigmented as say Mata Hari or Exhibit A, but they do show up quite well without being chalky.
Final Cut is a salmon orange blush. It has no shimmer or glitter. It is quite matte.
Love blush is a more rosy peachy shade that is also not shimmery or glittery. It is a matte.
Both shades are quite universal and goes on quite smoothly
Wear time is about 8 hours.
No scent was detected.
Overall, I really like both of these blushes. On the hand, they look quite different. On my cheeks, they look fairly the same. I think Final Cut is more pigmented so I do put more color on my cheeks with each application.
I don't know if I would say either of these blushes are unique. I feel like on the cheeks, they look like other blushes I already own. However, they do have great lasting power and I love that they are matte.
Now, on to the satin lip pencil: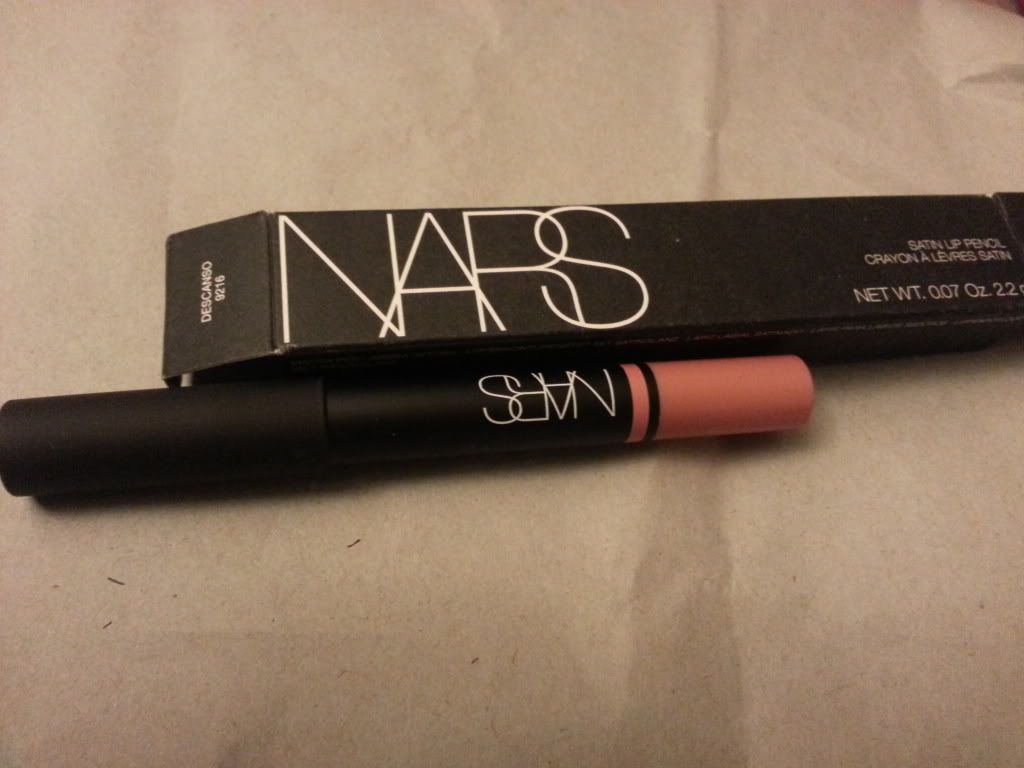 Nars Satin Lip Pencil in Descanso, $25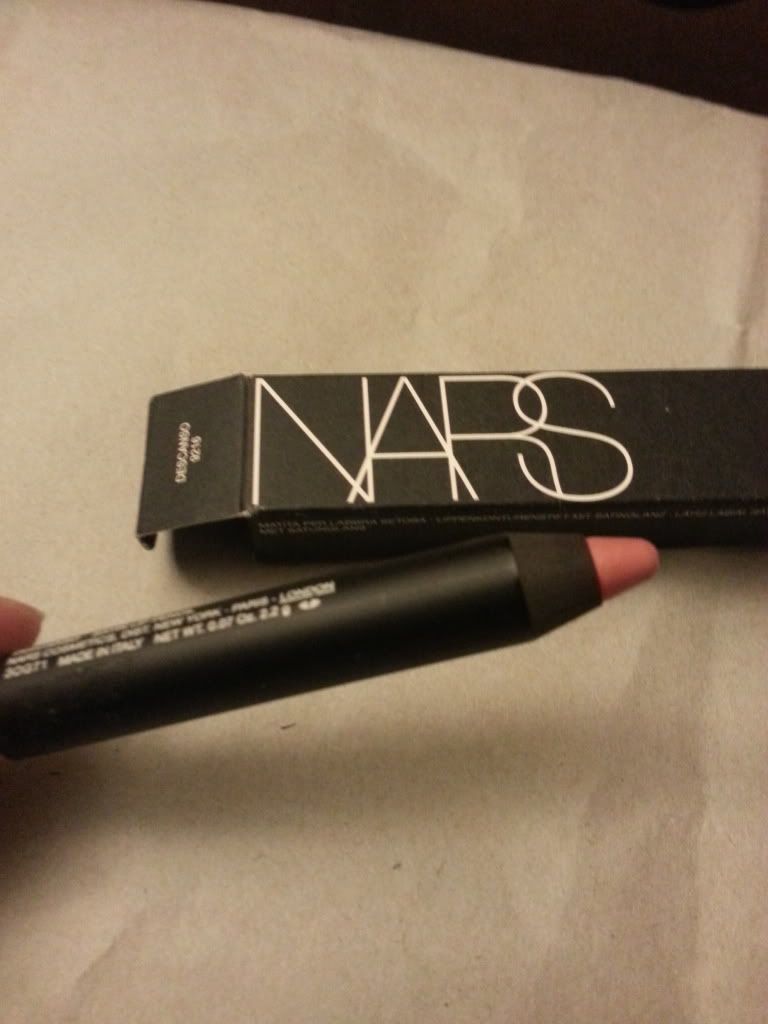 It has a pointed tip, but does need sharpening. This is not a twist up product, so make sure you have a jumbo sharpener.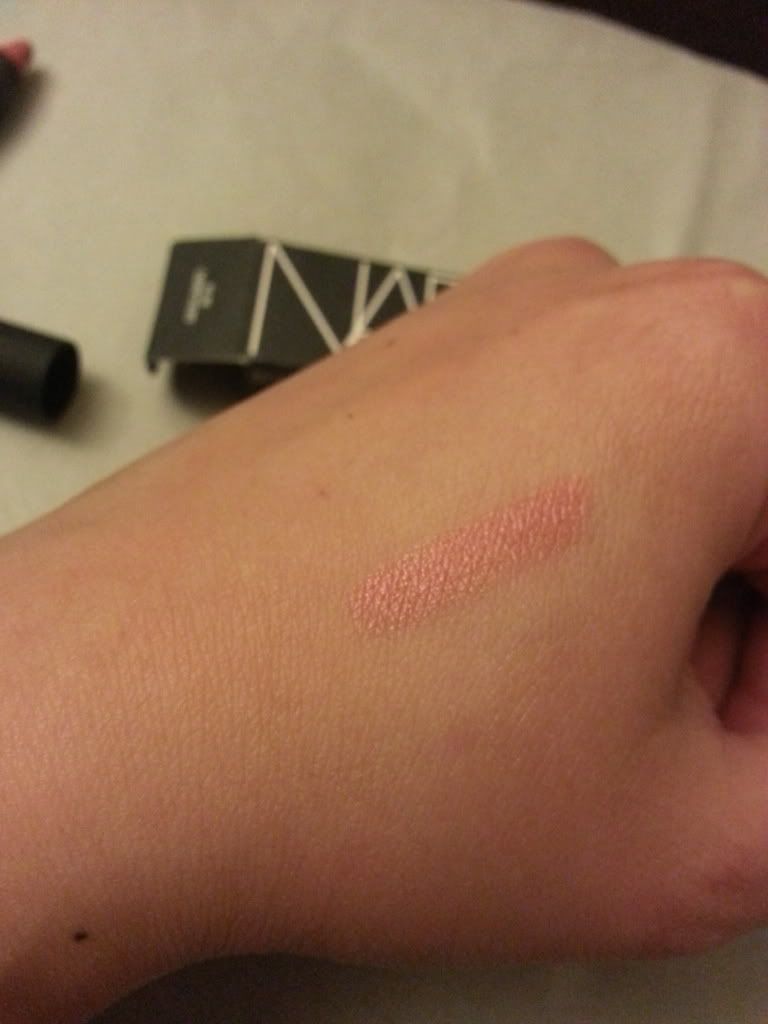 Nars Descanso lip pencil
Descanso is a peachy pink nude with a slight satiny finish. It looks amazing with my skintone (NC30-35).
On my lips, it looks like my lips but lighter. My lips are fairly pigmented so a lot of lighter shades do not show up. This shade, however, shows up and actually gives me a nude lip without washing me out. In fact, with the pinkish tone, it gives me the color I like- a strawberry nude pink.
I wouldn't have thought this shade would give me that color. I always thought I had to look for light strawberry pink shades, which either does not show up or washes me out. I am glad this did the trick!
It is not drying. I had it on my lips for about 4 hours and it stayed on fine.
It has a satiny look to it, but does not feel sticky or tacky. I like that it looks quite natural, almost like my own skin.
It doesn't have a scent so this is good for those of you out there with a sensitive nose.
Overall, I really love this shade. I love the formula and the wear. I think I would have liked a twist up for easier application, but I can deal with it!
I believe these are also limited edition so grab them while they last. Remember they are Nordstrom Exclusives so you may not be able to find it at other department stores.
EM
All products shown here were purchased by me with my own money. All opinions are my own.