I have seen the Milani Coming up Roses for Spring 2014 floating around the blogosphere lately and have wanted to get my hands on them. Last year, I found the Coming up Roses blushes at my local Walgreens, which I happily purchased 3 out of the 4. This year, I employed the same methods, but my efforts were fruitless. I gave in and finally purchased the four blushes online. Had I purchased it in stores, I probably would have only purchased two of the four. Since Milani's website charges for shipping unless you spend a certain amount...that amount happened to be just the 4 blushes total...I opted to purchase all of them. I believe the four blushes with free shipping came up to about $30 something USD. Now that is not to say they were the cheapest and best deal I have ever seen for blushes, but these are that good. Milani is quite well known for their baked blushes and after trying the Coming Up Roses from last year, I knew these had to be good. So I went ahead and purchased them. Now I get to share them with you. Honestly...that is the main reason why I purchased them...for you all. Ah, my sad attempts to justify my beauty purchases.
Moving on to the review! The four new blushes I got this year are $7.99 each (ranges in stores) and have 0.60 oz of product. This is the exact same amount in the blushes last year. I believe the price was also the same a year ago. To see my review for the blushes from last year, click
here.
Milani Spring 2014 LE Coming up Roses blush
A closer look at the blush pattern. Similar to last year, the top of the blush has an imprinted rose design. I have used the blush from last year quite a bit and it hasn't damaged this design. I know a lot of people are afraid to use it in case that does happen!
Top, left to right: Lady Rouge, Love Potion
Bottom, left to right: Tea Rose, Coral Cove
Lady Rouge is a mauvey brown matte shade. It is dark enough on me to be a contouring product. This was the one out of the four that was a bit hard to swatch. The product just doesn't want to rub off.
Love potion is much brighter in person than in the photograph above. It is a red magenta matte shade.
Tea Rose looks like a bright salsa rose on my hand. It is also a matte.
Coral Cove is by far the brightest in the pan. On my hand it is equally bright as a salmon orange shade of matte.
So, how do these compare to 2013's Coming Up Roses? In case you were able to get your hands on last year's blushes and are debating whether to drive yourself crazy with obtaining these...here are some comparison swatches for you...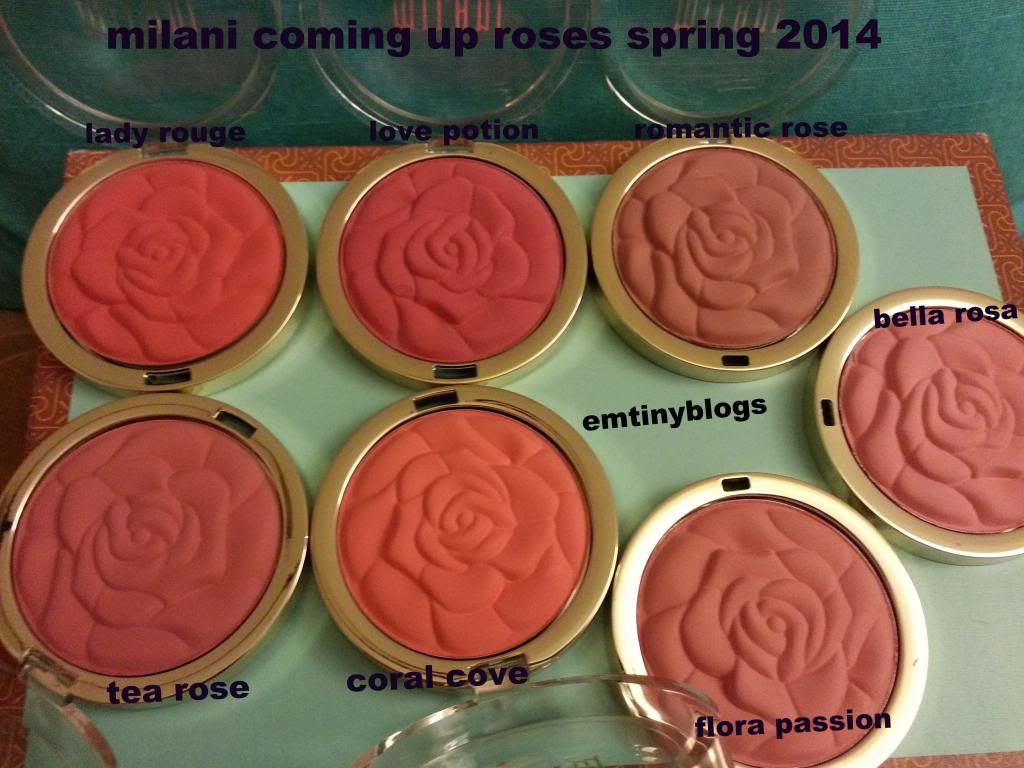 First of all, in the pan. We have the four new ones on the left hand side, while the 2013 ones are on the right.
On the pan, you can see that the ones from 2014 are much more vibrant and bright whereas the 2013 ones are more muted and natural.
On the skin, they also reflect that same characteristic. Though in the photo above, 2014s doesn't look that much more vibrant, in person they do make quite the difference. This could be extremely good news for my darker shaded friends. These blushes are much more likely to show up on you than last years!
Texture wise, I believe these are all comparable. All of them are smooth and easy to apply, blend, and buildup with the exception of two.
I found Lady Rouge a bit hard to swatch. The color wouldn't really leave the pan to get on my finger and then won't leave my finger to get on the back of my hand. It took quite a few hard swipes to get it to stay.
Flora Passion was also quite chalky on me. Perhaps it is the shade against my skin tone, but the texture was more powdery than the others.
Staying power is very much like other Milani blushes. They lasted me 8 hours without much fading.
There was no detectable scent.
Overall, I really enjoy these blushes. I love Milani's baked blush, but I really dislike shimmer. No matter how nice of a glow you get with the baked blushes, I always feel oily in photos because of my oily skin to begin with. These are great matte blushes for me! For the price, this definitely gets a lot more of your money's worth compared to the blushes of Chanel or Dior. The only downside is that they are limited edition, which means you have to get them before they sell out!
By the way, Milani recently released 2 new baked blushes that are shimmer free. They are in the permanent display and I will post the review on that as soon as I can!
Thanks for sticking with me through the review! Hope this helped you decide on whether you "need" these blushes :D
EM
All products shown here were purchased with my own money and were given my fair and honest opinion.