When I saw a bunch of people speaking about a sale at Target on the Sonia Kashuk holiday makeup, I was instantly drawn in. I love holiday packaging because they always look so pretty, and a sale is never missed. I have never tried either of the matte or shimmer eye shadow palettes from Sonia Kashuk, but have heard good things about it. When I found out that there was a palette that had both of the finishes and it was on sale, I knew I had to get it. Hopefully these will still be available if you are interested. Take a quick look and head to your nearest Target if you are interested. They are limited edition (holiday 2013)!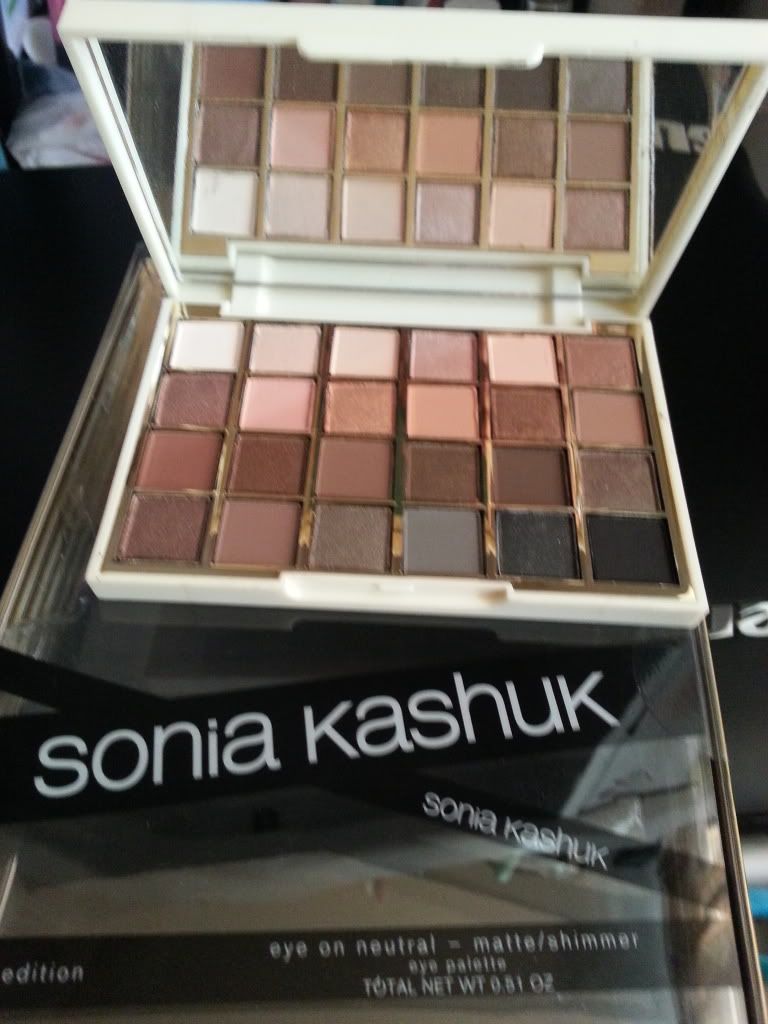 Sonia Kashuk Eye on Neutral Matte/Shimmer LE Palette, $14.98 on sale
From what I recall at the stores, the Matte or Neutral palettes contain shades that are larger than these. Though these have twice the number of colors, they are much smaller. Technically you are not getting more product, rather more selection. This does come with a mirror, which is great for traveling.
When closed, the palette has Sonia Kashuk written on top and come in a sleek white plastic container.
Here are the 24 shades from top to bottom, left to right, in order. (don't mind the letter D, haha)
The two photos above are the same swatches, just rotated so you can see the top and bottom better.
As you can see, the shades come in shimmer and matte finishes and are all scattered through the palette.
The shimmer shades tend to be more buttery and pigmented than the matte shades, but they both work just as well.
Texture/Application: Most of these shades applied quite easily. There were a couple light ones on the top row that I had trouble with. I think it mainly blended into my skin color and did not show up. All the other ones were pigmented and finely milled. I was able to use a bunch of the darker shades for eyeliners.
Scent: No scent detected.
Staying Power: These lasted all day on me with no primer as an eyeliner. As an eyeshadow, I was able to get 7-8 hours wear with a primer on my oily lids.
Overall: I really enjoy the ability to use both shimmer and matte neutral shades in one palette. I like the mirror for easy touch ups and on the go purposes. Since I hardly ever use up all of my eyeshadows, the diminished amount of each shade did not bother me. I much rather have different shades to spice up my look! For $14.98, this palette is a steal!
EM
All products shown here were purchased with my own money and were given my fair and honest opinion.