Another installment of one of the goodies that my subscriber gifted to me is the L'Oreal Color Riche Moist Matte (aka Moisture Matte) lipstick in Spring Rosette. I have not seen this in drugstores yet here in the States, but it might soon well make its way across the ocean. This came from Asia, which makes me feel like a lot of you might already have seen it in drugstores if you live in that part of the world. If not, take a peek..you might find this intriguing as I did and want to buy it on ebay :)
To view other goodies I got, visit
here
.
------
Side note: if you like what I write, I would loveee it if you could subscribe! You can get updates from my blog as often as you like. To make it more special, from now till May 10th 2014, I will send a surprise goody to anyone who subscribes and sends me an email with their mailing address. All you have to do is:
Subscribe here.
Remember to confirm subscription after signing up to complete the process!
Send an email to emtinyblogs@gmail.com with your mailing address and a fun beauty fact about you.
* US addresses only, sorry international peeps!*
Keep posted for international giveaways in the future!
Goodies limited so subscribe early!
------
Okay, back to the review!
L'Oreal Moisture Matte lipstick in Spring Rosette. Without the clear plastic wrap on right.
Without the plastic wrap, the product is quite sleek and futuristic looking.
Per L'Oreal's website:
A lipstick that delivers intense moisture while providing a velvet matte finish. Colour Riche Moisture Matte's unique formula contains jojoba oil for unrivaled moisture and comfort along with matte gel technology to create an intense matte look.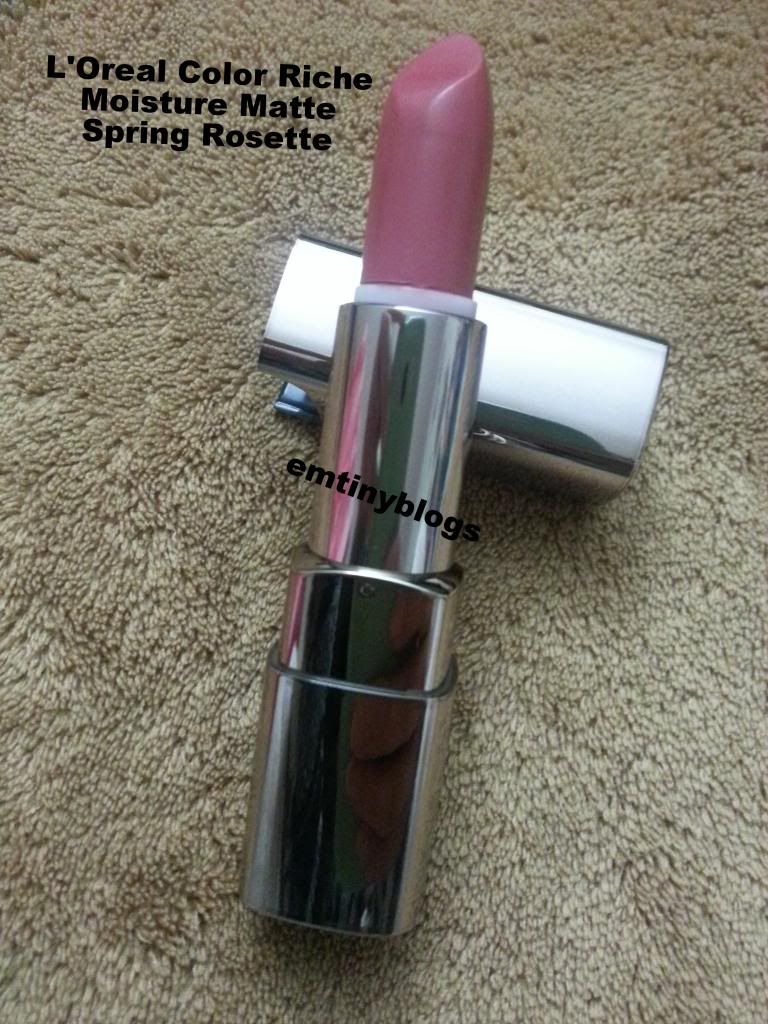 The inside looks like a regular lipstick. The shade is a medium plumish pink with blue undertones.
Two swipes of the Moist Matte lipstick.
Texture/Application: The lipstick applied so softly and lightly that I didn't know it was touching my skin as I glide it across. I can't believe the color payoff this has! It did not tug on my lips and did not feel sticky. It didn't settle in my lip lines nor did it enhance dry areas of my lips. I also found it quite moisturizing, though there was nothing watery or oily about it. It just didn't feel like other lipsticks with the sticky/tacky feeling nor did it feel like the 'oily' lip balms out there.
Scent: I detected no scent! I hate the smell of lipstick, so this was a big plus.
Staying power: This did stay on my lips for 4 hours. Though it isn't sticky, it was able to cling on weightlessly.
Look: It is advertised as a matte lipstick, but don't let that fool you into thinking it will turn your lips into a dry canvas. It is actually quite natural looking and natural feeling on the lips. I wouldn't say it has sheen, but it definitely looks like your lips are supple with this on.
Overall: I really like this lipstick. The fact that it doesn't smell like lipstick, does not feel like I have lipstick on, gives me moisture, color payoff, and stays on for a reasonable amount of time, gives me all the reason to try other colors in this line. What's even better is that it looks and feels so natural on me. I just love this lipstick!
Thanks Vanessa for introducing this to me! I love the shade you chose.
Are you guys intrigued about this Moist Matte lipstick? Will you be hunting it down?
EM
This item was purchased for me by an awesome subscriber! All opinions are my own and true.