First off, today is my 2nd year blog anniversary! I can't believe it has been 2 years since the first time I made this blog. I wanted to thank everyone for their support and comments. I really enjoy connecting with the beauty community online. More blogs and goodies to come!
I spotted this Maybelline Pumped Up Colossal mascara at my local CVS about 2.5 weeks back and picked it up immediately because of its fun colors and cool looking brush. The mascara is a many blobs wand with a bulbous brush that tapers at the end. It is really a fun new mascara for my purse this summer.
Side note:
I have had troubles with my camera, which normally would not stand in the way of most of the product pictures I take. However, with this close up of my lashes demonstration, I really had to perfect the photo. Anyway, without further interruptions, look below for a comparison of other popular Maybelline mascaras next to the Pumped Up Colossal!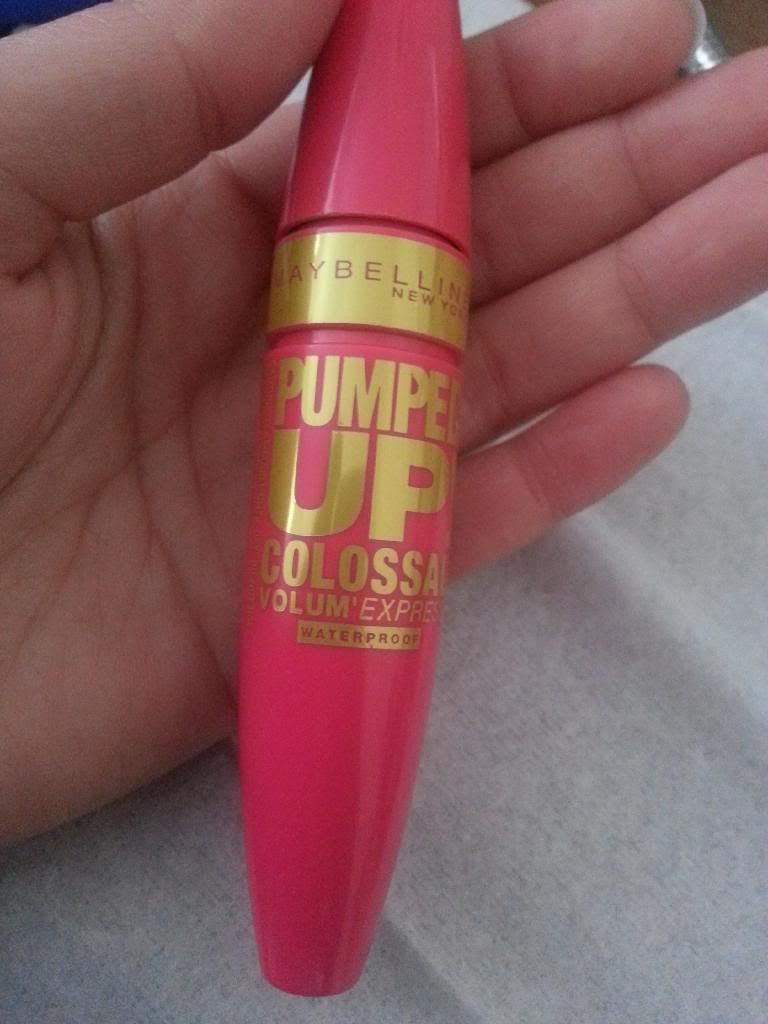 Maybelline Pumped Up Colossal Volum'Express mascara, $6.99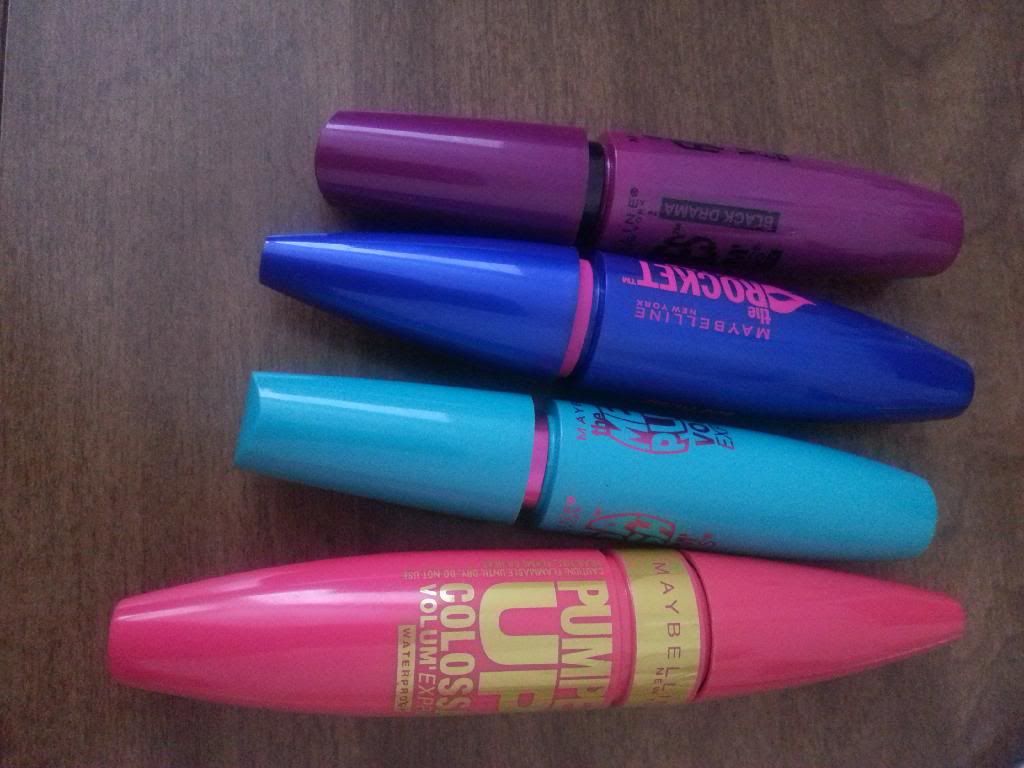 You might recognize a few of these Maybelline mascaras. Here is just a size comparison of the tube.
It appears that the Pumped Up Colossal is much larger than the other ones, even the Rocket which is similar in shape.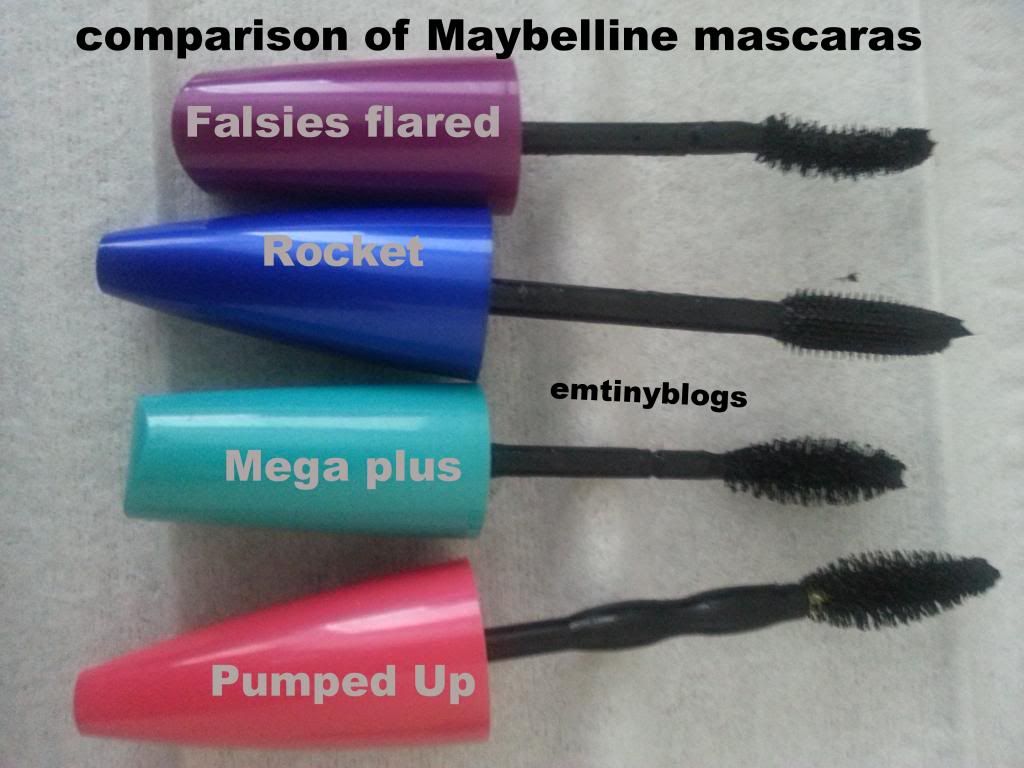 Comparison of the wands.
The Falsies Flared is one of my favorite. The spoon shaped brush and short handle makes my lashes curl and voluminous.
The Pumped Up wand is closest in length with the Rocket.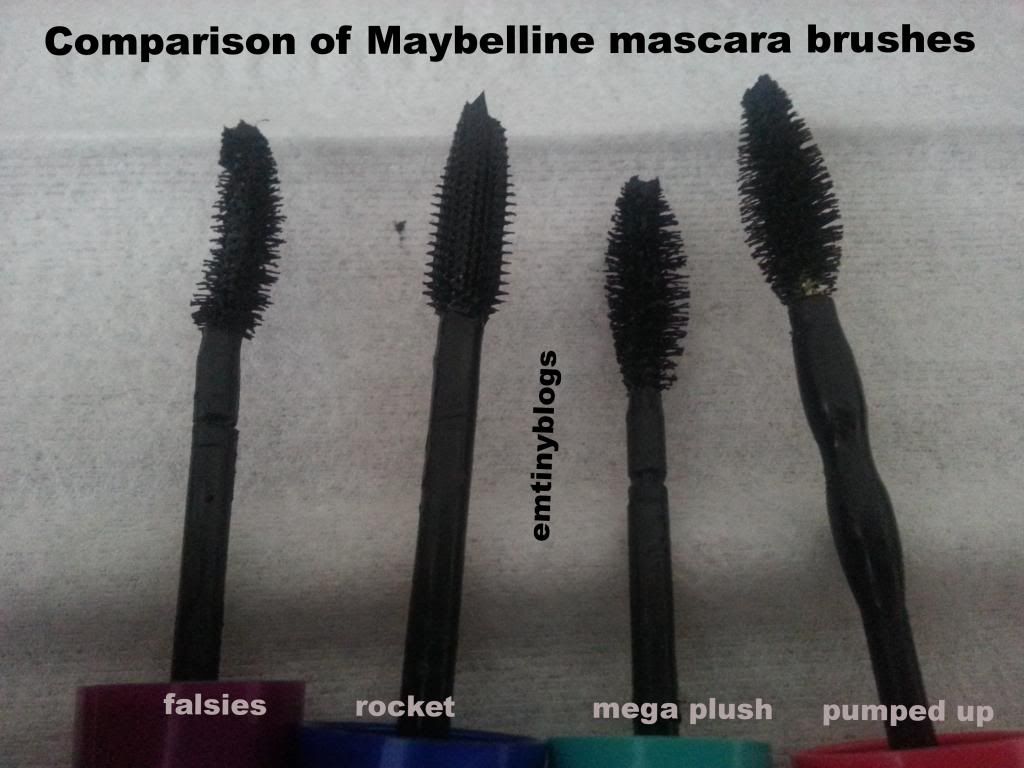 Comparison of the brushes.
The Mega Plush and Pumped Up brush looks the most similar. They are bulbous and tapers at the end.
Rocket is similar in shape, but more slender. The material of the Rocket bristles is more rubbery where as all of the others are more fibrous.
The bulbous fibers of the Pumped Up brush allows for deep coating and volume. The Falsies on the other hand creates the curves.
Left: no mascara, Right, one coat of Maybelline Pumped Up Colossal mascara
Left: no mascara, Right, one coat of Maybelline Pumped Up Colossal mascara
Note: I have short Asian lashes that are extremely straight and points downwards. I need a mascara that really holds curls and have length and volume to do well for me. Waterproof mascaras usually help with the hold of the curl, but a lot of other things factor into this too.
Texture/application: The application was easy. The mascara was on the drier side so it immediately held my lashes up to the curl. It also dried very quickly so it did not transfer to my lower eye area or upper eyelid. The application did not tug nor did it poke my eyes.
Scent: I detected no scent.
Staying power: This lasted on me all day with no smudging or flaking. It did not budge untill I removed it at the end of the night, which must have been at least 10 hours of wear.
Overall: I really like this mascara. The texture holds up my curls, gives my lashes volume, and stays for the whole day. It isn't the best mascara for me in terms of length, but it still helped me a little. What's better yet is that the packaging color is so bright and fun!
What are your thoughts on this? Have you tried this mascara?
EM
All products shown here were purchased with my own money and were given my fair and honest opinion.