So I have heard about the Ariel collection that ELF cosmetics has released at several Walgreens stores already across the country and I wanted to see it for myself. After hunting down a few stores over a course of a few days, I finally found them! I was so ecstatic that when I asked a store personnel to bring down the displays for me, I was sure he thought I was a little crazy. Anyway, I have played with them and reviewed it for you here!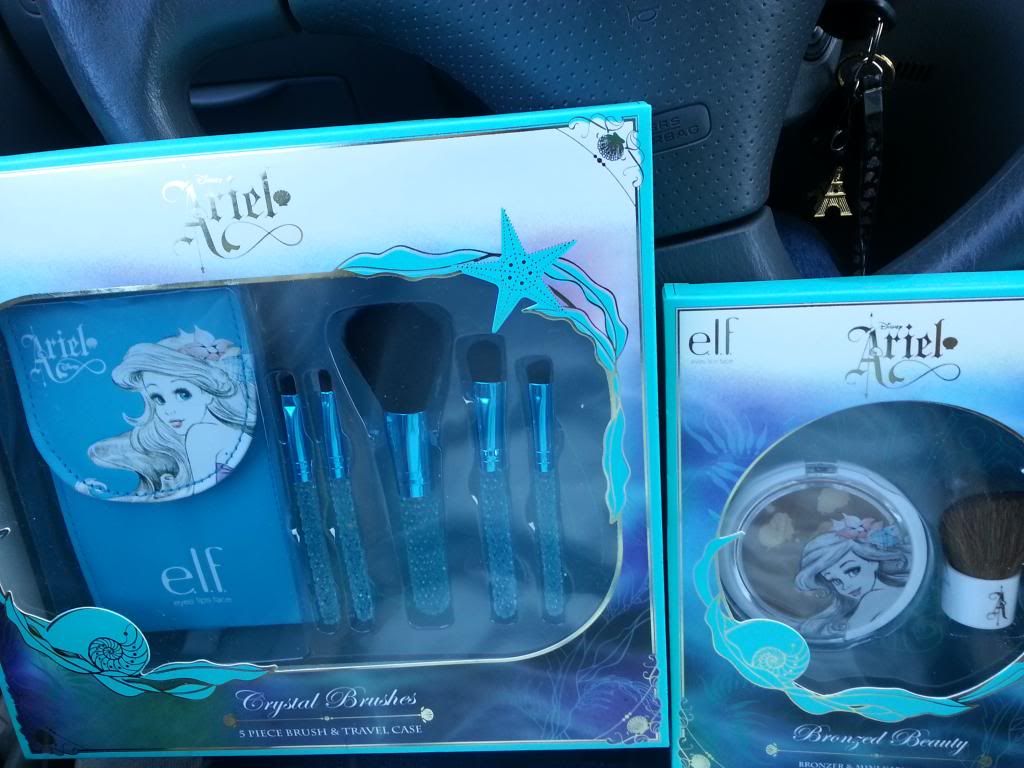 ELF Ariel Bronzer and Brush collection. $4.99 and $9.99, respectively
Let's start with the brush set.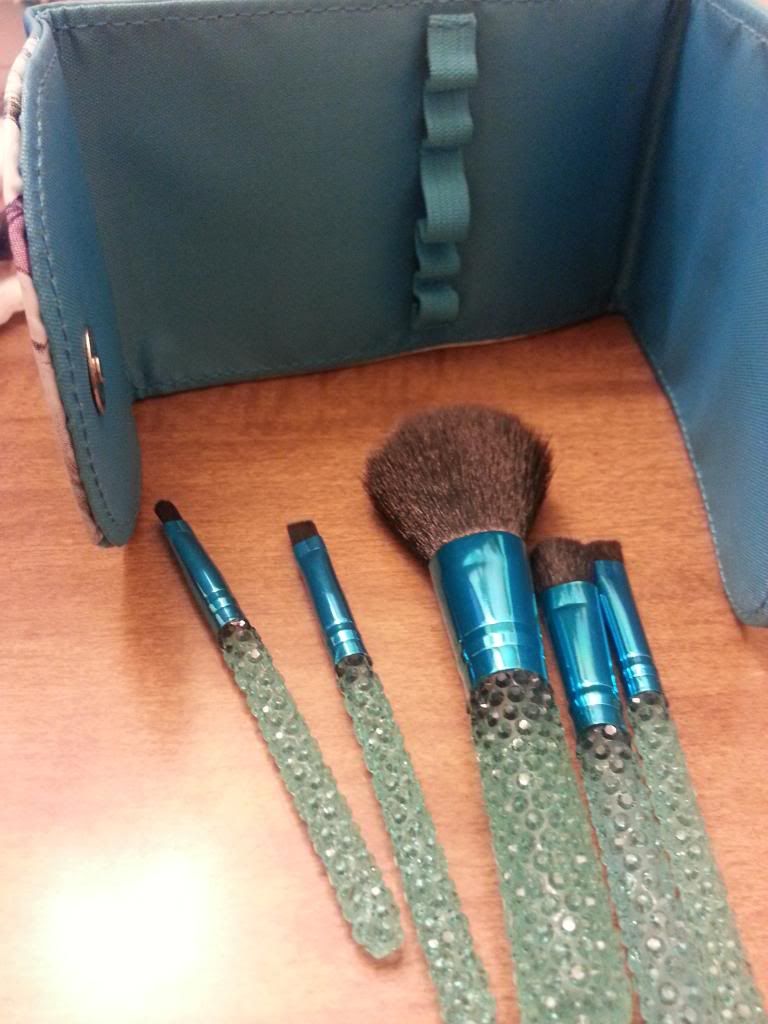 ELF Ariel brush set, $9.99
This brush set is so adorable. The handle has a blue crystal design and the metal part is metallic turquoise. The brushes are also very soft and has not shed on me, which is important! It comes with a very inexpensive holder, which makes it good for traveling. All of the brushes are very small in size. I feel like if you already have an extensive collection of brushes, you won't need this. However, if you are a Disney or Ariel fan, you might just need this for kicks. It has a magnetic closure and is a trifold pouch. Not much else to say about this...just a plain old brush set with The Little Mermaid's drawings (cute!).
Now, the bronzer set.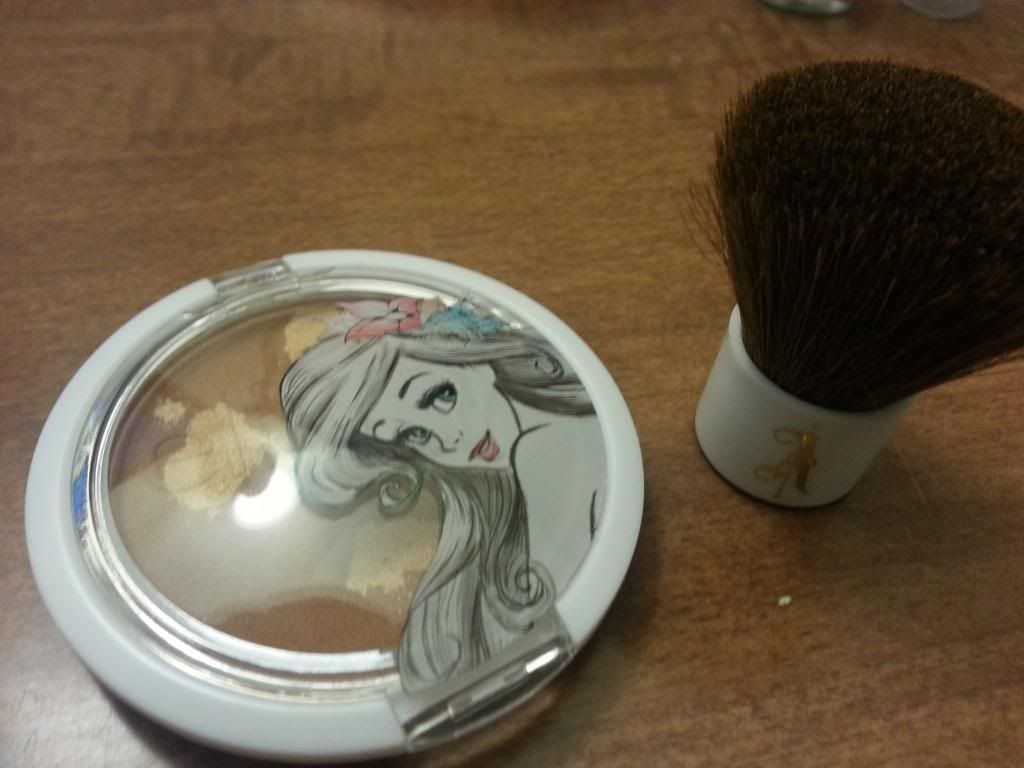 ELF Ariel bronzer set, $4.99
The bronzer set consists of a bronzer compact and a kabuki brush, which I thought was a great deal for $4.99. The kabuki brush isn't the best brush and is actually lower in quality than the brush set I just talked about. However, it does not shed. I have played with it on my face and it didn't feel scratchy enough for me to throw it in the garbage. But given a choice, I will definitely grab another brush already in my collection.
The bronzer was actually very good quality. It was not powdery and it was very easy to blend.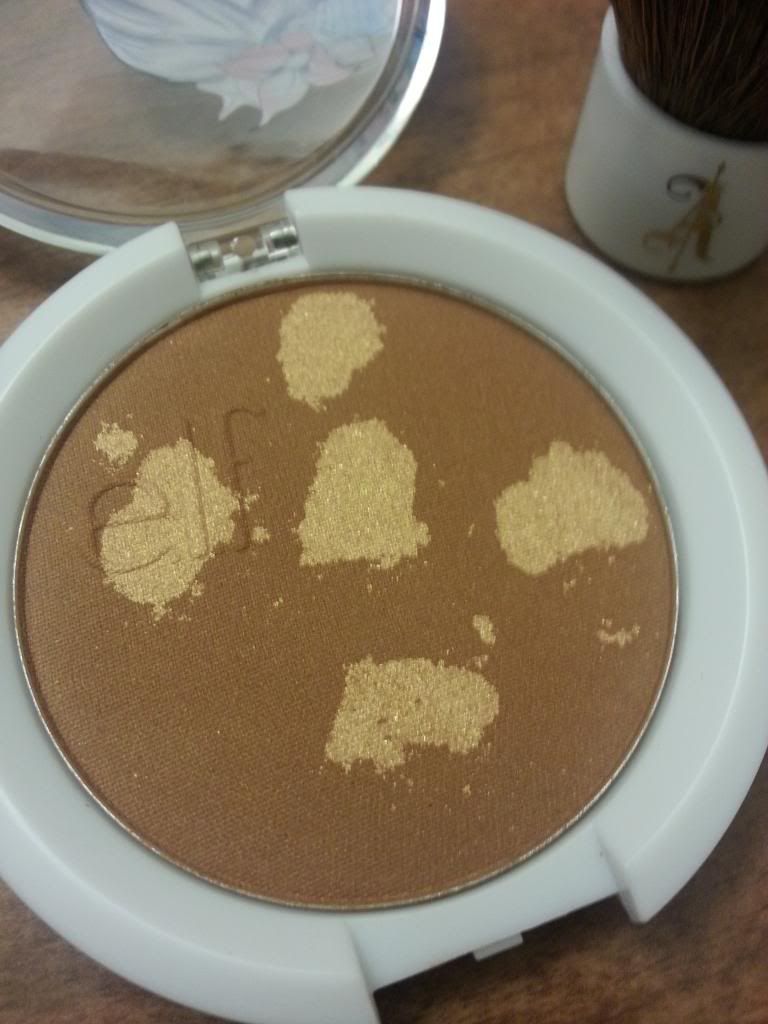 The bronzer has specks of highlighter scattered throughout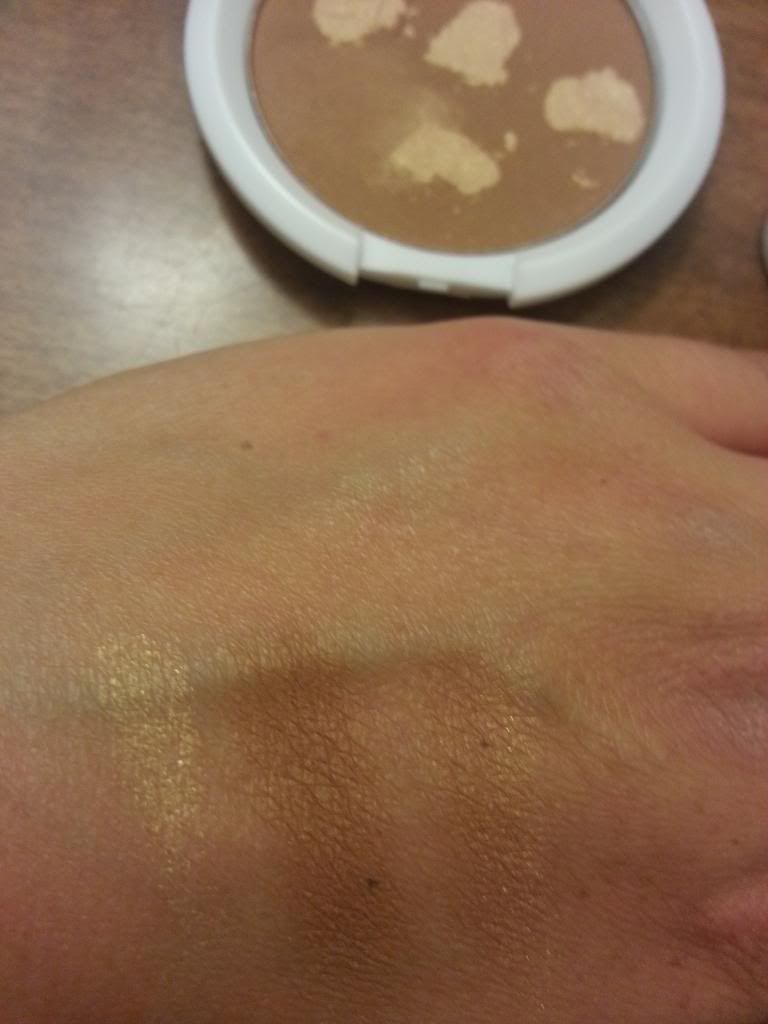 highlighter, bronzer, mix of both (left to right)
The highlighter is a champagne shimmery product. It is very shimmery, but when blended it evens out.
The bronzer has a satin finish to it. It is a medium taupey brown.
The mix of the two creates a bronzey glow, which would look really nice on the cheeks. I would not swirl this if you want to use as contour.
Lasting power is about 7 hours.
Overall, both products were very nice. I really liked the design of Ariel. Though it is still drawn and cartoon-like, it has a sophisticated and elegant feel to it. I don't feel that this was childish. It was made for an adult with a love of her childhood. If I had to only pick one of the two items, I would say the bronzer set would be my first choice. It is much more usable, where as the brushes could be borderline for my little cousin.
What are your thoughts?
EM
All products shown here were purchased with my own money and were given my fair and honest opinion.