I have always loved Lancome's cosmetics and skincare. When I found that they are doing a Jason Wu collaboration and a pre-fall release, I was all over it. What I also found out was that if you purchase $50 worth of products, they also throw in a
free Jason Wu designed clutch
. What a great deal! I purchased a Blush Subtil Duo in Pressed Rose and a Mini Precision Cheek Brush. See below for swatches and review.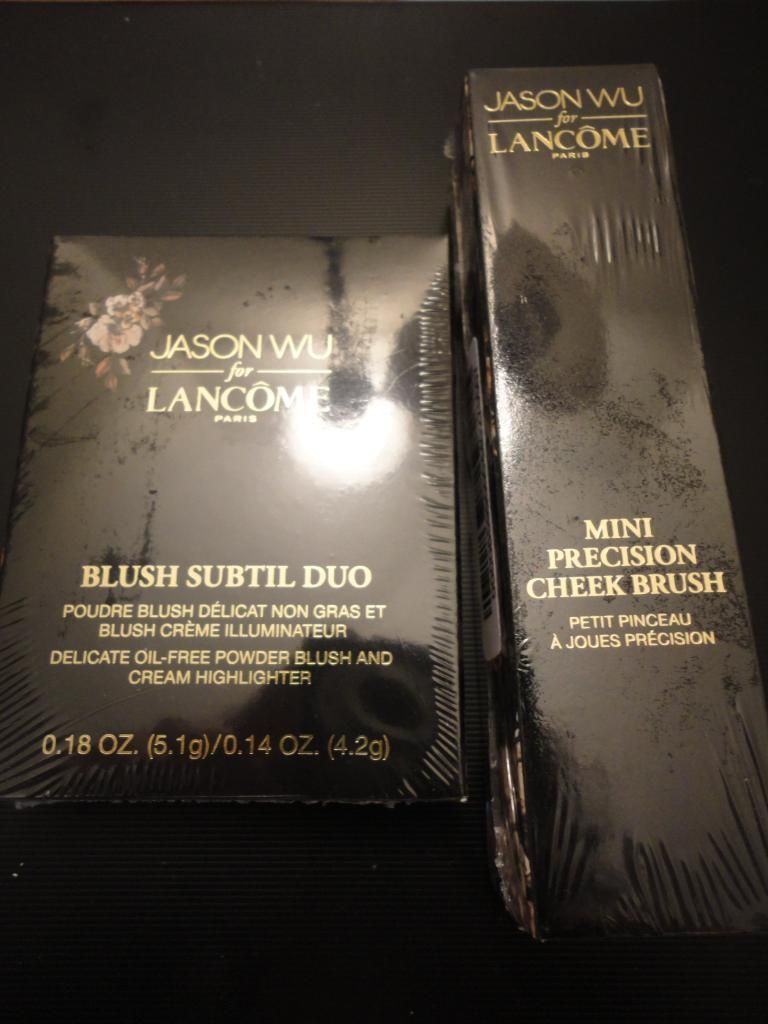 Jason Wu for Lancome
The packaging came in a way I don't normally see them packaged: in plastic wrap. In addition, the box is not a silvery color, rather a sleek black with floral designs.
Turns out that the black boxes are just sleeves and underneath are the usual silver boxes. I placed them side by side.
$30 (blush duo), $20 (brush), Macy's/Nordstrom
Another layer in, we see the products. The blush duo has a beautiful black shiny surface with a rose on the top left. The brush does not have anything that indicates Jason Wu's collaboration, but does have the Lancome brand and rose.
A closer look at Pressed Rose Blush Subtil duo.
On the left is the blush. It is a mauvy lavender shade, though for some reason is pulling more mute on camera. The shade is very subtle as it states and you don't have to worry about over applying.
The highlighter on the right is a champagne rose shade. The effects of this shimmer is very subtle as well and gives you just a tad bit of highlight.
left to right:
blush: a very light mauvey matte shade
highlighter: a champagne rose shade. It is a little creamy in the pan, but applies dry.
blend: The blend of the two gives more of a deep mauve because the creamier texture of the highlighter compacts the blush.
Application/texture: I loved the application of this blush. The mini brush it comes with does a fine job at applying the blush, however, I don't think that particular brush was needed. The blush on its own is a wonderfully milled product and applies without hassle. It blends and stays quite nice on your cheeks. It is more subtle so if you want a blush that flashes, this may not be for you.
Staying power: It lasted 8 hours on my skin.
Scent: None.
Overall: I love this blush duo. It is versatile and is not overstated. I also love that there is a mirror. The design of the package is beautiful and the blush is perfect for me. I love matte blushes that are subtle. The highlighter is something I usually stay away from, but this one blends so nicely and is also subtle. The blush brush is so-so for me. I like the use of it, but I don't think it was necessary for this purpose. I already have a ton of brushes in my collection so this one wasn't out of the ballpark for me. However, if you are looking for a good travel blush brush, this might be for you!
What are your thoughts?
EM
All products shown here were purchased with my own money and were given my fair and honest opinion.