This is the 3rd installment of the Sally Hansen Miracle Gel review. I did two other posts prior to this showing the application and the 2nd and 3rd day of wear. I haven't been posting daily for updates because it doesn't seem to have changed too much. I also feel it is easier to see the photos all in one post anyway...so the fewer the better. If you would like to know more about the application and the product, visit my first installment of this product
here
.
A quick summary of this polish is that I LOVED it. IT is pigmented and does last a long time. Unfortunately, I didn't get to test it out till day 14, which is the advertised length of time. I was doing some artwork for my friend's wedding favors and it got heavily damaged. However, you can see on day 9 what the wear looks like. For me, that is probably as bad as it gets before I want to remove it. I also want to put on a new color since I get bored of the same one easily. Either way, I probably wouldn't want to wear it out till day 14, but it is definitely nice to be able to get a whole week's wear without much chipping.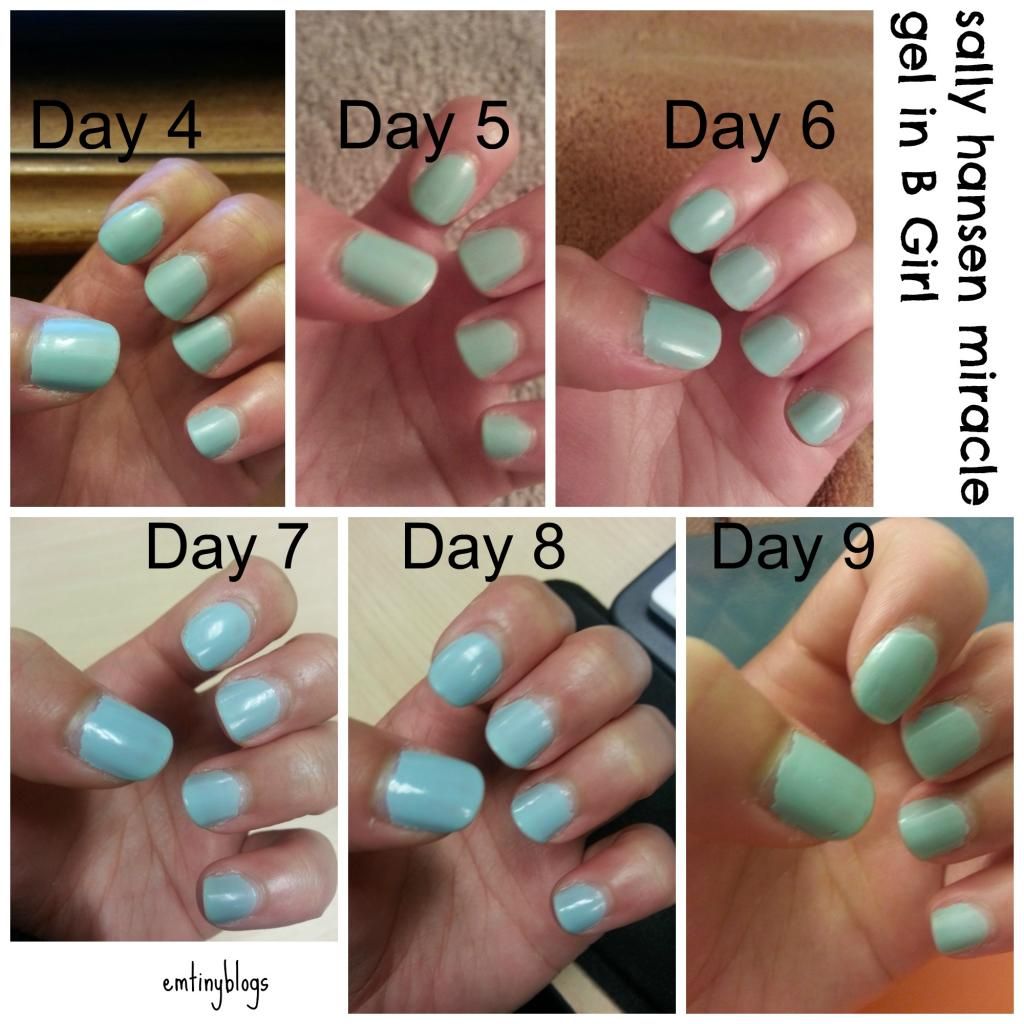 As you can see, days 4-6 look approximately identical. Day 7 shows slight chip near base of the thumb nail and also slight polish retracting from index finger's tip.
Day 8 is roughly the same as Day 7. Day 9 is where I noticed more wear on the base of all the other nails. Perhaps it is just my nails growing over the course of a week and it looks like it is chipping at the base when in fact it is as intact as the first day. Either way, it looks like it needs a clean up job after a while. Even if the polish does hold for 2 weeks, your nail will grow and you will have to take care of the empty nail.
I do want to say that this is very good wear time for me because I wash my hands a lot. This polish has held up for so long and continues to do so until I removed it from the art project mess. However, I am sure I can wear it for a few more days and be okay. There might be a few more chips than usual, but nothing I can't live with. The only thing is, for the first time I found myself wanting it to chip so I can replace it with a new color. I will definitely reach for Sally Hansen's Miracle Gel polishes for those long trips that I don't want to have to remove polish or fix a chipped nail. This is amazing polish quality.
One small down side is that I notice the brush isn't the best. When I apply the 3 coats, I noticed each progressive coat does streak the previous one. You have to be extremely careful. I have since purchased another shade: a light pink nude shade. The pink nude shade does not have this problem and lasts just as long.
What are your thoughts? I cannot recommend enough. The staying power on this baby has blown my mind!
EM
All products shown here were purchased with my own money and were given my fair and honest opinion.