Coming across a limited edition Runway display from Sally Hansen, I couldn't resist but to pick up two bottles of nail polishes. I am a basic and neutral lover so despite having a bagillion bottles of nude pink, I had to pick up another one. To make myself feel better and to try a layering look, I also picked up a glittering pink-gold polish. See below for review and swatches!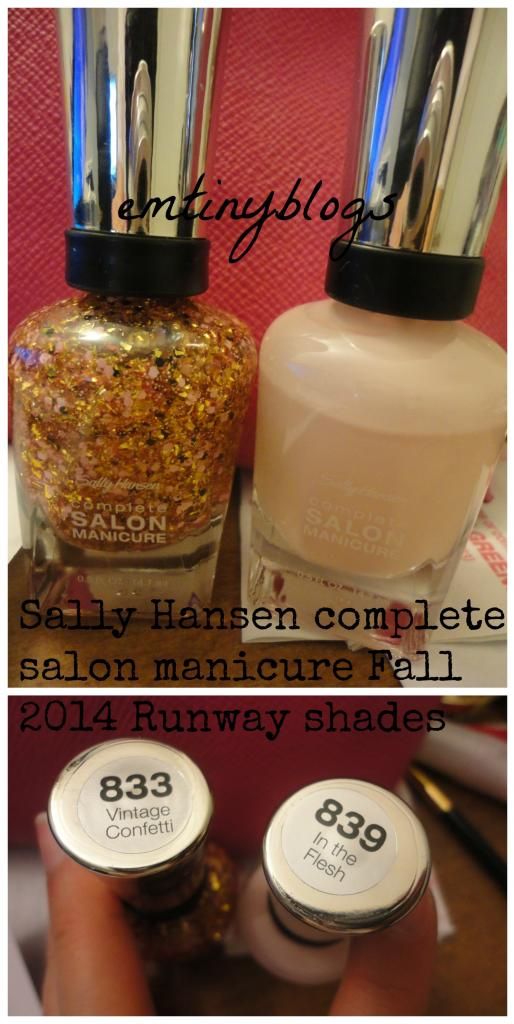 Sally Hansen Complete Salon Manicure in Vintage Confetti and In The Flesh, $8
These bottles do not indicate a limited edition sticker on them, but I have not seen it before on Sally Hansen's permanent display. Also, the display that I found these polishes indicated they were limited edition, but whether the entire display is I'm not sure.
left to right:
In the flesh, two coats
Vintage confetti, one coat
Vintage confetti on top of In the Flesh
Like I said, I wanted the second polish to be one that can spice up a very neutral, nude pink. You can turn this girly, sophisticated pink into a festive and fun pink. I really love the layered look. It sort of gives it a more bronzey warm tone. The glitter polish on its own probably won't do much, but along with a very basic base, it really looks novel.
Application/Texture: Like other Sally Hansen polishes, these two applied with barely any streakiness.
Staying power: I didn't test it more than three days, but from previous Salon Manicure polishes they usually last 3-4 days without chipping.
Dry time: Within a minute it was not sticky anymore. About 5 minutes and you are free to do whatever without smudging.
Overall: I like the two shades, but the In The Flesh shade is very basic and not special at all. I wouldn't jump to get that one if you don't have the budget or time to. Vintage Confetti is nice and unique. However, with so many glitter polishes out there this isn't a must have. I will say if you like being able to get combinations of looks, these two are very good staples to have in your collection to mix things up.They both have good consistency so I would say these would not be bad to have.
EM
All products shown here were purchased with my own money and were given my fair and honest opinion.