I love curling my hair, but I always happen to either burn myself or have my curls not last. Lately, I have been using the NuMe curling irons and they work wonders. However, they are also clipless and require you to place your hands close to the iron and also wrap around it to keep the hair on the barrel. I have burned myself a couple times when I was in a hurry and I have to admit it really makes me think twice before using it.
If you would like to see a video of how to use the KISS InstaWave curling iron, see my video
here
.
When I heard about an automatic curling iron, I was intrigued. Not only does it have the ceramic plating, it also has a diamond coating. This helps make your hair shiny, prevent frizz, and also is less damaging for your hair. The KISS InstaWave has a max temperature of 420F and also has a low and high heat option. Of course, there is the curling contraption.
The InstaWave was fairly easy to use. You take a clean strand of hair, size to your liking, and you insert it into the curling contraption. Then you press either left or right on the dial and it will automatically take the strand up into the barrel. You hold it here for 30 seconds or so and voile! It depends on your hair type, but for me this lasted a whole night and day without any hairspray or mousse.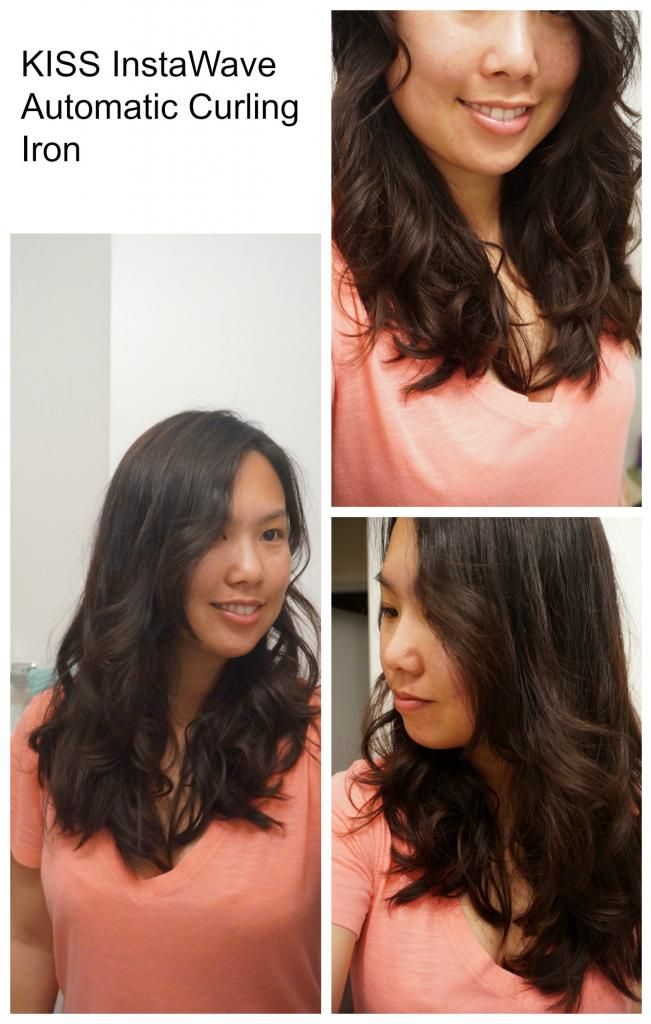 After using the curling iron
I have tried to tangle my hair around this barrel, but it seems to always be able to unravel and put your hair nicely around the iron! Amazing. The dual rotation option allows you to curl your hair to the left or to the right. This means you can hold the curling iron the same way and still get opposite-twisting curls, no matter which hand you use! I know with other curling irons, I have to twist my arm to get my hair to curl a different way. Another thing I noticed that was different was traditional curling irons with and without a clip ravels your hair quite snug around the barrel. This creates a very tight curl in your hair. The InstaWave does not ravel very tightly, but you still get that nice curl. I feel like this allows curling without damaging your hair. If you wrap your hair extremely tight around something really hot, it can definitely break your hair. Though the InstaWave does not wrap tightly, you can get hair curled tightly if you take smaller strands at a time. Likewise, for looser curls, either take more hair up at a time or run your fingers through the curl once it is off the barrel. Lastly, it heats up super fast (less than 1 minute).
2nd day after curling, no hairspray
The KISS InstaWave goes for $59.99 and more info can be found on their
website
. You can't purchase it directly from them, but they do sell at Amazon, Target, and Ulta. Target currently has it on sale for $49.99 so get it
here
! I don't know how long the sale will last, but I would definitely give it a try if you love curling your hair, want lasting curls, and don't want to burn yourself in the process.
Happy curling!
EM
All products shown here were purchased with my own money and were given my fair and honest opinion.