My home internet has been out for a whole week. It is amazing actually to see how dependent I have been on the internet. A lot of the work I needed to do rests on that mysterious, invisible web and without it has left me so inefficient. I apologize for not being able to get this review out sooner, especially since it appears to be limited edition and also have been popping up at most drugstores already.
I purchased the Milani Constellation Gel Eye Liner almost 3.5 weeks back and spent a long time trying to decide how I felt about it. I have extremely oily lids and I want anything that has to do with an eyeliner to also be long lasting and pigmented. However, I don't like glitter, which this product also seems to come with. See below for some in-store displays. The displays do indicate the collection is limited edition, but if you look at the actual products themselves, they do not list limited edition; rather, they say "new".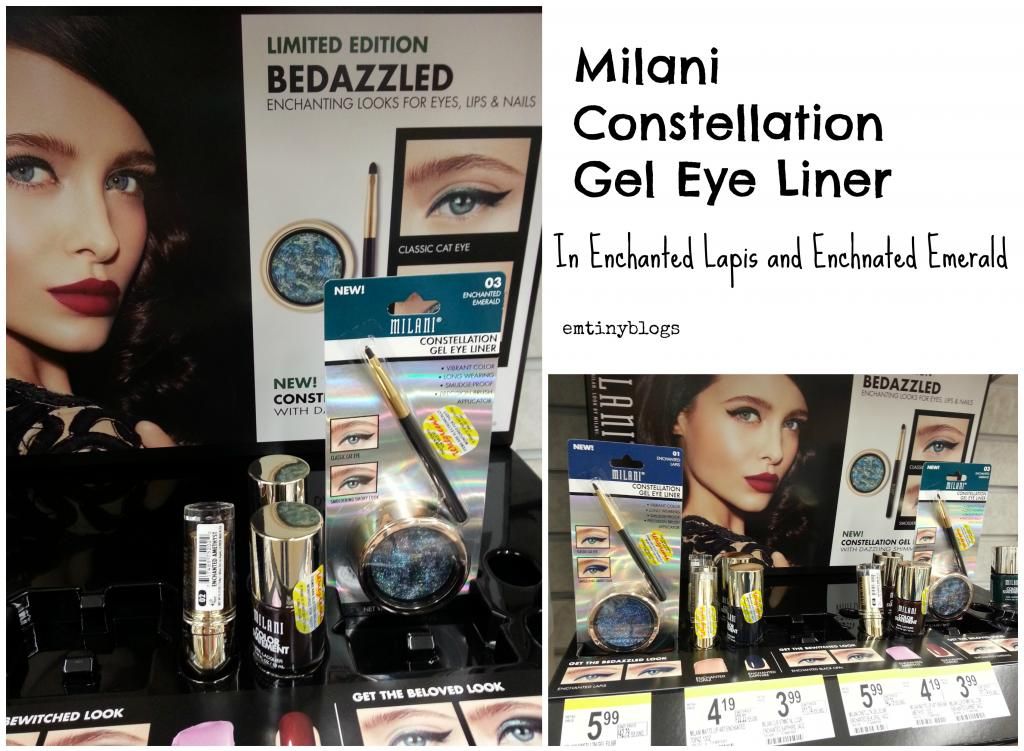 As you can see, the Bedazzled collection is indeed "limited edition", but the product themselves show "new" on the packaging. There are also nail polishes and lipsticks, which I did not pick up. I will be reviewing two shades of the Constellation Eye Gel: Enchanted Lapis and Enchanted Emerald. There is one more shade that looks like a grey graphite, but I couldn't get my hands on that. The Lapis shade is a deep navy blue with a slight hint of glimmer, whereas the Emerald shade has a metallic, deep forest green and some glitters.
The product comes in a small round jar and also a mini brush for application. The brush is actually pretty good, but you can easily use an angle eyeliner brush if you had one too. This brush strikes me more as a small concealer brush, but can nicely apply the product as liner or shadow.
Why I took so long (besides the internet problem) was because upon first couple usage, I found it to not be pigmented at all. In fact, after a few hours of wear I noticed that the line I had created on my lash line was started to 'break up'. The line was spotty and looked like I had not connected it correctly. There wasn't really any fall out or smudging, it just sort of disappeared.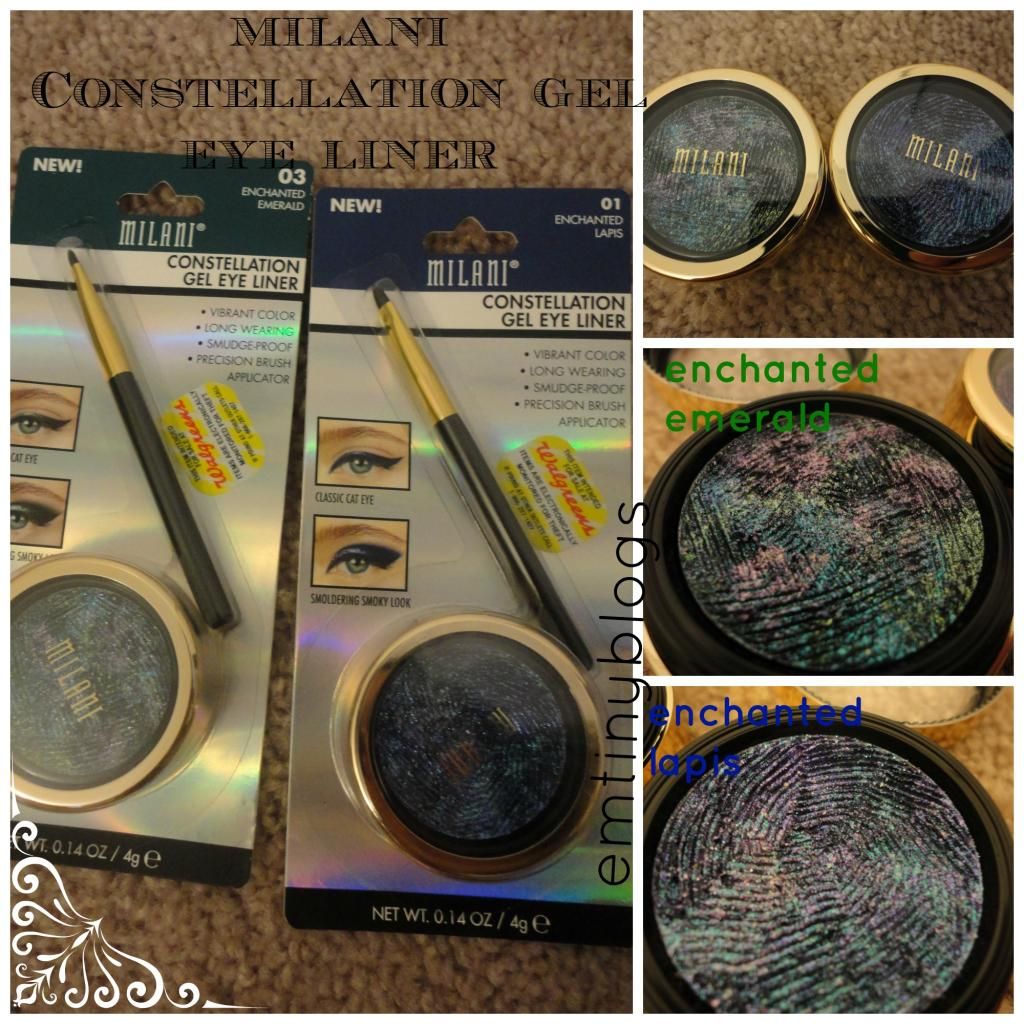 The top of the product has a shimmery glitter overlay, which is not present much underneath. Enchanted Emerald does seem to hold more glitter even in the layers under, but not enough so that I would steer clear from it.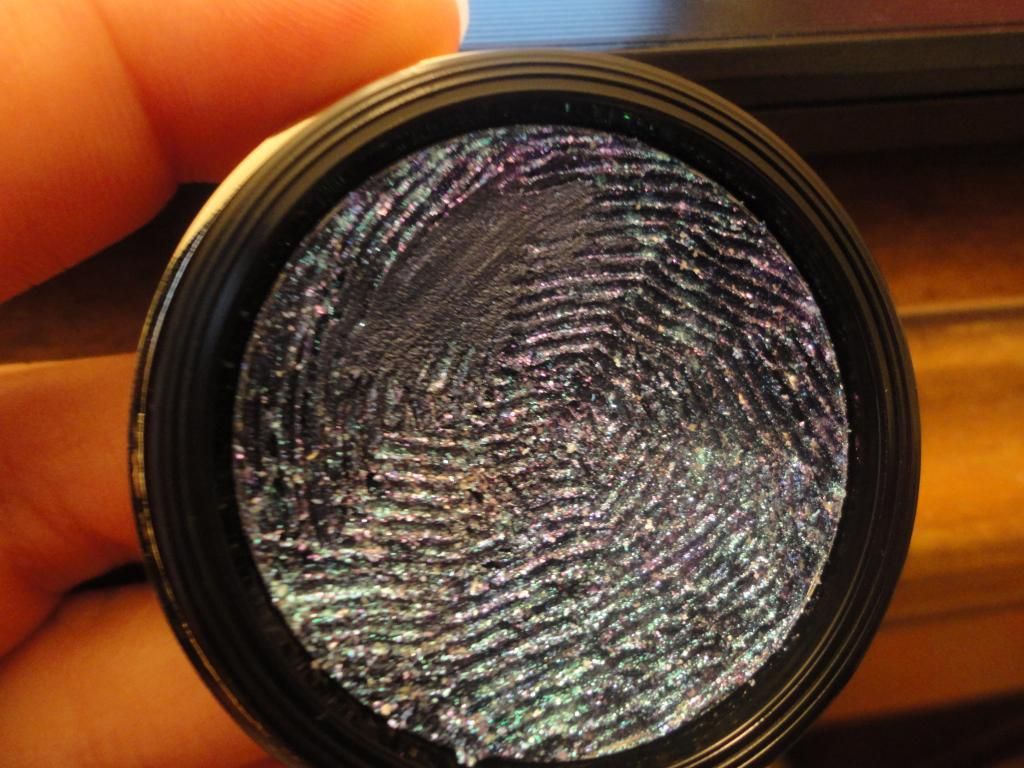 I decided to give it a few more uses and apply more product. This time, it worked wonders. I am not sure if it is because I have entered a deeper area of the gel product or if there are fewer glitters in the application, but this time the line was much thicker/pigmented and it did not spot at the end of the day! I do have to work somewhat fast and get a lot of product on my brush at the first try.
The trick I have found with this gel product is that you want to load up the brush so that it lays a very pigmented/thick line on the first go. If you were to go over it again and again, it starts to remove itself from your lids. Once on, let it sit a minute or two and then voile!
Since the Emerald shade is more glittery, I noticed this was more difficult to get a pigmented line. However, using the method I found worked on the Lapis shade also made the Emerald one much easier to apply and use.
Application: No tugging. Sort of cold upon contact, but easy to draw onto eyelids.
Staying power: Remains strong after 9 hours of wear.
Scent: none.
Overall: I really do love this product. It is such a steal for it to be $6.99 and come with a brush. The product is pigmented, multi-applicable (liner and shadow), and has a good staying power. I prefer the Lapis shade more because it has little to no glitter, which also allows it to hold better throughout the day. Though the display says the collection is limited edition, there might be hope that the actual "new" products will come back. Grab them now or keep an eye out for them!
Have you spotted this item?
EM
All products shown here were purchased with my own money and were given my fair and honest opinion.