I can't say I have been hunting for the Revlon Ultra HD Lip Lacquers ever since I saw them popping up from people's blogs. They first came out in Bed Bath and Beyond beauty departments and I've been poking my head into the CVS, Walgreens, and Target Revlon display since. Surprisingly, I haven't been obsessing to get my hands on these...perhaps it was because it was not limited edition? or maybe it was that I was spending too much money on the Ulta Friends and Family sale....gahhh. Either way, I was pleasantly surprised when I did come across a display at Target for the new Revlon Ultra HD Lip Lacquers. They look very pretty in person- check it out!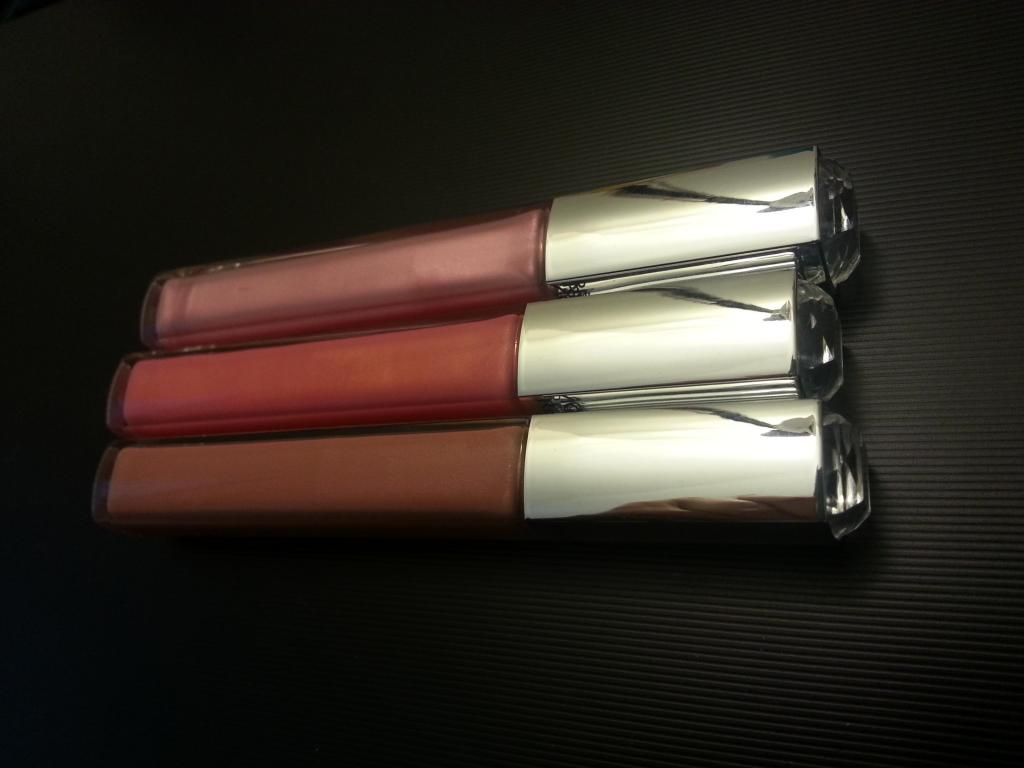 Revlon Ultra HD Lip Lacquers, $8.99 Target
The lip lacquers come in a sleek tube, similar to the colorburst lipglosses. They have a silver cap rather than a black one and have a very cool looking square crystal at the top. This adds just the right about of oomph without looking too overstated.
Swatches is with one swipe of lip product. I even had to scrape some onto the tube edge because the wand carried so much product at a time.
Unlike the other lipglosses that Revlon has, the applicators on these lip lacquers are brushes. I actually prefer the doe foot applicators over this, but I guess the brush can pick up more products in this case.
Pink Diamond is a metallic frosted pink
Petalite is a melon pink with a hint of fine shimmer
Smoky Topaz is a almost-nude mauve with the slightest sheen
No lip primer. One swipe of lip product
Application/texture: The brush applied a lot of products onto the lips, but it spread them very easily without tugging. The texture of this product is very thick, but doesn't feel like a heavy winter coat on the lips. Lips still feel like they can breathe, but can notice that gloss is there.
Pigmentation: Very pigmented. The colors can be seen with just one swipe for the swatch. However, with my pigmented lips, the colors do not show through as well. All three shades end up looking very similar to each other, with an exception to maybe Smoky Topaz.
Staying power: The gloss stayed about 2 hours on my lips without drinking or eating. However, as soon as they started to fade, I noticed that it felt extremely dry and left my lips feeling flaky. I had to apply some chapstick immediately.
Scent: A sweet vanilla smell is detected.
Overall: I can definitely see people liking this. A pigmented gloss is more moisturizing than a lipstick. It is pretty much a two-in-one product. However, I find myself needing to apply chapstick because of the drying out effect at the end. With my lips being very pigmented, I need more than this lipgloss to make the color show through. In addition, I dislike having my long hair stuck to the gloss during the day so I don't prefer lipglosses too much. These do feel very nice and luxurious for the time frame that they are on the lips. It is noticeably there, but not so heavy that they block air from hitting your lips. If you are a person who likes an easy lip color that has shine, has light to medium pigmented lips, and does not like lipstick too much, I think this product is perfect for you. Did I mention the cute packaging?!
EM
All products shown here were purchased with my own money and were given my fair and honest opinion.