I discovered the Sara Happ Lip Slip product when JCREW had a sale and this was one of the items with additional discounts. My lips are always on the more chapped side and I love constantly keeping them moisturized. Happy lips means happy smile.
Anyway, I purchased these with the intention of just using it as another lip conditioner. To my surprise, it quickly became one of my favorite lip products. I am particular about my lip products. I don't like things that are overly sticky or overly thick or thin, but want something that doesn't need reapplication constantly. The scent definitely has to be nothing or good. I don't like the chemically scented ones.
Lip Slip is one that checks off all of that! I love using it before bed because when I wake up I find myself still with it on. It isn't annoyingly sticky, which a lot of lip products tend to be if they are long lasting. This one does feel tacky, but only if you press your fingers onto your lips and rub them.
I don't know if it is just the box that I received, but the cap is extremely difficult to open. I mean not only is it small and round, but I am sure there is some pressure that kept it closed. I had to pry it with scissors and throw it on the ground. Just when I thought my hands were torn and too sore to try to open it, it finally popped open. I hope this is just a rare occurrence because it was a big draw back. I don't know if I would buy another jar of this if the next one was just as difficult to open!
Other than that, it comes in a bow-tied box. It is a rose gold color and is extremely precious and cute.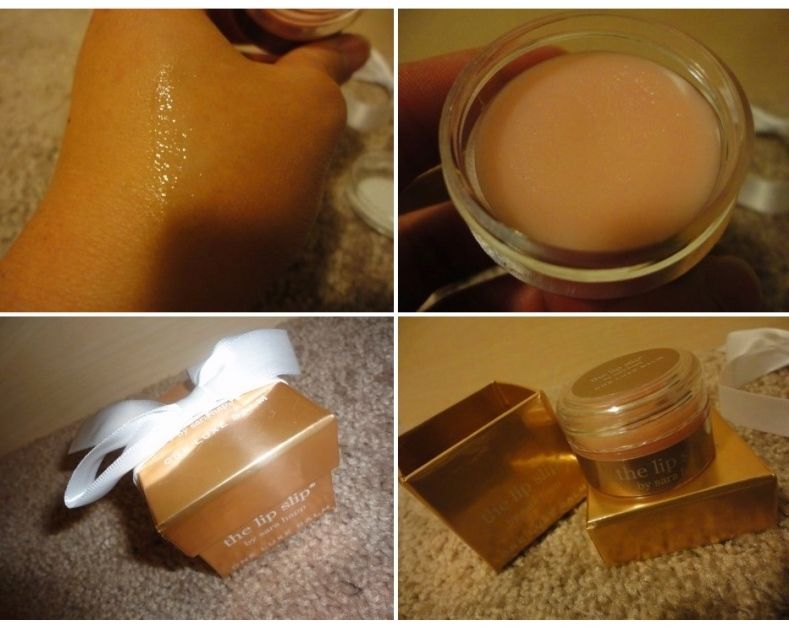 Sara Happ Lip Slip, $12
Application/texture: It is a creamy consistency with a slight hint of shimmer, but you can't feel any of that on the lips. It doesn't feel sticky or heavy, but does have a "slip" when you rub your lips together.
Lasting power: These last all day and night. Unless I really eat something and wipe my lips, they can last a long time.
Scent: It smells like sweet bakery treats!
Moisture: It is very moisturizing.
Overall: I love the scent, longevity, non-sticky, and moisturizing features of this lip conditioner. However, I do wish there was another way to apply it. I can use this mainly at night because I know my fingers aren't dirty, but I wouldn't feel comfortable digging my fingers in there throughout the day.
Hope this helps you decide if you want a lip product like this! What is one of your best lip conditioners?
EM
All products shown here were purchased with my own money and were given my fair and honest opinion.