Sephora's VIB Rouge 2014 Holiday Soiree started a couple days ago and I got my hands on the Benefit Majorette blush among many other items.... This blush is unique because not only is it a cream to powder formula, it can also be worn alone naturally and under many of your other blushes. When worn under blushes, it changes the look of those blushes depending on how much of Majorette you apply. I personally haven't played too much with that idea yet, I wanted to just get to know this blush on its own. So far, I really like it. Keep reading for my take on this cutie.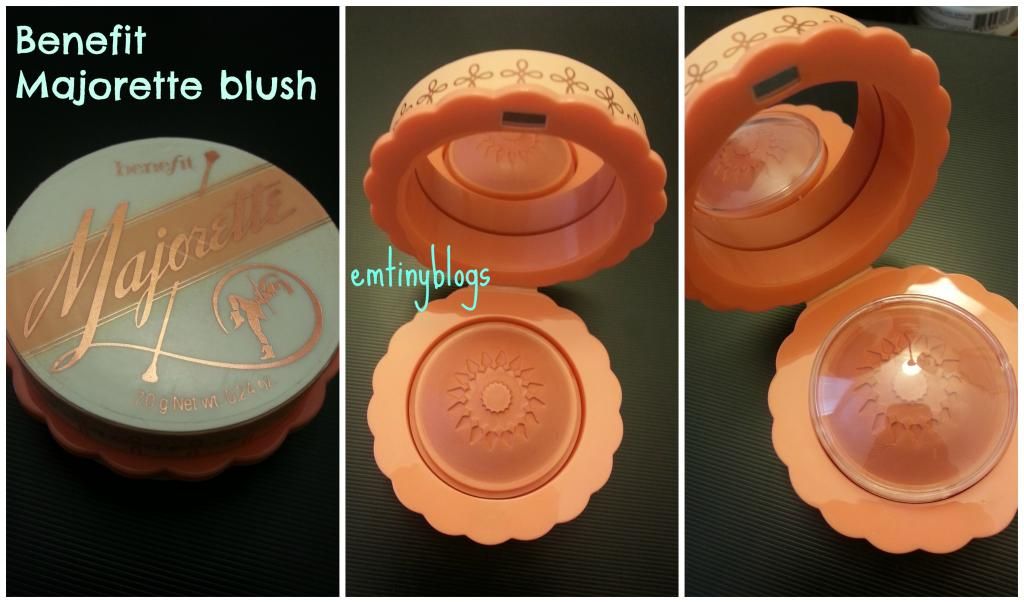 Sephora, $28
Majorette is the only color of its kind. I don't know if Benefit will release other shades of this same product in the future, but so far I would say this is a fairly universal shade.
It is a light pinky orange matte shade and can be built up to your desired strength. It looks slightly pink on my skin tone, but gets more peachy when I apply more. Best of all, the build up does not cause flaking, clumping, or stickiness. I really dislike cream blushes because they end up with a tacky feeling, which causes my hair to stick to it or just feels icky on my face. The powder finish on this one really allows a natural feel on your cheeks!
Notice that the packaging is also very unique. It has a tall round shape and is made of heavyduty cardboard. It doesn't feel fragile, but does not feel as luxurious as something made of acrylic or metal.
The top and bottom can easily be opened from the magnetic closure and there is a mirror included at the top half of the container. The bottom half is the blush, which comes with a plastic round dome to protect the blush. I am not sure if this plastic cover is for sanitary purposes or if it needs to be left on to prevent drying out of the blush. I kept it on there just in case, but might end up getting rid of it once I start using the blush more often.
Benefit Majorette Blush swatches
Application/texture: I applied it with my fingers. Upon touching the blush, it felt cool to the touch. Rubbing my fingers into the product I get a cream texture, but when I blot this onto my cheeks it quickly becomes a powdery texture. It is easy to blend and apply.
Scent: There is a fresh sweet scent that quickly fades.
Staying power: It lasts a good 8-9 hours on my skin. It never becomes oily despite it once being a cream product.
Versatility: This can easily be built up on your cheeks. The product also can be worn underneath sheer blushes to create a more standout look. I haven't played around with this too much so I can't show you the results.
Overall: I love this little guy! It has the creaminess to spread onto my cheeks, but the powdery finish to keep my oily skin from looking shiny throughout the day. The fact that you can put this under sheer blushes and allow them to be more vibrant is a plus. I don't like the bulky container, especially because I don't think it needs to be that way. It is a little on the expensive side, but you use very little at a time. Definitely get it during the VIB sale! 20% off :)
EM
All products shown here were purchased with my own money and were given my fair and honest opinion.