This is another Maybelline product that I found this year to be amazing on my eyes. I love lining my eyes in dark eyeshadows, but they must be pigmented and must have good longevity. On top of that, they have to be easy to line. This Color Molten eyeshadow from Maybelline did just that for me! Keep reading for swatches and my take on it!
***
By the way, just to let you know that I am doing a
Giveaway
for January 2015. If you are interested and have not already entered, visit my post
here
. Don't need to purchase to win. Everyone who enters will get a prize as long as it is before the deadline and before I run out of funds. Let me know if you have any questions!
***
Okay back to the review...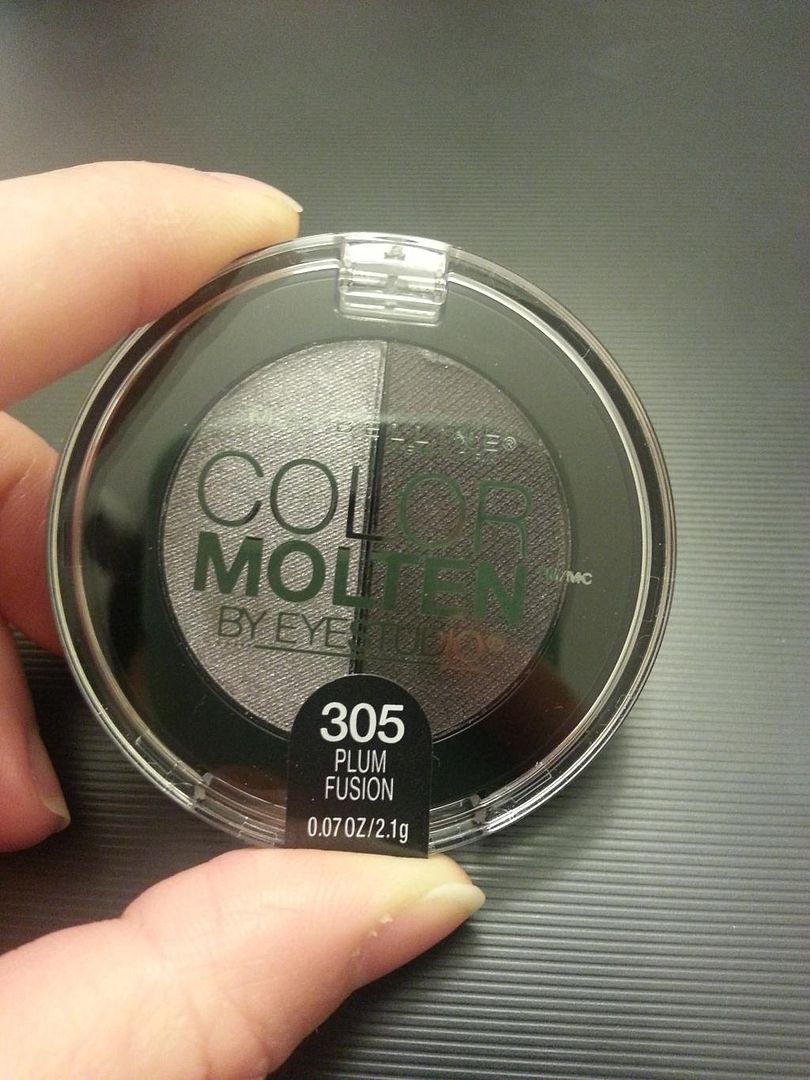 Maybelline Color Molten in Plum Fusion 305, $6
Color Moltens come in many different duo shades. I chose the one that had a lavender silver and a deep plum. I really like this combination. You can create a lot of shadow/contour and wear it for day or night time!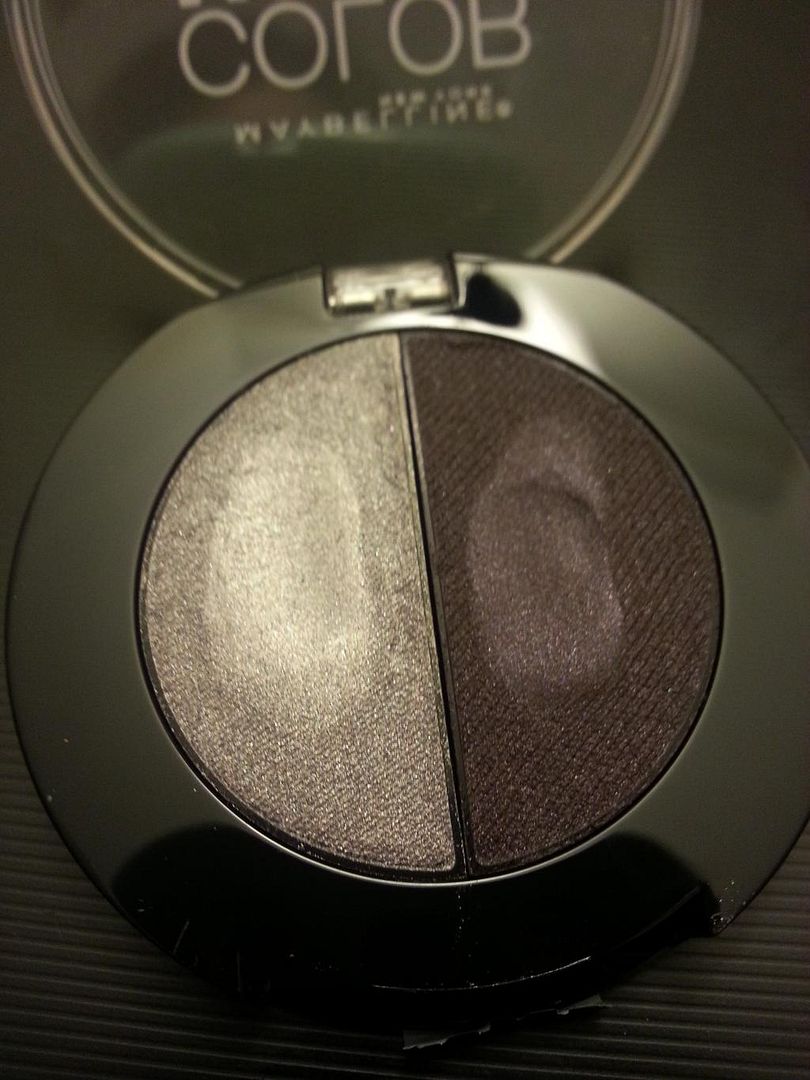 Under the clear cap, you can see the shadows below. They dip in quite a bit when I put my fingers in for a swatch. I think that's probably why they call it molten. It melts into the pan. It vaguely reminds me of their bouncy blushes, but these still do apply like powder on the skin.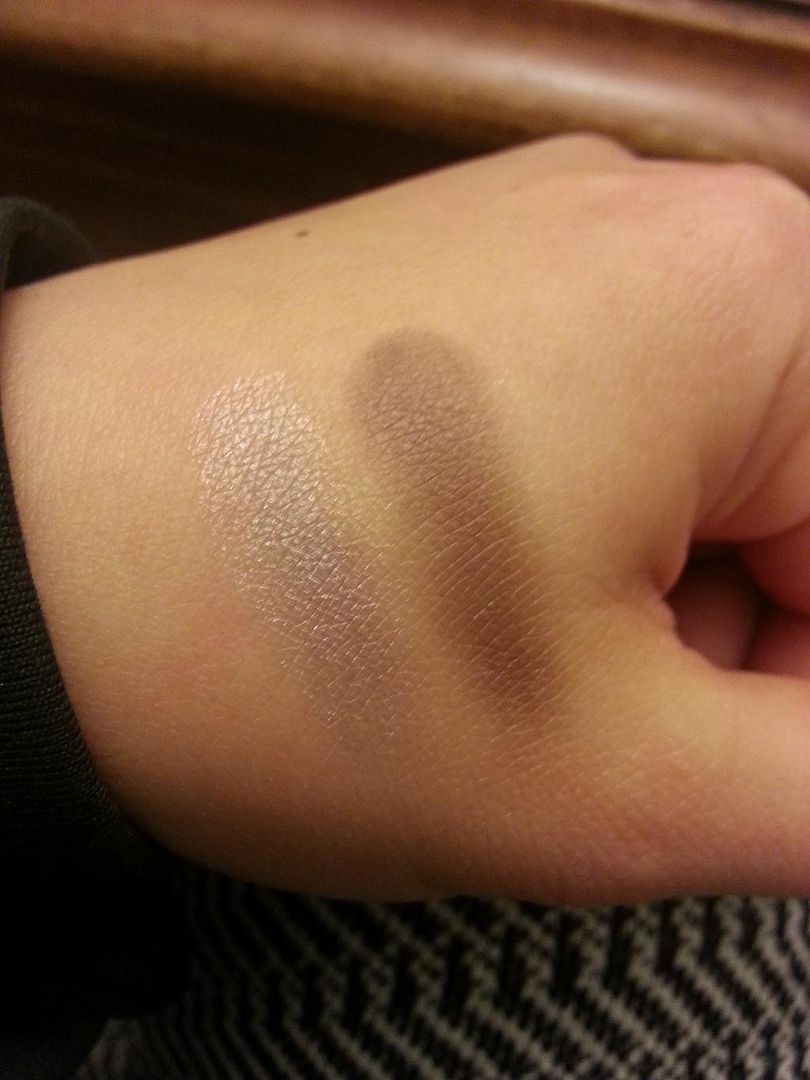 a swipe of the two shades!
left: a lavender silver
right: a deep plum brown
Application/texture: The texture, as I have mentioned above, is odd. When you put you brush or finger into the pan to pick up product, it makes a big divot. It does not change the way the product applies onto the skin, however. On the skin, it applies like a dream. It is smooth, but not creamy. The effects on the skin looks very silky even though it feels more like powder. It is a weird consistency, but one that works for me!
Staying power: This stayed on my lash line for 8-9 hours without smudging. I have oily eyes and this works like a charm! I love that even though it stays put all day, it isn't drying or tugging on application.
Scent: none
Overall: I really like this product. It is easy to apply, pigmented, and lasts all day. I love that they have so many shades to choose from. I will definitely go back and try the other shades!
Have you tried any of these? Do you have shades you would recommend?
EM
All products shown here were purchased with my own money and were given my fair and honest opinion.