Browsing around a brand new CVS store that opened near where I live, I spotted a new product stand from Physicians Formula. I remember seeing news of the Argan Wear line from Physician's Formula a few weeks back and was pleasantly surprised to see them at my store. Though there were blushes, bronzers, foundation, and more, I only focused on the blush. I have so many blushes that I don't even think I should have gotten this one, but the packaging/design was just too pretty to pass up.
***
By the way, just to let you know that I am doing a
Giveaway
for January 2015. If you are interested and have not already entered, visit my post
here
. Don't need to purchase to win. Everyone who enters will get a prize as long as it is before the deadline and before I run out of funds. Let me know if you have any questions!
***
Physician's Formula Argan Wear Blush in Rose, $14
PFAW blush comes in about 2 shades. A light pink highlighting shade in the very center and a primrose pink around the outside. There is a gold trim around the edge, but that is just the surface. In the photo above, you can see the gold on the upper right corner area is wiped off and only the pink remains.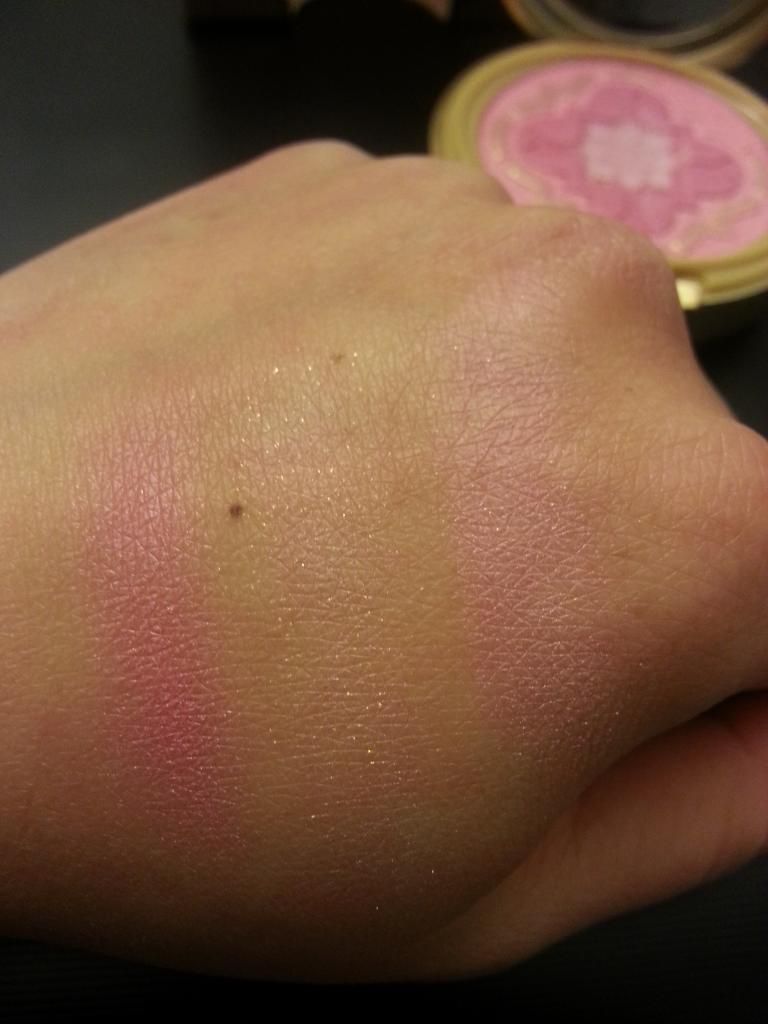 Swatches of the primrose pink, light pink, and a mix of the two
You see a small amount of glitter and it is due to the gold overspray. This disappears if you wipe it off the top of your blush.
Isn't the design gorgeous? It comes in PF's familiar containers. The blush comes in a plastic container where the top of the blush is see through. If you lift the blush pan, a brush is underneath along with a mirror. It isn't the easiest to use together (mirror and blush), but can come in handy in a pinch.
Texture/application: this is very smooth to the touch. When I rubbed my fingers on the blush to get a swatch, it felt buttery but still in a powder way. On the cheeks, it was easy to blend and didn't look powdery.
Pigmentation: The blush deposited a lot of color and slight sparkles, but that is due to the overspray.
Scent: It has a slight floral scent, but was hardly detected unless you go and sniff the product.
Staying power: This lasted a good 8 hours on my cheeks.
Overall: I love the design of this blush. I think that was the buying point for me. The blush itself does feel more creamy than other PF's blush, but this doesn't mean that it is of a cream texture. It is still powder, but feels less powdery than usual. For $14, I would say give it a try, especially if you love the design. In terms of the color, I don't think you will find the pink in this pan to be extraordinary. I wouldn't mind having a blush like this, but with so many already in my collection I don't think I would have purchased another without the beautiful design that this comes in.
What are your thoughts?
EM
All products shown here were purchased with my own money and were given my fair and honest opinion.