In a recent email from Sephora, I saw that Urban Decay released a new set of lipsticks called the Sheer Revolution Lipstick. I don't really like crazy lipstick colors too much and I find very opaque lipsticks often dry my lips out. The fact that these were sheer appealed to me because they seem like they could be less drying. However, with my pigmented lips, I also had the fear of them not showing up very well. Only one way to find out, right?
***
By the way, just to let you know that I am doing a
Giveaway
for January 2015. If you are interested and have not already entered, visit my post
here
. Don't need to purchase to win. Everyone who enters will get a prize as long as it is before the deadline and before I run out of funds. Let me know if you have any questions!
***
I purchased two shades: Liar and Obsessed.
Urban Decay Sheer Revolution Lipstick, $22
Liar is a nude with a slight hint of pink
Obsessed is a light pink
Both of these didn't have shimmers or glitters. It did give your lips a bit of a sheen look. It definitely wasn't matte, but also wasn't shiny.
The tube is a shiny purple metallic and is reflective like a mirror. It looks sleek but without the easy fingerprint look. The cap pops off and you twist the product up for application.
On my lips, I noticed these didn't show up quite well. In fact, Liar didn't seem to make a differences at all on my lips. The color was too sheer and too similar to what my lips looked like. If anything, it might have given my lips a less red look.
Obsessed did make my lips look more pink than my usual red. Again, it didn't seem to apply heavily so that the sheerness didn't cover my natural lip color too much. Trying to build up the color on my lips with more swipes didn't seem to add any more pigmentation.
I know everyone's lip color and pigmentation are different so I swatched some on the back of my hand for you to judge for yourself!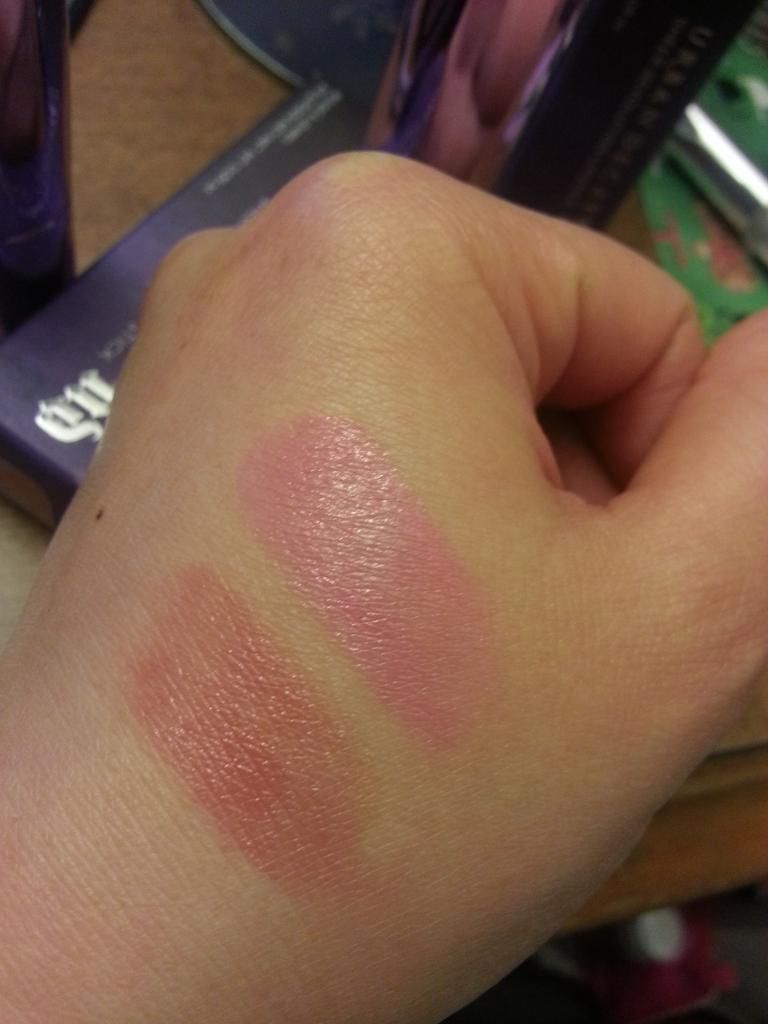 Liar (left), Obsessed (right)
These were swatched with 2 swipes of the lipstick.
Texture/application: This lipstick applied quite smoothly and without tugging. The texture isn't buttery, but also isn't very dry and rigid. On the lips, it didn't feel sticky nor did it feel excessively slippery. It just felt natural and wasn't heavy.
Moisture: I wouldn't call this moisturizing, but then again it was never advertised that way. I didn't feel this drying out my lips, which is great.
Scent: I didn't really detect any scent.
Pigmentation: I didn't find the pigmentation to be too deep. It is sheer as they have advertised, but unfortunately, one of the shades didn't end up showing up on my pigmented lips for that reason. The other shade did show up, but didn't make too much of a difference. If pigmentation isn't there and there is no moisturization, I find myself not really reaching for Liar. Obsessed, on the other hand, does get usage every so often.
Staying power: This lasted 2 hours on me on average. Without eating or drinking, it could last up to 3.5 hours.
Overall: For $22, I find this lipstick to be just okay. I like that it doesn't dry my lips out, but it also didn't really give my lips any color. I can see it being something nice for people with lighter colored lips. This was as advertised, but unfortunately is going to be a pass for me. Perhaps another shade in this collection will be better for me, but until I see a sale or something I probably won't rush to try it.
What are your thoughts?
EM
All products shown here were purchased with my own money and were given my fair and honest opinion.