Benefit's new product comes with an ironing tip for application! How cool is that!? Such ironing tip closely resembles that of an iron that you use to get creases and wrinkles out of your clothes. It is appropriately used since the product is supposed to 'iron' out your undereye creases and puffiness. What I am referring to is the Benefit Puff Off! This little tube allows for users to reduce lines under their eye area and also reduce the puffy looks of your eyes. With the combination of the cold and pointy tip, it can easily get into small crease areas and cool off the puffiness. The product itself is somewhat pinkish and helps with reducing the discoloration under the eyes.
Another thing the product did for me was have a tingly cool sensation. It isn't burning, by all means, but rather it feels cooling. Sort of like a nice breeze on your eyes. It definitely smoothed out my under eye areas.
Since the under eye area is harder to capture, I did it on the back of my hand. Notice the difference between the top half of my hand being more textured and therefore more 'rough' and the bottom half of my hand where it looks very smooth. That is what Puff off! did :)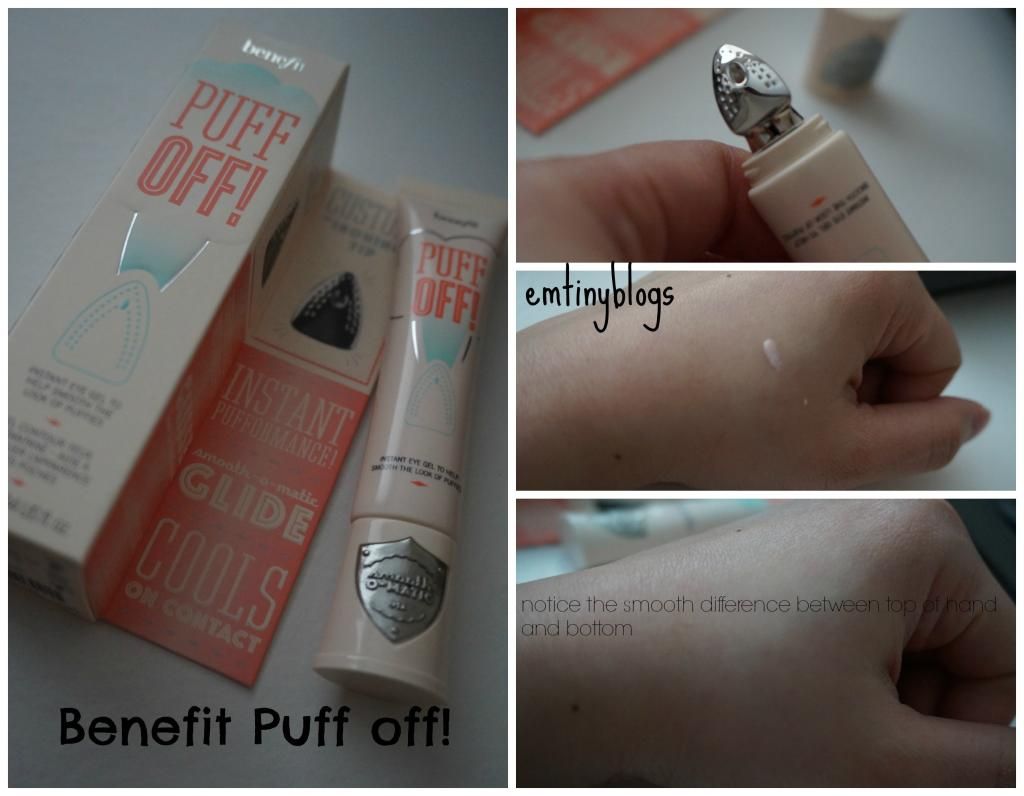 Benefit Puff Off!, sephora, ulta, $29
Application/Texture: The product is very light weight and you can't even tell it is on your eyes. The application is very smooth. Just squeeze a little so some pink product is at the tip then just dot on your under eyes. Once dotted, gently spread across the bottom of you eye area and you will instantly see smoother, brighter eyes! I also use my fingers to gently tap off excess product.
Staying power: I didn't notice this fading and I even use it on top of my makeup when I forgot to apply it under. It lasts all day.
Scent: It has a slight sweet floral scent, but I was only able to smell it because I pressed my nose into it.
Overall: I really like this little tube. It doesn't replace my under eye concealer, but definitely makes the application nicer and also distorts some of the lines. I love the cooling sensation and how easy it is to apply using the ironing tip. Though I like it, $29 is a lot to spend on an item just to "add on" to the regime in the morning. I rather just stick with the simpler routine I already have. However, if I were going to take lots of photos or go to a nice party, I will definitely pull this out to use!
Have you tried Puff off!?
EM
All products shown here were purchased with my own money and were given my fair and honest opinion.