I can't believe that I haven't done a review on the Urban Decay Naked2 basics palette yet. This to-go palette came out in 2014 and has been on my radar. I own the Urban Decay Naked basics palette (see my review
here
) and found that I mainly only reach for the 3 shades on the right hand side. For a travel palette, I would prefer to have more shades to work with. Any shade unused is a waste of space! Although I could blend, mix, and match shades from the Urban Decay Naked basics palette, I find that a deeper shade would be more useful than 3 light shades that look similar in hue. Upon first look at the Naked2 basics, it appears that the palette does have more deeper shade across.
Urban Decay Naked2 basics palette, $29
Ulta, Sephora, Urban Decay's website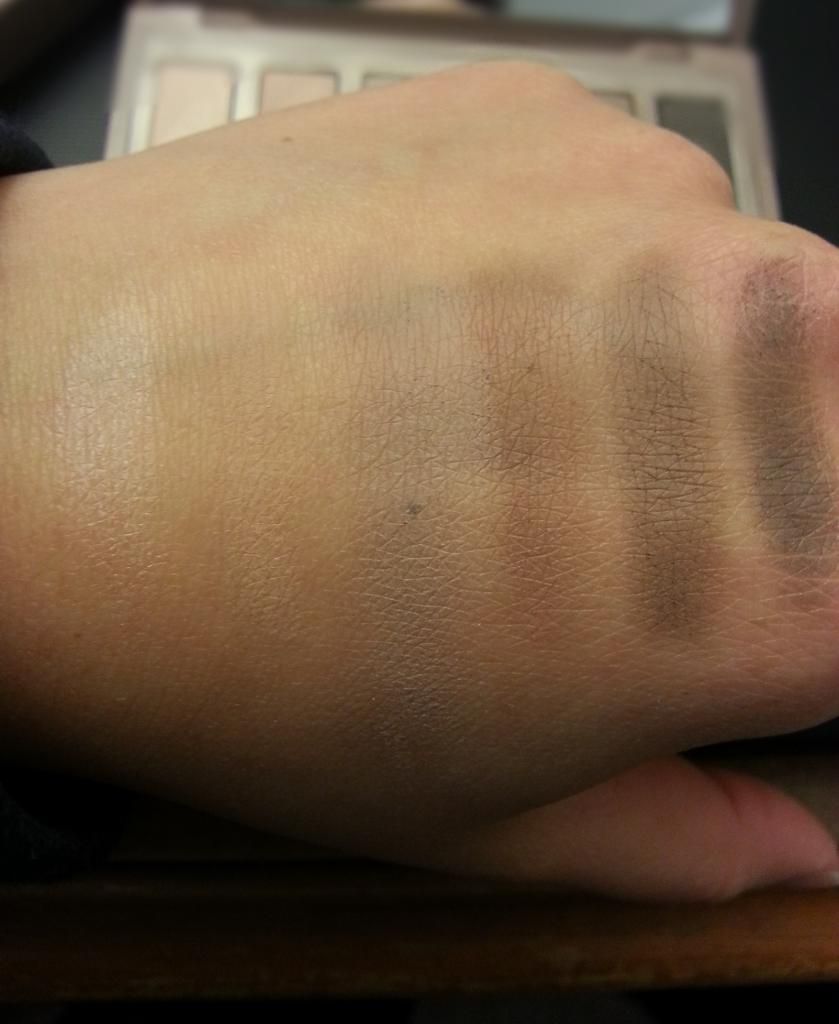 Swatches of the palette, bare skin
l to r: skimp, stark, frisk, cover, primal, undone
A few things I noticed was different from the original Naked Basics palette:
Naked2 basics is more cool tone compared to Naked Basics
The deepest shade in Naked2 basics is not deeper than the deepest shade in Naked basics. In fact, all of the Naked2 basics shades are lighter.
Shades from Naked2 basics are not from the Naked full-sized palettes.
Shades from Naked2 basics are more varied in deeper shades.
Both are made with a hard case with a rubbery textured coating and locking closure. This is better, in my opinion, for traveling since it won't easily get dirty, broken, or opened.
Mirror is located on the back of the cover.
6 shades to choose from
Though I love the more varied shade selection from Naked2 basics, I found that I love the deep black shade (Crave) from Naked Basics more. I found this trade off to be a little disappointing. Though I am able to still line my eyes with the deepest shade of the Naked2 basics palette, I found it doesn't give that BAM factor that 'Crave' does. I am willing to work with both of these palette because the longevity is great and the colors are very pretty. They are neutral and easy to pair with any look.
Texture/application: The texture is similar to the other Urban Decay Naked eyeshadows. I didn't find these powdery/drying or super creamy. They were nice to blend and work with. On the eyes, they were easy to build up and also didn't have major fallout.
Staying power: These last similar to the other Urban Decay eyeshadows. Without primer, I get about 6-7 hours as eyeshadows. With primer they last about 9 hours before creasing as eyeshadows. As eyeliner, I can get a good 8-9 hours without primer.
Scent: None.
Overall: I really enjoy this travel palette. The case is sturdy, easy to to clean, and closes securely. Unlike the full-sized Naked palettes, I would much rather carry this around with me during travels. I do feel that the variety of colors can be improved on, but there are already more shades in this palette than the original basics. I say that is an improvement. I love the deep black 'Crave' shade from Naked Basics the best, but I find myself willing to work with Naked2 basics for the more varied shades in the entirety of the palette.
Have you tried any of the Urban Decay eyeshadow palettes? If so, does this one call your name?
EM
All products shown here were purchased with my own money and were given my fair and honest opinion.