Maybelline has released a ton of new lipsticks, color tattoos (a post on that later!), and lipglosses. These Spring 2015 lovelies are popping up at my local CVS and Walgreens. I love the spring bright and pastel shades and I decided to pick up a lipstick to share with you. To clarify, there are a lot of limited edition Rebel Bloom products. The one I am reviewing, the Maybelline Color Sensational Lipstick in Peach Poppy, is part of their permanent line. I found it in their permanent displays and it doesn't have the 'Limited Edition' tag on it. It is a new product, but don't feel like you have to drive out there now to grab it...well unless you are in need of a pretty lipstick asap.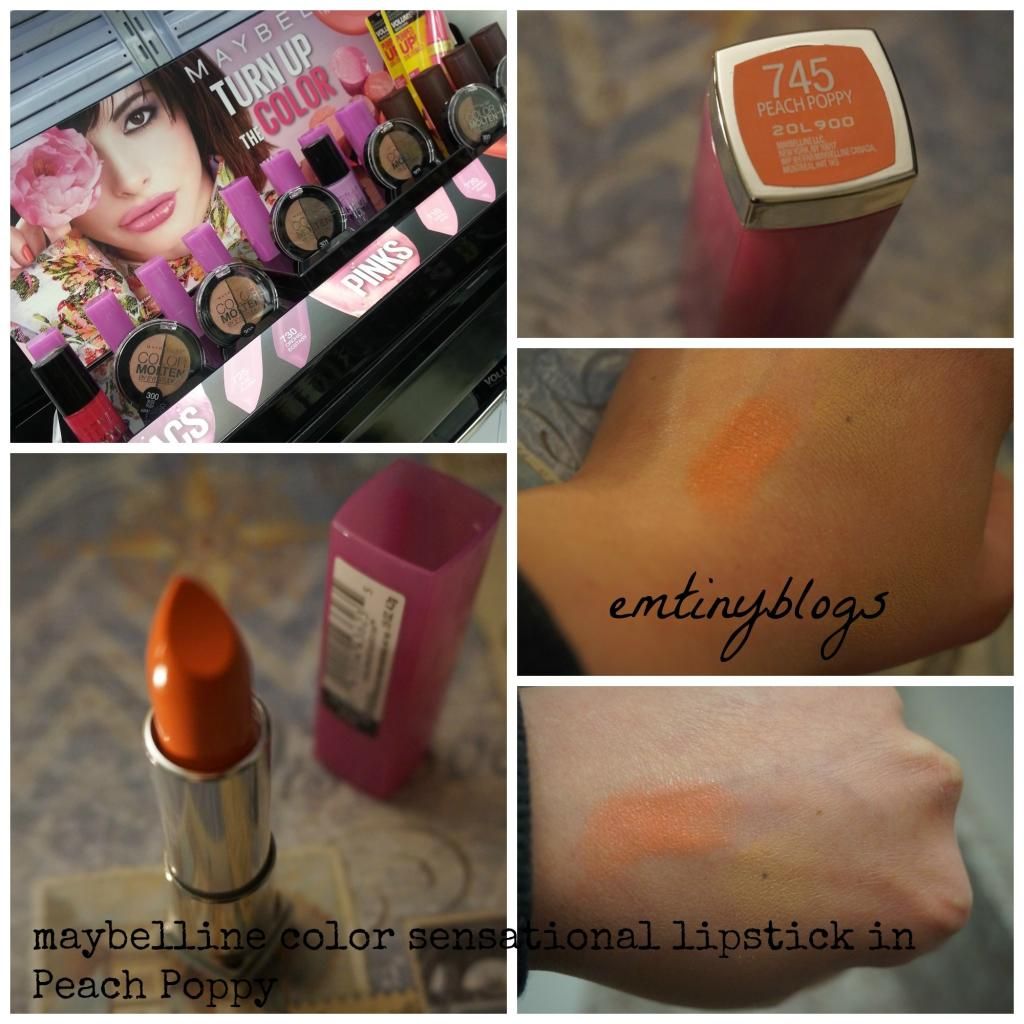 Maybelline ColorSensational Lipstick in Peach Poppy, CVS, $9.99
Peach Poppy is a bright orange shade. It isn't shimmery but it is also not matte. It has a bit of shine to it, but not from glitter. It is a very nice shade and nice wear. The color swatched isn't as bright as the shade in the tube.
Application/texture: The application was not tugging, but did not melt into my lips. When I rubbed my lips together it felt smooth, but not silky. It wasn't heavy on the lips .
Staying power: This lasted about 3 hours on my lips without fading. If I were to eat or drink, however, it would start fading upon usage.
Scent: The scent reminded me of traditional Maybelline lipsticks. It has a light floral lotion scent, but disappears after application.
Overall: I enjoy a pop or orange color. I don't usually purchase mainly orange tint shades, but somehow this one made me want to try it. Perhaps it was the name. Though I can see others really liking this shade, I am more of a balm type of person and will only use this on special occasions.
What are your thoughts? Have you grabbed any of the new spring Maybelline products?
All products shown here were purchased with my own money and were given my fair and honest opinion.