Milani Cosmetics has released some awesome and new makeup products. The Fierce Foil collection includes the Eyeshine palette, which I will review below, and the Fierce Foil eyeliners, which I will review later. The Fierce Foil collection has very metallic properties and are shiny and bold. Depending on the shades you pick, the boldness can be sultry if it is more deep and earthy in tone. The Fierce Foil eyeshine palette I chose was the Florence. I saw three other palettes, which all consists of 4 shades each. You can check out the other palettes on
Milani's Website
.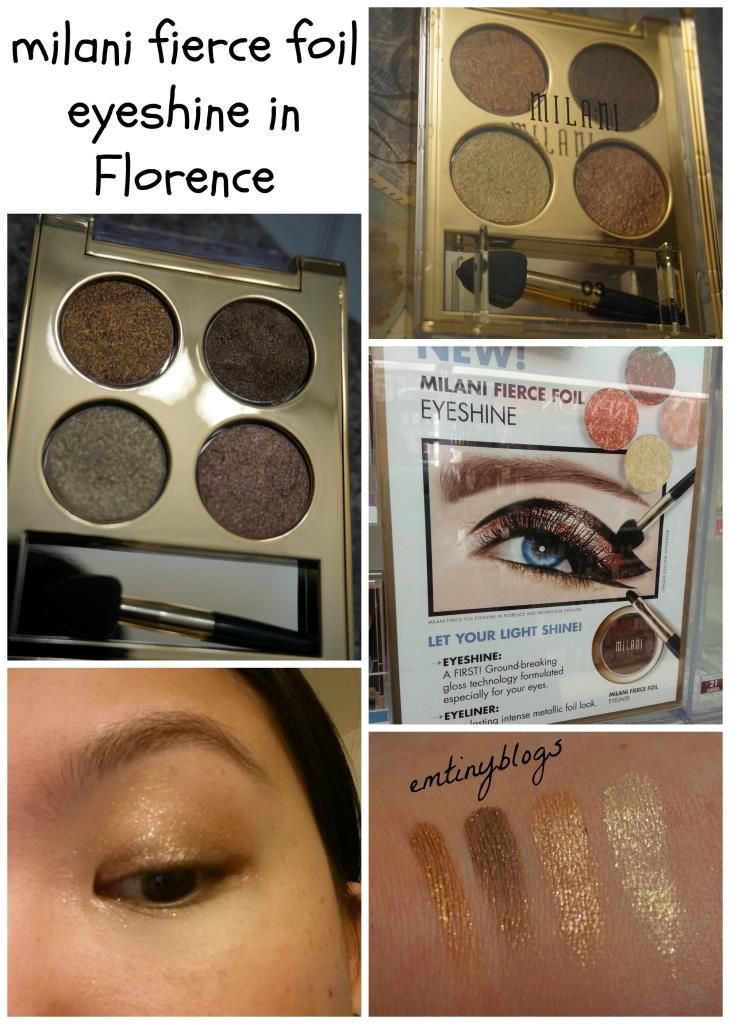 Milani Fierce Foil Eyeshine in Florence, $10
Click photo to enlarge.
Florence comes in 4 shades: A copper, bronze, gold, and champagne color.
All of these are very metallic and shimmery.
On my lids, you can see that there are flakes of gold-like particles. These actually adhere quite strongly on my lids and was very hard to remove. The eyeshines are not meant to be a regular eyeshadow, but rather a gloss. To me it isn't as sticky as some people would refer to as Mac Cosmetics' eyegloss (Cinderella collection), but it is enough to feel odd applying to my lids at first.
Application/Texture: It is more on the glossy side and when you press into the product you can definitely feel it is slightly wet/damp. On the lids, however, they apply dry and do not feel sticky or heavy. The eyeshines do not transfer and are natural feeling.
Staying power: I notice slight creasing on my oily lids with no primer after 5 hours of wear. If I apply more product, then it will start creasing sooner. I feel that if you don't have oily lids, you may not have this problem.
Scent: none detected
Removal: The removal process could be tough as the small gold-like particles are hard to budge. However, with waterproof makeup remover, I was able to get it off with just spending slightly more time on it.
Overall: Though I like the idea of a new eye product, I feel like this gloss is a little too intense for me. Also, the gold-like particles make it very hard to blend and remove. I don't wear very intense eye makeup so I feel like this isn't really up my alley. However, if you love to play up your eyes, I could see this product as a great summertime wear!
What are your thoughts?
All products shown here were purchased with my own money and were given my fair and honest opinion.