A friend of mine who also happens to be a makeup fanatic asked me about a month ago whether I wanted anything from Japan. She was going there for vacation and was kind enough to offer to pick up something for me. At the time I was in my 'no buy' period and definitely made an exception for this. I had been eyeing the Chanel Blush Duo in Tweed Rose Peche (#80) and had already given up on it because I saw it was a Japan exclusive. Well the opportunity came and I asked her to look for me. Originally, she told me it was not yet on sale during the time she was there. I was bummed, but told myself I didn't need it. Then on the last day she found it at the duty free store! (OMGOSH thank you so much!)
I guess it was meant to be :)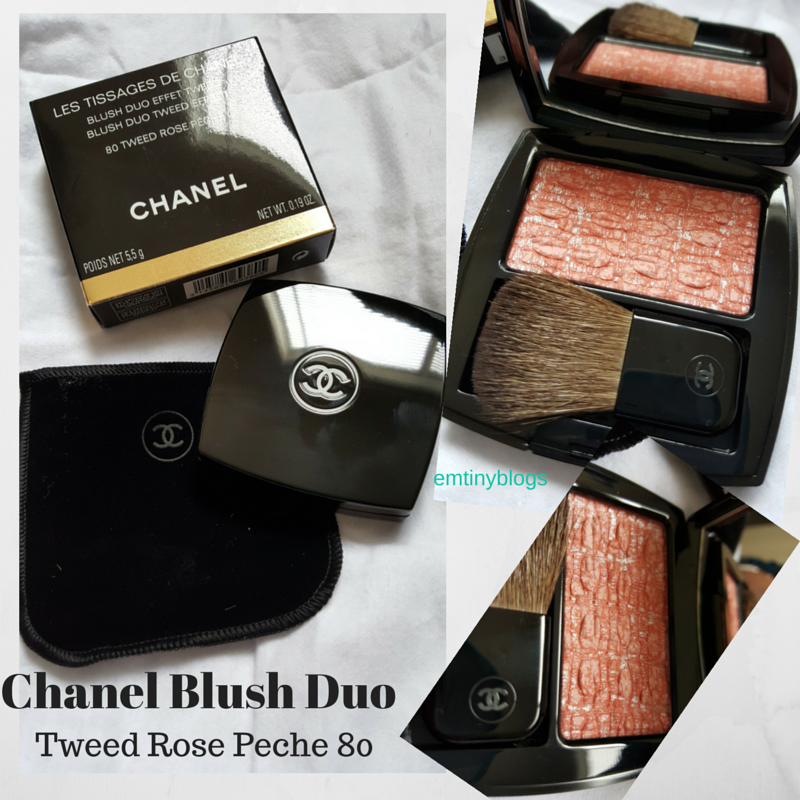 Chanel Blush Duo in Tweed Rose Peche 80, $46
Chanel has released Tweed blushes in the past and they came in different shades. Peche #80 has not been released before and is limited edition and exclusive to Japan.
Tweed Rose Peche #80 is a coral pink. There is a layer of shimmer over spray and also a tweed like pattern on top. The blush underneath the top layer is just regular blush, no pattern or shimmer. It sort of makes me not want to use it in order to preserve the pattern!
Swatches of Tweed Rose Peche 80
This blush is so pretty! I love the shade. It has a brightening look without being able to be too over done. Above, the right swatch on my hand is done with 5-6 passes of blush, and still it can't be layered too heavily. It seems like the blush is just light enough to prevent people from looking like a clown. The container is the usual black mirrored plastic and comes with a brush inside. Unlike the other USA blushes, I found this one to be more powdery and 'loose'.
Application/Texture: Very smooth and easy to apply. Easy to blend. However, the powder is more loose and even soft touches to the product whips up a lot of powder that goes flying if not careful.
Scent: None detected. Most of the Chanel blushes I have all have a rose scent. This one doesn't.
Staying power: Stayed about 8 hours.
Finish: The finish is matte with a brightening look. Besides the top layer of shimmer, there isn't any in the blush.
Overall: I really love the look of the tweed blush - it is so gorgeous. I also really like the brightening coral pink. It gives me a brightened blushed look as if I had been in the sun and got slight tan. For those of you who do not like the rose scent of Chanel blushes, you should look into this one! Unfortunately, it is limited edition and exclusive to Japan. If you are looking into getting one, check ebay. I was able to find one circulating. This is one of my favorite Chanel blushes, but due to the pattern being so pretty I really don't want to disturb it!
Thanks for stopping by!