Milani once again released some rose powder blushes. Rose powder blushes have been released 2 other times and I believe they have all been new shades. Some of them became permanent blushes, but these 3 are limited edition and new so far. I picked up one for myself to review below. If I pick up the other two, I will definitely review them here. In the mean time, enjoy Awakening Rose (10)!
I have always loved Milani's blushes and I have collected nearly all of their limited edition Rose powder blushes. I didn't want to miss out on this collection so I picked up one to play with. From some online photos, these blushes appear to be shimmery. I don't like shimmery/glittery blushes, hence why I only picked up one shade.
Milani Awakening Rose powder blush, $9.99, CVS
Awakening Rose is one of three limited edition blushes. It is a mauvey nude pink shade and is for the most part not shimmery. Shimmers appear on the pan, but it is not transferred to the skin.
Another note is that though the individual packages do not say limited edition, the display they are on does.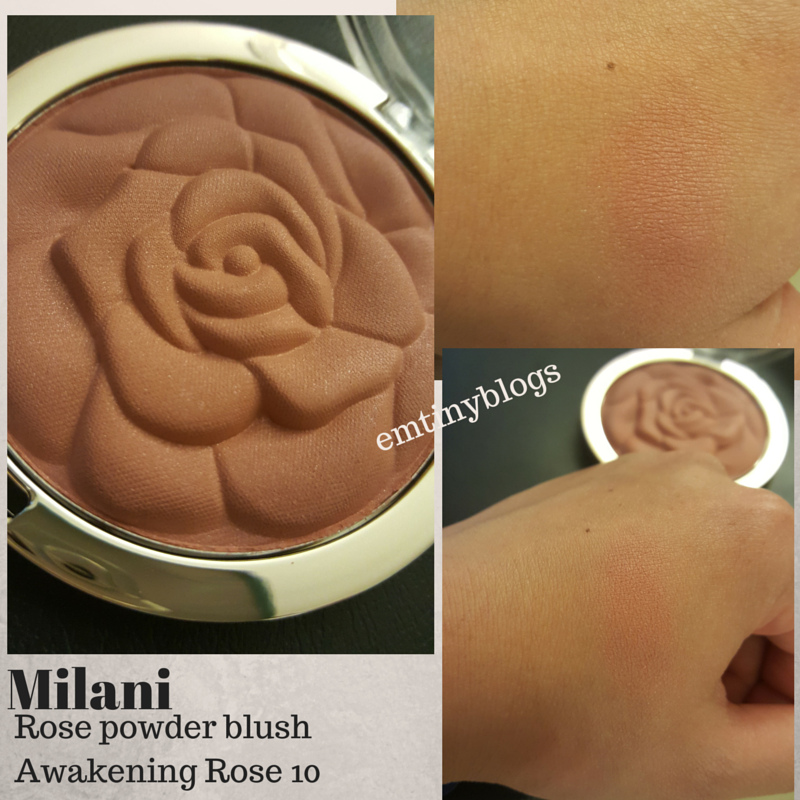 Application/texture: Awakening Rose kicked up some powder when I rubbed my finger to pick up some product. On the skin, it blended very nicely and smoothly. Nice even coat and no powdery look.
Scent: None detected.
Finish: It appears matte on the skin even though it has some shimmers on the pan.
Lasting power: I have slightly oily combination skin and this lasted a good 8 hours before disappearing.
Overall: The Awakening Rose blush is very smooth to apply and I love that I could use it as a contour because of the mauvy brown shade it is. It isn't too bright and can be used for more subtle color. I especially was relieved to see that it is mainly matte on the skin because I don't like shimmery or glittery blushes. I might go back for the other two shades to try now that this one appeared matte.
What are your thoughts? Will you be grabbing some of these?