I met up with one of my followers last week when she was visiting the area. I love it when I catch up with viewers and share make up tips. The lovely Vanessa not only kept me posted on beauty news in Asia, but also brought me a few goodies. One of the things she was able to bring me was the Maybelline Baby Lips Candy Wow in Peach. I really love the shade of this product so I couldn't wait to try it.
At first glance, the Baby Lips Candy Wow (BLCW) is a twist-up lip pencil. Being in the Baby Lips line, I expected this product to be very moisturizing and good to my lips. Unfortunately, I didn't find this to be the case. Unlike my recent review of the Maybelline Baby Lips Lipgloss, this one was not moisturizing at all and actually accentuated dry patches on my lips. Granted, it is the summer and I am more often parched now than before, I still find it hard to wear this product. This is sort of why I waited so long to review it. I tried every other possible way to get this product to work because I love the color, look, and packaging.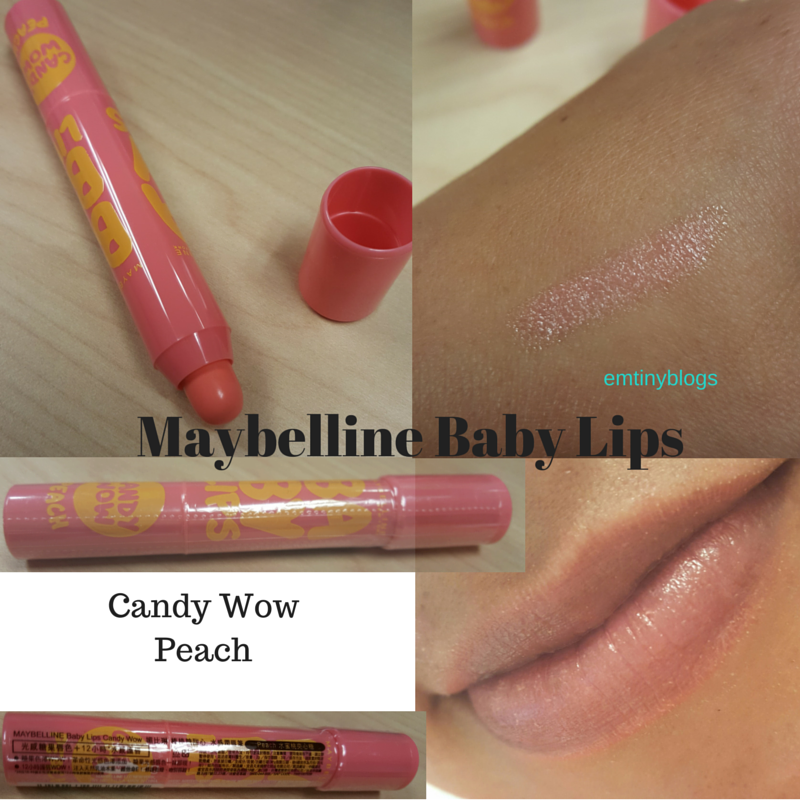 Maybelline Baby Lips Candy Wow in Peach, Taiwan/Hong Kong
Peach is a slightly sheen but matte peach shade. I would say it even has a little pastel tone behind it. Above, I am wearing 2 swipes of product on my lips. I also had to add some clear balm on top to make the lips less dry looking. On my hand, it is 2 swipes of product.
I tried wearing this just on its own and it was very drying. It settled into lip lines and also brought out dry patches on my lips. Some balm prior or after application helped it a lot. However, carrying an extra balm would make this product less effective.
Application/texture: This was extremely smooth to apply. It glided onto my hands and lips with no effort at all. The rubbing of my lips together to spread the product was when I first noticed the dry feeling. There was no cushion and it made my lips feel dry and flaky.
Staying power: This lasted about 1-2 hours without eating or drinking.
Scent: This smelled like fruity yogurt. It smelled nice and like something I could eat, but without being too sweet.
Moisturizing: None whatsoever. Not only was this not moisturizing, it was actively drying.
Overall: I really wanted to like this product. Not only is it convenient, smells good, and has a very cute color, it also glides on very easily. Unfortunately, despite my trying it out I found it too drying and needed additional lipgloss or lip balm before and after to keep my lips feeling good. Perhaps other shades in this line will be better, but in the mean time I wouldn't fly to Asia to get my hands on this right away.