Happy New Year, everyone. I hope everyone's holiday went well and that your 2016 is going great so far. I have been extremely busy with the holidays (hosting) and have been traveling. In fact, I am traveling as I type up this post. This post has been a long time coming. It must have been photographed back in the beginning of December. What I am talking about is the Guerlain KissKiss Roselip in Morning Rose. Guerlain's lipsticks are very luxurious in packaging and I just love the balms they came out with. As of the time of this post, the Morning Rose shade is sold out on Sephora. Hopefully, they will restock it soon!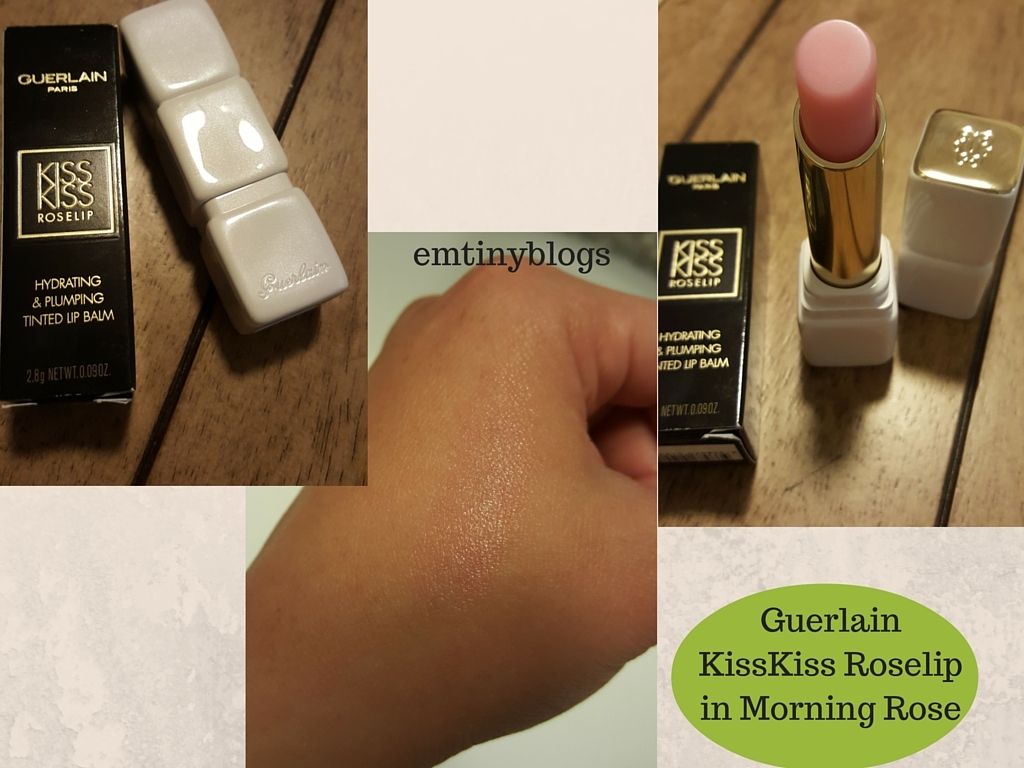 Guerlain KissKiss Roselips in Morning Rose, Sephora $37
The KissKiss Roselips are encased in a white sturdy container that resembles die stacked up. It has a twist up mechanism to bring up more product. It does weigh fairly heavy.
The swatch on my hand does not show much color. However, I found that on my lips, it turns more pink over time. It could be working with my body chemistry to change.
Texture/application: It was very smooth and easy to apply. It had no sticky feeling or a heavy feeling.
Moisture: It kept my lips very moisturized, but only lasted about 3 hours. It came off very easily during eating or drinking.
Scent: It had an old-fashioned lipstick scent to it despite not having much color in this shade.
Overall: I think for the price, you are paying a lot more for the brand and the case. As for the actual product itself, it is nice but can be cheaper elsewhere. I personally don't like the old-fashioned lipstick scent even though it dissipates quickly. If I had not gotten it on sale from Sephora, I don't know if I would purchase it again. Overall, it is a very luxurious and fancy product, but if you are on a budget a cheaper option for moisture can be found at drugstores (aquaphor).