The wonderful lipgloss by the name of Bonheur is part of the Rouge Brilliant lipglosses that Dior offers. This lipgloss not only hydrates, but also provide a nice hint of color for your lips. I purchased this product a month back and found it very luxurious to use. With three lip oils, this liquid balm also comes in many different colors for everyone's tastes. I tend to like the pink/nude shades so of course I am here to review Bonheur 468!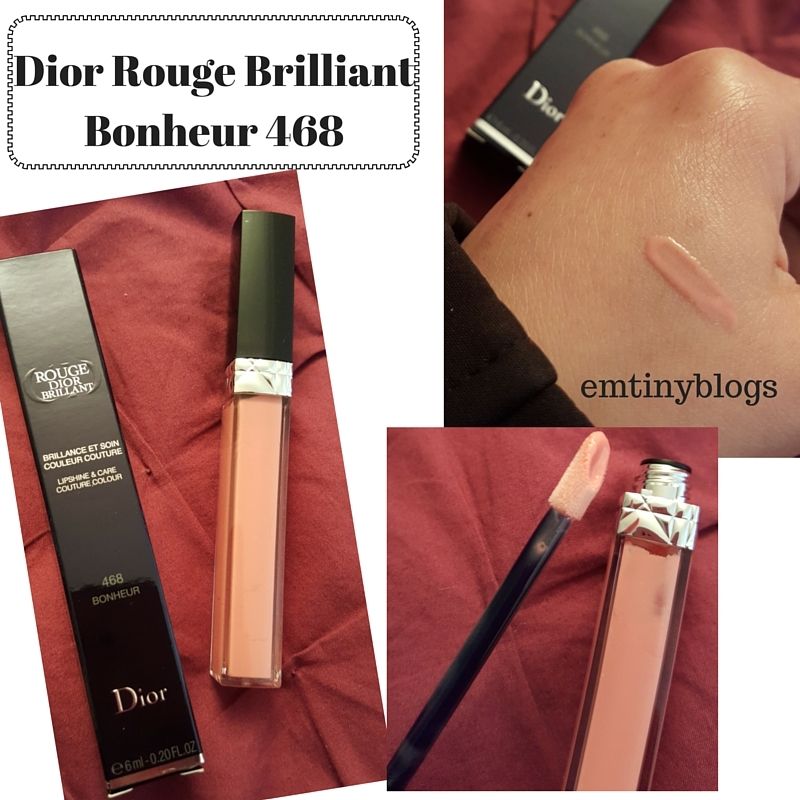 Dior Rouge Brilliant Bonheur 468, $35, Sephora
Bonheur is a pinky nude shade with a hint of light sheen. The fine glitter particles you see in the tube does not translate over to the lips, which is a relief for me since I hate glitter migrations. It is extremely moisturizing and I find myself not needing to re-apply even well after the gloss is gone. Despite being so moisturizing, it does not feel sticky nor does it fill into your lip lines.
I noticed the doe foot applicator for this gloss comes with a hidden pocket for more gloss per application (see photo above). This helps to avoid needing to re-dip into the container per application.
Application/Texture:
The doe foot applicator has a hidden pocket that carries more product than your traditional wands. This pocket allows more gloss to be picked up and easily spread over your lips. It glides perfectly and feels like a traditional lip balm.
Scent:
none detected.
Staying power:
It lasted 3 hours on me, but the moisture lasted hours beyond that.
Overall:
I really enjoy Bonheur and really like the moisture it provides. The sleek tube is very pretty and nice to carry in your purse. If you are looking for a colored lip balm to splurge on, this would definitely be one of my top recommendations!