Becca is very well known for their awesome skin brightening powders and blushes. I had used their blush once a long time ago and found it too shimmery for my taste. However, lately I have found my skin to be a little more dull and wanted to experiment with a highlighting powder again. This time, instead of going with a blush with shimmery effects, I decided to go for a highlighter with a hint of color. The purpose of this product is not to give a rose cheek look, rather I wanted it to add some light to my face. See below for my review of the Becca Shimmering Skin Perfector in Rose Quartz.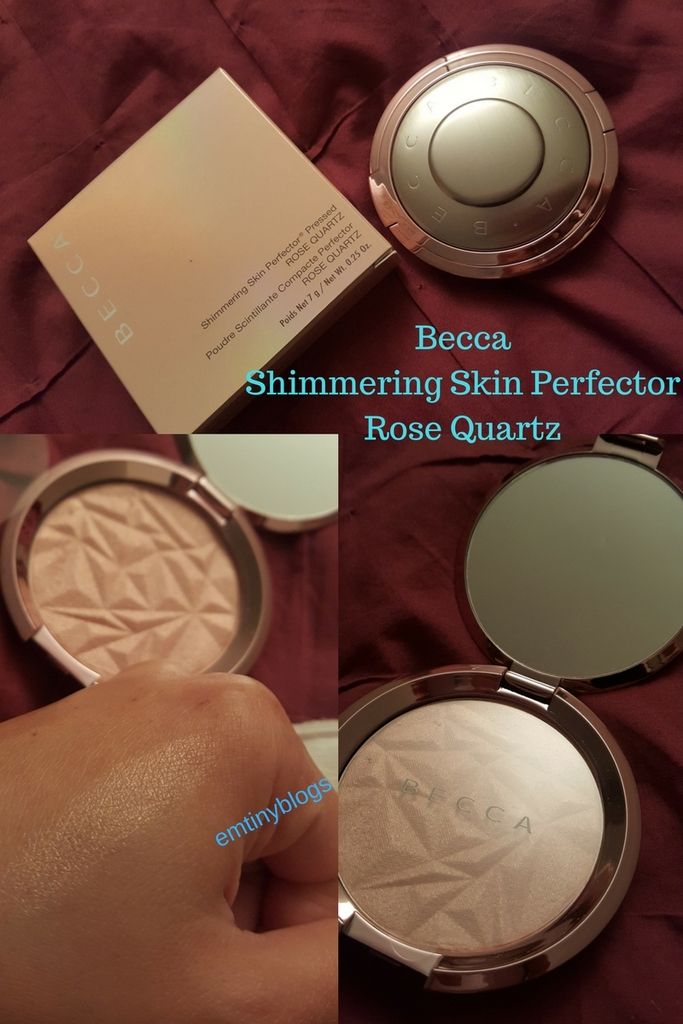 Becca Shimmering Skin Perfector in Rose Quartz, Sephora, $38
Rose Quartz is a beautiful pink champagne shade. I desperately wanted it to not be limited edition! Unfortunately, it is listed as LE on Sephora's website. If you are very interested in trying it, I would jump on this now before they sell out!

The highlight is amazing. It doesn't leave you with a disco ball look. It highlights in the most natural way. It doesn't add glitter or shimmer...it just lifts. I can't describe how it does it. I love that this has a hint of pink so it is almost like wearing a subtle blush as well.

The container is a sturdy compact with a mirror on one side. It looks like a space saucer, haha. It actually comes in a rose gold metallic bottom and a silver top. I think their regular skin perfectors come with the silver top but a brown bottom.

Application/texture: So buttery soft! With my fingers, I easily picked up product and it easily blended into my skin.
Scent: none
Staying power:
This lasted about 7-8 hours on my face.
Overall:
I would highly recommend this Shimmering Skin Perfector. I haven't tried their regular shades, but their Rose Quartz is so beautiful. The highlight is perfect indeed and adds just a hint of pink so that I can skip my blush if I want a subtle look. I am able to use this on my brow bone, down my nose, and cupid's bow as well. So versatile! I'm in love! For $38, this can last you a long time and be used for so many things.