Lancome has come out with a lipgloss that you have to 'shake' to activate the ingredients. What an intriguing thought! While I think lipgloss is lipgloss, I do get suckered in every once in a while for interested packaging and application. The packaging/way of applicating is certainly interesting for the Juicy Shaker lipglosses and the product is actually quite nice. A lot of the times the packaging is all that there is going for a product, but in this case the lipgloss is actually moisturizing as well.
I purchased the Juicy Shaker lipgloss in the shade Boom Meringue, which is a bright shade of pink in the bottle. On the lips, it looks like no color and if I wiped it off it does have a pink tint to it.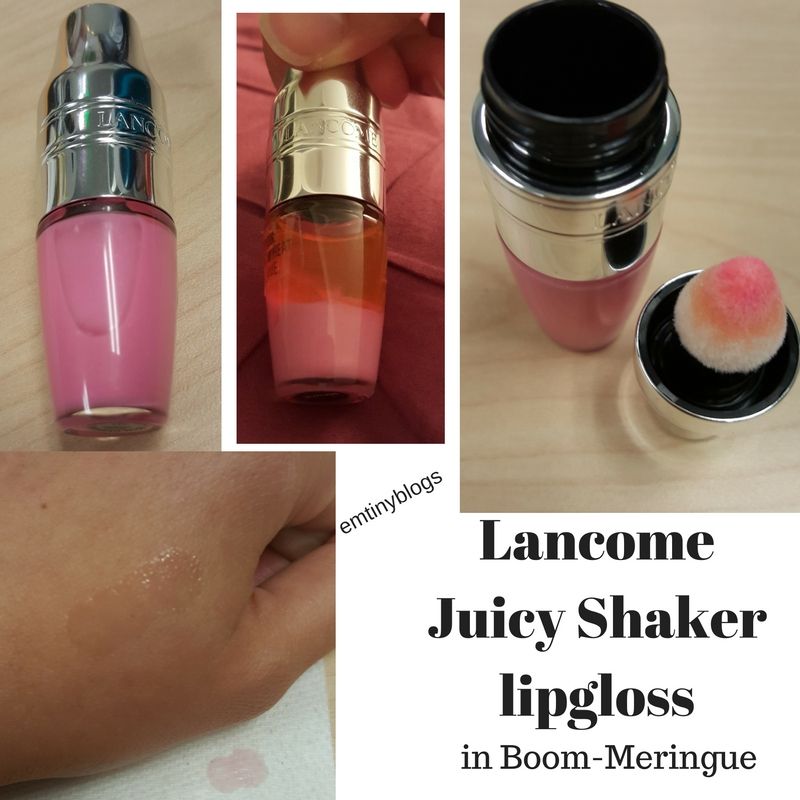 Lancome Juicy Shaker lipgloss in Boom Meringue, $21, sephora
The applicator is a large sponge and you can dab the product onto your lips. I found it quite moisturizing but it is from a oil like feeling rather than a cream. The tube of lipgloss comes separated with color and oil as you can see above. Then when you shake it, it becomes a milky consistency. On the lips, it is sheer and feels more like oil.
Application/texture:
The application is quite easy - you dab this on your lips with the sponge. The feeling of it is like oil and is very moisturizing.
Scent:
smells fruity
Lasting power:
This lasts about 3 hours on me.
Pigmentation/finish:
The finish is very sheer and shiny. This shade doesn't give much color on my lips.
Overall:
I like the different application in this product. It is fun to have to shake your lipgloss and apply your lip product like a sponge! It gives enough moisturization but not much color. This works best for a very sheer hint of color and moisture. If you are looking for color perhaps try a darker color or a different product. For good moisturization, this little tube has got you covered.