First post in the new year! It has been a while, hasn't it? It has been crazy during the holidays and then I got sick. Glad it didn't all happen at the same time, but nonetheless I am back for a review. I have definitely slowed down in my posts because I have slowed down in the purchase of cosmetics. It has been more skincare, but those are quite hard to review because everyone's skin is so different! In any case, makeup-wise I have been going back to tried and trues. When you find something good, you stick with it!
Today, I am reviewing a many people's tried and true item. Though new to me, I can see why it is on a lot of people's favorites. I am talking about the Clinique Black Honey almost lipstick. This lipstick/balm has no gimick or fancy packaging. It is very moisturizing and gives just the perfect tint to your lips that can be built up. It is also very flattering across most skintones!
Clinique Honey, Honey Lip set, $25 at Sephora
The set includes the famed Black Honey almost lipstick as well as the Pink Honey almost lipstick. Then each of those shade also comes with a round container that has a lipscrub on one side and a lip balm on the other. I found the lipbalms and lipscrubs ineffective. It was difficult to use and I don't see why the lipscrubs should have any color. It makes clean up much harder and messy. The lip balms do not have any color and I didn't take a photo of the swatch as a result. It is moisturizing, but I think other lip scrubs and lip balms will work better.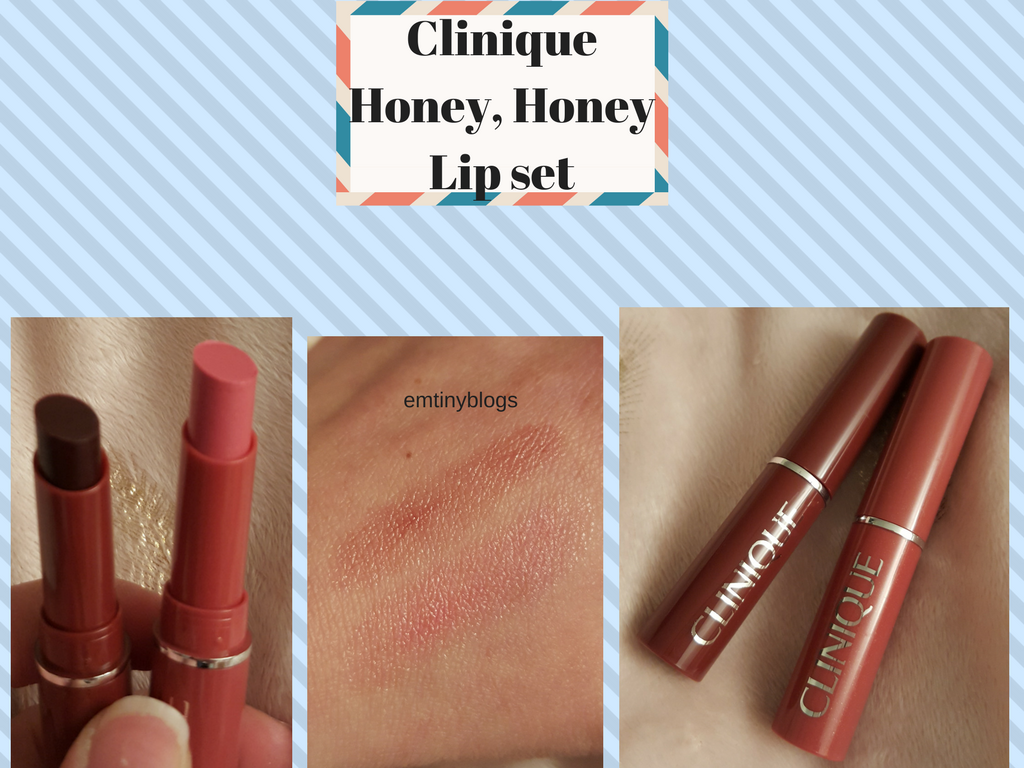 The almost lipstick, however, are quite nice. It is moisturizing and smooth to apply. It feels a lot more plush than other lipstick, but still give you a bit of color that can be built up.
Application/texture:
The texture is more balmy than lipstick. It is easily spread across your lips when you rub your lips together.
Scent:
it has a slight lipstick flavor to it, but nothing too strong.
Staying power:
The color last about 2 hours and the moisture last 3 hours. It doesn't become necessarily dry after 3 hours, but it just doesn't feel moisturizing anymore.
Overall:
The set sells for $25 and includes 4 items. When you consider the almost lipsticks on their own is $17 a piece, this set is a great value! The current almost lipstick packaging looks more updated and pretty in their silver packaging, but this one works just as nicely! Though I wouldn't pay for the lipbalm/lipscrub combo, at a few more dollars in this set I wouldn't mind keeping it in my collection.
Thanks for reading!