Maybelline recently celebrated its 100th year anniversary and released several eye products, which their brand was known for back in the days. I picked up two items: Unstoppable eyeliner (reviewed below) and the Kajal Eye Kohl (reviewed at
this page
).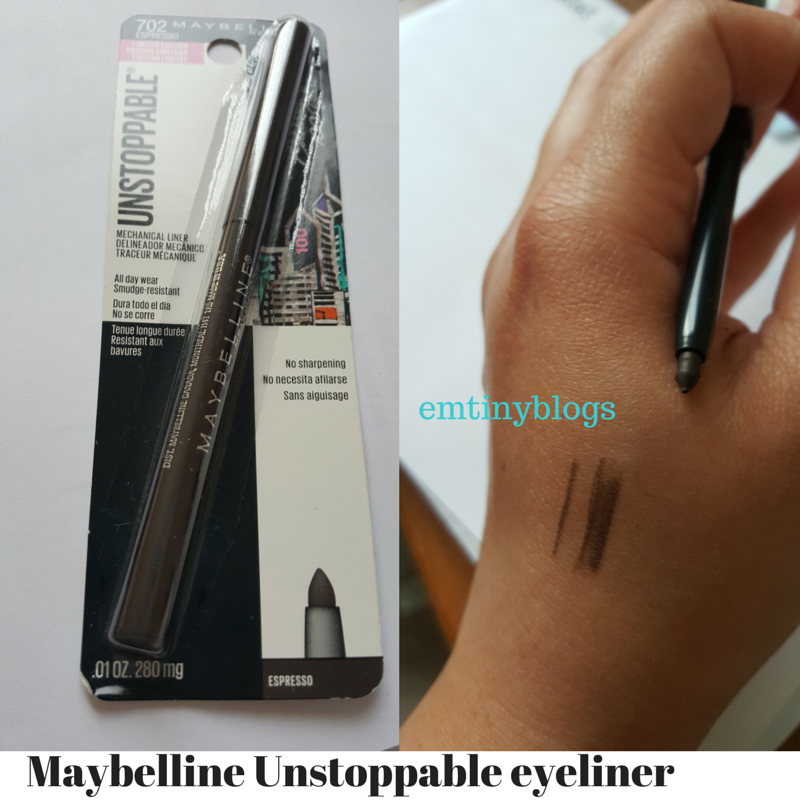 Maybelline Unstoppable eyeliner in Espresso, $9 CVS
Espresso appears more black than brown, but it is a very pigmented shade. There is no sharpener included so you are expected to just use the tip to line your eyes. As you can see, depending on how you angle the pencil, you can get a thick or thin line. The product does not break easily but does glide right onto my hand and on my lash line.
Texture/application: This was very easy to apply. With little force, product lined my hand and my eyes very easily.
Scent: None detected.
Staying power: This lasted me 7-8 hours on my lash line. I did eventually get some light smudging, but that sort of added to the smokey look. It wasn't overly smudging so it was okay.
Overall: I like this eyeliner. It is lightweight, thin, but powerful. It lasts the whole day and is very easy to apply. I like that it can withstand my oily lids and does not separate like some other eyeliners do. I wouldn't say this is budge-proof, but it does do pretty well especially for under $10.