I have been traveling to Asia this holiday season and I came across the L'Oreal Caresse Shine lipglosses! I have been searching for these before I left for Asia, but did not have any luck in snatching up any of them. (If you haven't heard of these before, these are dupes to the YSL Glossy Stains.) To my surprise they have it overseas already. I only purchased one because the stores here tend to not have the same return policy as we do in the States. However, they do have wonderful samples so I am glad to have tried the color before hand. It really did stain my hands after swatching it in the store! Anyway, let's not delay the review! See below for L'Oreal Caresse Shine in Lolita.
L'Oreal Caresse Shine lipgloss in Lolita (606), ~$10USD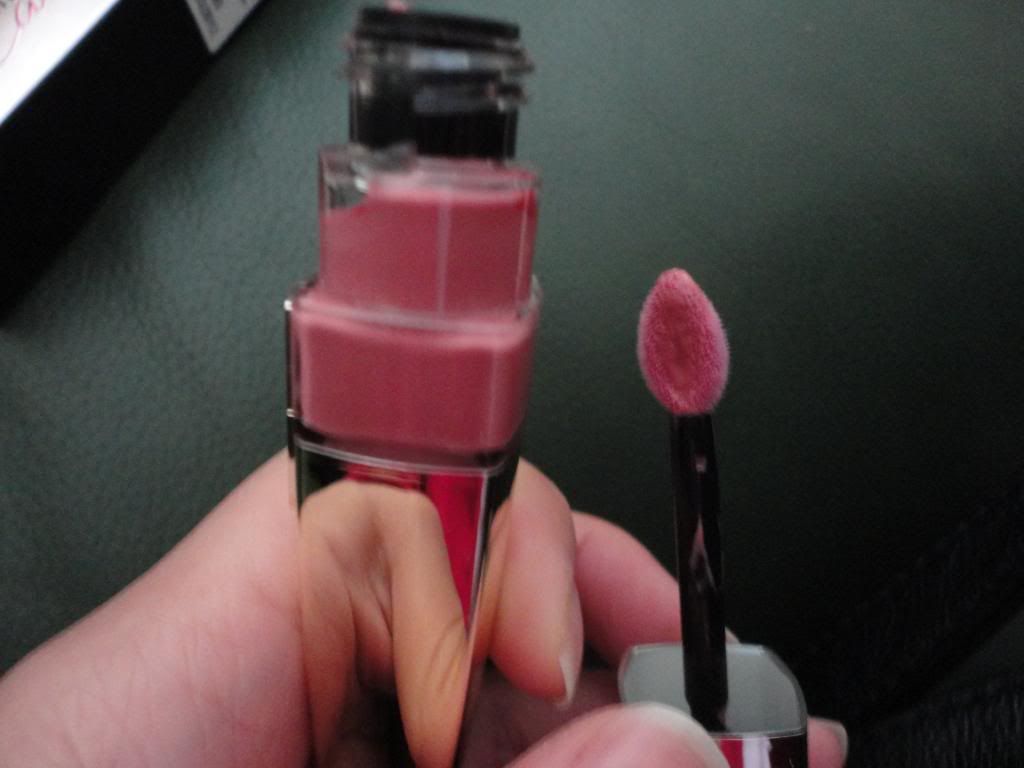 Lolita
The container is very elegant and has an expensive look to it. It is a shiny gold on the outside with a clear plastic between the tube and the lid to allow the product color to show through. Once the square cap is twisted off, there is a heart shaped applicator. I would still say this is like the doe foot applicators but the shape resembles the YSL glossy stains.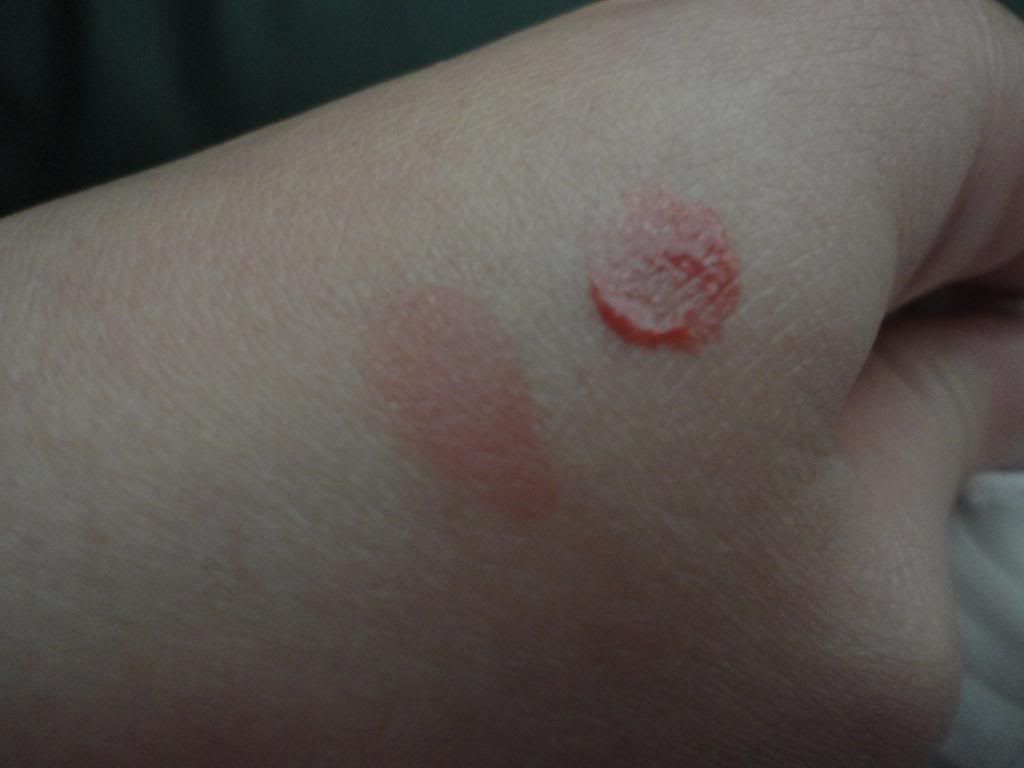 Swatches of Lolita. left: swatch then wiped off stain
right: swatch
As you can see the gloss does stain very well. The left swatch was on my hand for about a minute and left this stain as soon as I wiped it off. This translate the same for the lips. Lolita is a rosy red color.
Application: Applying this product was easy because the applicator is wide on one end and pointed on the other. You can really get the hard to reach places, but apply quickly to larger areas. The consistency of this product is very light, almost gel-like.
Texture: The gel consistency makes the texture of this gloss very smooth. When you rub your lips together, it feels very light and easy. After a couple hours, I do feel the gloss making my lips slightly more dry. It isn't like other balms that keep it very hydrated. However, putting on some balm at that point does fix it.
Staying power: The initial shine of the gloss (swatch on the right) lasts me about 3 hours before fading away. I do notice it goes away faster if I eat or drink. Once that disappears, the stain stays behind and provides you with an all day (9 hours) coverage.
Scent: I love how this does not smell like lipsticks. I can't put my finger on the spot, but it has a fruity scent with a light perfume-y scent. It does not bother me, but if you are very sensitive to scents I would test it out first.
note: The color availability is different in Asia versus the States. The color I am reviewing here may not be available in the States. However, I am sure all the colors will look very pretty!
Overall: I really do like this gloss and I am glad I finally found it. It is quite similar to the YSL Glossy stains but at such a lower price point. I am a little disappointed that it is a bit drying at times, but a little balm will fix it right up. The elegant look of the bottle really makes this product stand out from the others. I think I will be purchasing a couple more colors in Asia before I head home. Perhaps if I like it after I get home, I can also try those colors!
What are your thoughts? Do you own YSL Glossy stains already? IF so, do you think this product is for you?
EM
All products shown here have been paid with my own money and have been given my honest review.